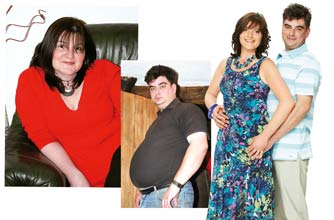 Real life weight loss stories: Sheena and Jim Giblet
Then: Sheena... 13st lb, Jim ...16st
Now: Sheena... 9st 1lb, Jim ...11st 8lb

"'We're off to join a Rosemary Conley class, do you want to come?' my friends at work asked. I moaned about my size all the time - and I guess they were sick of listening to me!

"Well, I tagged along, and when I got there I saw the light! It was so motivating, I went home fired up and ready to go.

"Now, my hubby Jim is a great cook. And if it tastes good (and it does), I'd eat it no question.

"We never thought about how much we were eating, and over the years, and 3 kids later, we'd both put on weight, loving each other no matter what size.

"But Jim went along with my diet plan because he loved me and wanted to do it for me. He prepared all my meals according to Rosemary's recipes - and most important, served up much smaller portions!

"That first week, I lost 5 1/2 lbs, which was a great incentive to carry on. But rather than cook 2 different meals, we started to eat the same. We'd also just started to grow our own veg, so Jim was out there in the garden for hours, digging and planting.

"Although he never came to a single class with me, he was losing weight... but neither of us noticed!

"I got to my goal weight, losing 4st in just five months, and in the same time, Jim lost 4st 6lb! Now I'm back to my pre-marriage size, and Jim couldn't be more proud, as I'm brimming with confidence and he has the old me back in every way. And as for Jim, well he's lost that huge beer belly and now he not only feels fit - he looks it, too!"

Jim says: "I wanted to cook healthy meals for Sheena, but I soon started to eat the same thing. I'd had high blood pressure for years and when I went for a check-up the doctor commented that I'd lost a lot of weight. I hadn't even noticed, but he was right.

"A few weeks later, I put on a suit and the trousers fell down and the jacket looked about three sizes too big!

"I feel great now, my blood pressure is normal and I'm off the medication.

"We simply used to eat too much of everything, but now we've got everything back in proportion."