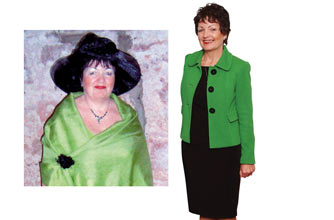 Real life weight loss stories: Ruth Watts
Then...16st 9lb
Now...10st 4lb

My daughter had just given birth and my grandson Callum, then 4, turned to me and said, 'Mummy's had her baby, but, Nana, when are you having yours?' I was mortified!

I'd been a yo-yo dieter for over 30 years. I'd tried every diet and always put the weight back on - and more - until I was a size 24!

My health was suffering. I had to lean on the sink to wash up and climb the stairs on all fours!

Then I bought a slimming mag and was so inspired by one story, I tried the Slimming World plan myself.

I loved it! No foods were banned, and I ate three meals a day including my favourite chicken curry with pilau rice and Bombay potatoes - I never felt hungry or deprived.

In just over a year, I'd hit my target and lost over 6st, which I've kept off. Now I'm a size 10 to 12, feel younger than ever, and, best of all I can run around with my grandchildren until they're tired!