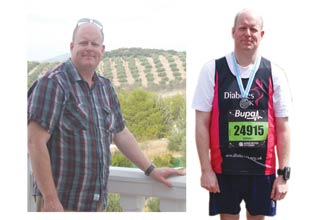 Real life weight loss stories: Peter Clitheroe
Then...23st 10lb
Now...15st

"I was 23st 10lb at my biggest but had the attitude of 'Oh, well, I'll be OK.'

"Then I went to my GP with an eye problem. I had a blood test and was told I had Type-2 diabetes. But it was the best thing that could've happened - as it made me determined to lose weight.

"So, last year, I joined WeightWatchers and now weigh 15st!

"Looking at old photos, I now realise how big I was and how much I put my health at risk.

"These days, I eat healthily and can almost control my diabetes naturally.

"I hated running, but this year I entered the Great Manchester Run to raise money for Diabetes UK.

" I trained hard, running every other night and using Wii Fit in between. Now, I can chase after my 5 and 3-year-olds and not feel cream crackered!"