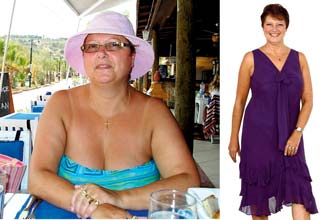 Real life weight loss stories: Sue Harris
Then...17st 9lb
Now...12st

Even though I was a size-24, I loved the aqua-aerobics class - but afterward I couldn't dry myself or get dressed, I was so tired! I had to just sit for 20 minutes until I felt stronger. That scared me and I knew, once and for all, I had to lose weight.

It all started with an undereactive thryroid which meant I piled on the weight and, although the medication stopped me gaining any more, it didn't help me lose it, either. But that was more than 20 years ago and since then my weight has yo-yoed.

Shakes instead of meals, slimming clubs, I'd tried the lot.

Then I heard about Go Lower, a diet plan using high-protein, low-carb meals to trigger fat-burning. Best of all, the meals are delivered to your door.

I signed up for 16 weeks and lost 8lb in the first week. After four months, I'd lost 5st 9lb. Now I'm a size-14 and as well as aqua aerobics, I even hit the gym twice a week!