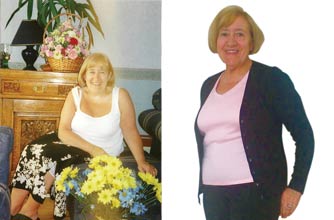 Real life weight loss stories: Sylvia Kelly
Then...14st 10lb
Now...10st 3lb

How much? I was having my annual checkup at the hospital and I couldn't believe how much I weighed! Well, that was it - there was no way I was going to be 15st!

I'd been putting on weight slowly over the past 20 years, but now I was struggling to get up the stairs or out of the bath. I also had four small grandchildren who I'd dearly have loved to play with, but I simply couldn't keep up with them.

So I went home and emptied my cupboards, refilling them with fresh veg, salad and fruit, fish and chicken. I cut out butter and all fried food.

Just over a year later I've lost 4 ½ st and I'm wearing jeans for the first time in my life. I'm a size 10 top too... I've never been this tiny!

Now I can hop in and out of the bath and instead of watching my grandchildren have fun, I'm there joining in!