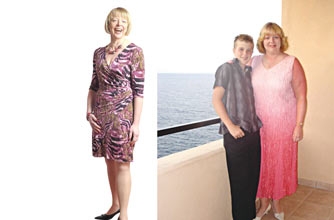 Real life weight loss stories: Alison Crossley
Then...17st llb
Now...10st 7lb

Life sucked! First my ex-husband Andrew died, and then I lost my job as as HR Director. It was 2008 and things were looking pretty grim. And to top things off, I was a big, flabby mess!

I'd always been big, weighing between 13 and 14st for years. But I used to think I ate healthily, so I guess it was simply the amount of food I was eating that led to me being a size-24.

I'd have a huge bowl of muesli for breakfast, two or three glasses of orange juice, four slices of bread, never two. I super-sized everything.

Finding clothes was a nightmare. Despite being big I still had a waist, and when something fitted on the hips, it was enormous around my middle.

But, looking on the bright side, with a nice fat redundancy cheque, I thought this was a good chance to get fitter. So the day after I was made redundant, I joined David Lloyd Leisure Centre in Maidenhead.

I also signed up for some sessions with Greg, a personal trainer.

I thought I was going to die after my first session! Not only did I feel physically sick, the next day I couldn't move. Everything ached.

I nicknamed Greg my 'personal sadist'!

But the exercise had given me a real buzz and, never one to give in, I worked out with Greg twice a week.

Within a month I'd lost a stone. I also joined Slimming World, and because I planned ahead, I always had plenty of good, healthy food in the house.

In 18 months I lost around 7st. Yes, I'm slim now, but I'm also a different woman.

One day someone at the gym said, 'Why don't you become a spinning instructor?' Me? You must be joking!

Well, these days, I not only teach aerobics and spinning at five gyms, I'm also a qualified personal trainer with clients.

I love helping people who don't think they can do it. I can say to them, 'If I can do it, so can you!'

Now, after bringing up my son Michael, 19, and being on my own for 15 years, I'm getting married. I met my fiance Adrian at one of my spinning classes!

For all those years I was large, and even now, when I go shopping, I still can't believe I'm a size-10. But I am!