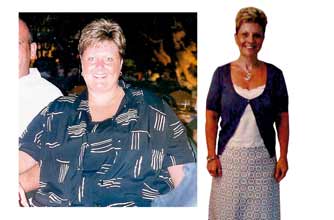 Real life weight loss stories: Beverley Phillips
Then...18st 7lb
Now...10st 7lb

"I was overweight because I ate the wrong things - and too much of them.

"But, now my daughter was starting school, I didn't want her to be teased because of her fat mummy.

"At my biggest, I was a size-28. But I wore it well, always smiling, while inside I felt terrible. I did lose 5 1/2 st a few years ago at WeightWatchers. It took a year - and the same time to pile it back on!

"So I took out a loan to have a gastric-band op at the Spire Parkway Hospital, Solihull. It took less than an hour, I was in for a day and back at work within a week. With my stomach the size of an egg, at first it was liquids only, then pureed food, but in just six weks I lost 3st!

"Now, I can more or less have what I like, but I still can't eat too much stodge!

"But I've got lots of loose skin that needs to be removed, this time on the NHS. I've got an appointment in December, so finger crossed, it'll get the go-ahead!"