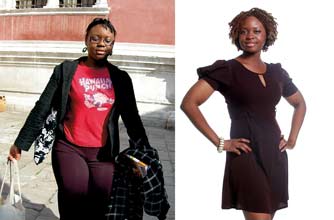 Real life weight loss stories: Tamara Trye
Then...11st 9lb
Now...10st

'You've put on weight,' said one of my co-workers. Yes, I thought, I know, you don't have to tell me!

I'd just come back from holiday in California, where I couldn't believe the huge portion sizes. I took full advantage - stuffing myself every day for two weeks - and I put on at least half a stone!

But, in fact, I'd been overweight since starting college eight years ago. My trouble was always overeating.

Though I'd tried eating less and exercising, I could never keep it up.

I hated the idea of a liquid, shakes-only diet, but a friend suggested I try Diet Chef as it lets you have three proper meals a day.

And it worked for me! I ordered the food online, and it was delivered to my door. I took the sachets to work with me to heat in the microwave.

I lost 5lb in the first week and 1st 9lb over six weeks, dropping to a size-12 for the first time in years!

I like the brand-new me, a person who's been there all along, hiding inside my body!