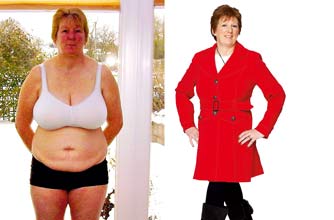 Real life weight loss stories: Ann Bliss
Then...15st 3lb
Now...11st 9lb

For a long time, I wanted to own a Rosemary Conley franchise, but I was told I needed to lose weight!

You see, I was a size-22, and I needed to have a healthy BMI of 25 before they'd take me on!

Finally, in October 2009, I signed up to Rosemary Conley online and lost 1st by Christmas.
In the New Year, I was given an interview date of 30 Jan - and I lost another stone before then, too!

My second interview date was for 6 weeks later, and I was told I had to lose another stone! So I started going to a Rosemary Conley class, which involves exercise as well as healthy eating, and I got within 3lb of my goal!

I was taken on, and before I started training last June, I hit my target, losing almost 3 1/2st in 8 months.

I now run 10 classes a week, and also teach aerobics. People say I look 15 years younger. They're right - I do!