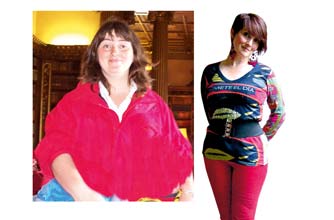 Real weight loss stories: Carol Lucking
Then...14st 4lb
Now...10st 3lb

"'You'll always be welcome,' said the woman as she pressed a flyer into my hand. It was an invitation to join the local ladies' rugby team!

"Though my family thought it was hilarious, I felt humiliated. So I really did look like a prop forward!

"I'd been so fit in the past, but what with marriage, kids and work, over the years I'd ballooned to a size 20.

"So I started to count calories, began exercising and I lost a stone. But after that, no matter how little I ate or how hard I worked out, I couldn't shift another pound.

"It was soul-destroying, so I did nothing for the next two years. I didn't gain weight, but neither did I lose any.

"Then I saw Lemon Detox on the TV and thought I'd give it a go. It worked for me! I have a healthy lunch, then drink the diluted syrup for the rest of the day. I do this for four days and it kick-starts my body into losing weight.

"I then eat sensibly for a month or so, then go back onto the syrup for a few days.

"I've done it five times now and I've lost over 4st! I don't know how it works - just that, for me, it does."