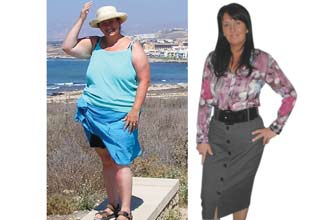 Real life weight loss stories: Judith Walker
Then...19st 8lb
Now...11st

We were out walking the dog together. ' I always look forward to this,' said Ian, my husband. 'What do you look forward to?'

I didn't answer. He said, 'Judith, you must look forward to something!'

But I didn't. I hated myself. I felt permanently angry and took it out on the people I loved. I'd been fat for at least 10 years, yo-yo-ing up and down.

Then I met a friend who'd just lost a stone with SureSlim.

I signed up. I had a blood-test and was given a personal eating plan. It cost me £495, but lasted five months and included a weekly weigh-in and consultation. I lost 10lb in the first week and reached my goal in 15 months.

Now I'm a slim size 14, and feel fit and positive. Last summer I climbed mountains in Scotland. I feel on top of the world!