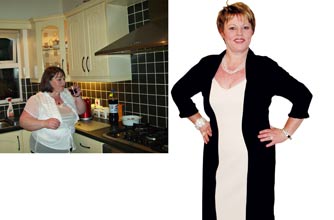 Real life weight loss stories: Margaret Gallagher
Then...15st 7lb
Now...11st 4lb

For years, I'd been looking after other people, rather than myself, and I just kept getting bigger...until I was a size 20-22.

So I bought some scales and got the shock of my life - I was 15 1/2st!

I didn't eat a lot, but I did eat all the wrong things. I'm only 4ft 11in, and I knew it was bad when I began to feel hot and breathless after activity.

Then someone told me about Slimming World...As I listened, I thought, You can't possibly eat all that and lose weight!

But I joined and was down a dress size in three weeks!

Now I'm a size-12, and feel 20 years younger!

I eat more than when I was fat but it's all healthy. I can't believe it really worked for me, but it's the best thing I ever did.