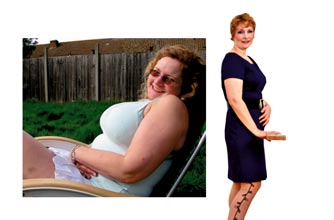 Real life weight loss stories: Sandy Clark
Then...17st
Now...12st 13lb

"'Here, try these for size,' said my mum, handing me a new pair of trousers. My size-18s were really tight, but these fitted a treat. No wonder, they were a size-22!

"I'd started to pile on weight when I got married seven years ago. As well as cooking more, we ate out a lot, and slowly but inevitably, I got bigger... and bigger...

"Though I'd tried diets, nothing worked fast enough for me, so I'd give up.

"Then my husband found Go Lower on the Internet. I decided to try it simply because the food is delivered to your door, a month's worth at a time. You just heat it up and add some veg.

"The food, all low sugar and low starch, helps you burn fat faster... And it worked for me!

"I lost 3st in three months, and have now lost 4st in all. Now, though I cook healthy meals most nights, when I'm busy, I make sure I've got a Go Lower meal in the cupboard so there's never an excuse for a takeaway!"