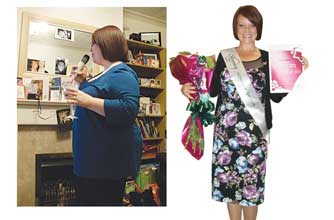 Real life weight loss stories: Vicki Capes
Then...17st 3lb
Now...9st 3lb

'Come on sis, there's a sale on!' said my sisters as they dragged me into a clothes shop.

Hah! I thought. I can't fit one of my legs into those things! So while they tried clothes on, I felt like a spare part and decided then and there to lose weight.

I'd never lost the weight I'd put on having my kids, and four years after my second was born, I weighed over 17st.

So I joined Slimming World and was amazed at how much I could eat and still lose weight! A lean, full English breakfast and my favourite - a chilli!

I lost 5 1/2lb in the first week, and 19 months later, I was 8st lighter and a size-10!

I started swimming, then jogging an even ran a half-marathon!

Last September, I got to the semi-final of the Slimming World Woman of the Year, and I was the regional finalist. Me!

But, best of all, I just loving buying size-10 clothes!