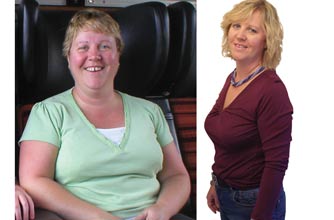 Real life weight loss stories: Michelle Davies
Then...15st 1lb
Now...10st 7lb

Knowing you're fat and admitting it are two different things!

I'd been putting on weight but chose to ignore it, until last April...I looked in the mirror as I got ready - and stood back in horror!

Then, while in Boots, I saw the Tony Ferguson Weightloss Programme - replacement shakes for breakfast, soup or a bar for lunch and a healthy meal for dinner.

I was delighted to lose 8lb in the first week - and I didn't feel hungry at all!

Best of all there's a 24-hour helpline, and, once I'd registered, they'd ring me once a week to see how I was gettng on, and send me positive, encouraging e-mails that really helped to keep me going.

I lost just over 4 1/2st and managed to reach my goal weight in just five months. People say I look 10 years younger...Well, I certainly feel it!