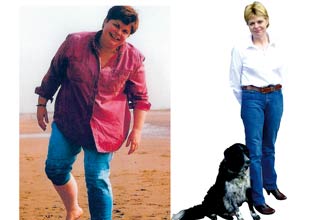 Real life weight loss stories: Julie York
Then...17 1/2st
Now...8st 11lb

"I'd been dabbling in dog agility - it's a class where you guide your dog around an obstacle course - for years. But I'd started to find that I was really struggling to keep up with my border collie as she raced around the course.

"I decided it was time to up my game and lose the weight that was holding me - not to mention my dog - back!

"And there was a lot of weight to lose.

"I'd first started piling on the pounds a few years back, after my dad died. My mum was poorly, I was feeling depressed - and so I turned to food.

"But if I really wanted to succeed with the dog agility, I'd need to increase my own agility.

"So I upped my dog walking and replaced my breakfast and lunch with Slim.Fast shakes, and then I'd eat normally in the evening.

"That was in the May and no-one even noticed until the following New Year - and by that time, I'd lost 4st!

"I carried on getting slimmer and fitter, and after 14 months I'd managed to lose nearly 9st.

"These days, I swim and play squash as well as training my dogs, we also go to shows most weekends - where I must walk 10 miles or more going between the rings! I would recommend the sport to anyone - it's great fun, and for me, it certainly beats going to the gym."