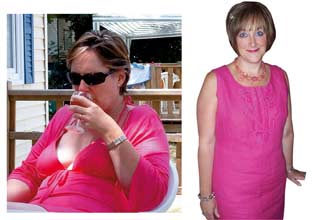 Real life weight loss stories: Christine Brown
Then...14st 8lb
Now...11st 10lb

I'm a typical yo-yo dieter. I lose some, but always pile it on as soon as I go back to my old eating habits! I'm either really good or really bad!

When a friend suggested key2weight, I decided to give it a go...

This meal replacement programme means total abstinence from regular food. I won't pretend it was easy - the first three days especially - but I lost 9lb the first week and that spurred me on.

With shakes, soup or bars for each meal, I wasn't tempted to be naughty and didn't get cravings.

Twelve weeks later, I'd lost nearly 3st. It was the best feeling ever to put on a pair of white, size-12 trousers for the my 25th wedding anniversary.

I now stick to healthy eating on weekdays, and allow myself some treats at the weekend.
Seems to be working!