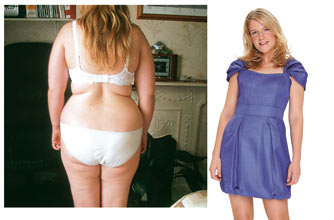 Real life weigh loss stories: Lucy White
Then...14st 6lb
Now...9st 1lb

"Oh dear, I couldn't stop eating! I'd start the day with a chocolate croissant - but finish the pack!

"I first started putting on weight while at university. With deadlines to achieve, I was stressed and found food a comfort.

"But it was while I was working at the NHS (to help with tuition fees), that colleagues asked me to go to Rosemary Conley classes with them.

"So I did - and I really liked the plan. It's not a diet, it's about healthy eating forever.

"I even embraced the exercise part of the class! Then I joined a gym, started cycling, and took up running - something I'd never done before.

"I lost weight steadily, and reached my goal after 1 1/2 years, losing 5 stone 5lb in all. I still can't believe I'm a size 8-10, and, these days when I fancy a croissant, I'll have it - but just the one, mind!"