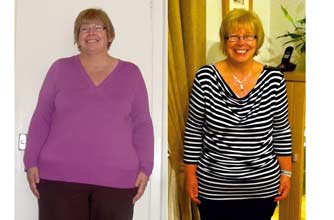 Real life weight loss stories: Trish Ward
Then... 22 1/2st
Now... 16 1/2st

"'Have the 
op, or you'll die,' said the doctor. I had thyroid problems and a lump 
on my neck. Having an op at my weight posed major risks, but, despsite the 
risks, I went ahead.

"But after, I joined a Fitness First gym and along with a first month's free membership, I got three one-to-one sessions with personal trainer, Elliot.

"I started to eat sensibly, went to the gym three times a week and saw Elliot once a month.
"I was gaining confidence and getting fitter, so I started seeing Eliiot twice a month. Then last December, I won the 'Christmas Challenge' and got three free personal training sessions!

"Selling Elliot once a week, I really started to lose weight. "This July, I ran the Race for Life in less than an hour!

"As I suffer from trigeminal neuralgia, which can leave me virtually immobile, I'm really pleased to have lost 6st and dropped five dress sizes.

"I'd love to be a size-14, so to motivate me, I've entered the Fitness First's New You Achievement Awards. My dream - if I lose enough weight - is to do a tandem skydive to celebrate my 60th!"