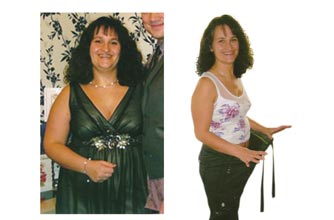 Real life weight loss sories: Rachel Evans
Then...13st 8lb
Now...9st 2lb

"Well, there it was in full colour, on 5 January this year. I was looking at my Christmas photos and I was fat. I'd been a tiny 8-10, but recently I couldn't stop eating. It was as if my on/off switch had broken.

"I started to feel ill, and even when I was doubled up with stomach cramps, I put it down to being a pig!

"I felt dreadful over Christmas, so straight after, I went to the doctor. He said it was gallstones. But I was determined to lose weight, and I signed up with The Cambridge Weight Plan. I had replacement meals - either porridge, milkshake or soup. With the low-calorie intake, I lost 10lb in the first week and 20lb in three weeks.

"It was only when I introduced normal food back into my diet that the cramps returned. By May, I'd lost 4st 6lb. But I couldn't live on replacement meals for the rest of my life, so I had the gallstones op.

"I feel amazing. The best thing is shopping. Last week, I tried on a size-12 dress and it was too big...I was thrilled!"