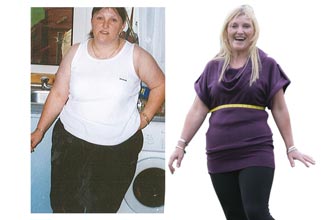 Real life weight loss stories: Gail Riley
Then...14st
Now...9st

"'You're obese,' said the nurse at the GP's. I'd gone for a routine medical...

"As I'm only 4ft 11in, she told me I was seriously putting my health at risk.

"Back home, I gazed at myself in the mirror and tears rolled down my cheeks. To everyone else, I was bubbly Gail but, inside, I felt sad and ashamed.

"It was a turning point. A week later, I joined a gym and lost 7lb.

"Then I heard about a diet called All About W8. So in December 2008, weighing 13st 7lb, I gave it a go.

"I started on the Rapid Programme and lost 7lb in my first week.

"Seven months later, I'd reached my target weight of 9st. I went shopping, tried on a size-10. As I stared in the mirror, I cried again - but this time tears of happiness as I'm just so proud of myself."