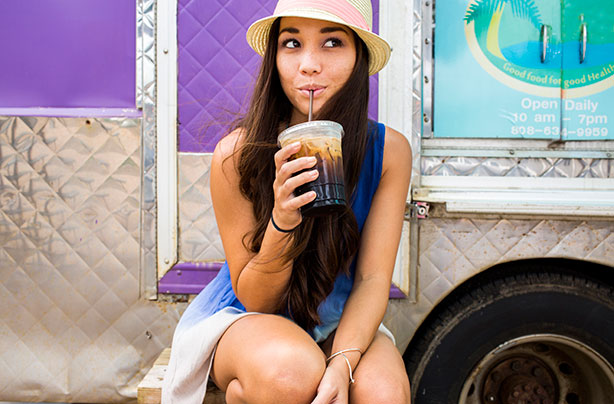 Calories in summer drinks: The best and worst for your diet
Ever wondered how many calories that iced tea, coffee or frappuccino really contains?
One of our favourite summer activities is trying out the seasonal specials at our go-to high street coffee shops. But with their fruity flavours and light, refreshing taste, it's easy to forget that these drinks even contain calories at all - let alone the staggering 360 calories that's hiding in one of these cups!
And it's not just the calories - another thing to watch out for with your summer drink choices in the
sugar content
, as even the healthiest sounding drinks can pack upwards of half your recommended daily allowance. In fact, one of the drinks we reach for most often has the same amount of sugar as 11 Jammie Dodgers. Yes, you read that correctly, ELEVEN - and if that's not food for thought, we don't know what is...
To save you squinting through the Starbucks nutrition chart every time you reach for a green straw, we've ranked some of the most popular summer drinks from worst to best in terms of nutritional information, so you can make an informed choice the next time you pop in and get tempted by the range of sweet summer offerings.
To make things fair, we've based all of the stats on a 'medium' sized serving of the drink - so for instance, for Starbucks calories, that would be a Grande, whilst in terms of Costa nutrition, it would be a Medio - unless the drink only comes in one size (and we'll let you know if this happens!)
Before you get completely disheartened, we promise it's not all bad news - some of the nicest drinks on the menu make surprisingly smart choices if you're watching your weight, so no matter what your goals are, you'll have something delicious to sip on during those scorching summer days.

Click through the gallery to find out the best and worst summer drinks for your diet - we think you might be in for a shock or two!