10 essential foods your kids should be eating Credit: iStock
Here are 10 foods you'll want to make sure your kids are eating... they're so good for them!
We all want to do right by our kids and of course at the top of our
priority list is their health. There are so many 'dos and don'ts',
'rights and wrongs', and all manner of things that as parents we're told
to follow, which can all get terribly confusing!
So we've put
together this list of essential food for kids. Foods that will counter
indigestion, improve brain power, fight obesity, brighten their mood,
and so much more that you'll want to make sure you're getting them into
your kids diet wherever you can.
Some of these foods can be eaten on the go, while others can be made part of delicious dinners for all the family.
Oh
and FYI, while these essential foods are great for your kids, they're
great for you too, so make sure you're getting your fair share of them
as well!
 
What foods do you consider essential for your kids diet? Let us know in our comments section below. Click or tap to zoom into this image
Spinach – vision sharpening
Spinach may have kept Popeye's arms looking perky but its real strength is in looking after your kids' eyesight.
Spinach is great for eye health, it provides four eye-protecting ingredients, protecting them from UV damage and it's full of vitamin E too.
goodtoknow tip: if you have fussy mouths at home try using baby spinach in a bowl of pasta, it's sweeter but just as healthy! Click or tap to zoom into this image
Blueberries – obesity fighting
Studies have proven that blueberries help to reduce visceral 'toxic' belly fat - a type of fat which is linked to obesity, high blood pressure and diabetes.
Good enough reasons for us all to be eating more blueberries, but especially for growing little ones.
Blueberries are soft and sweet, (and therefore perfect for even tiny mouths), and easy to sprinkle on to breakfasts, puddings or put into lunchboxes. Click or tap to zoom into this image
Peanut butter – low cholesterol
Peanut butter is packed with protein, vitamins, magnesium and full of good fats, which are heart-friendly, oh and did we mention it's delicious too?
Kids can't resist a generous spread of peanut butter on toast! Click or tap to zoom into this image
Airpopped popcorn has become a bit of craze lately for the diet-concious amongst us. But not only is popcorn good for your waistline, your kids will love getting to eat it as a treat.
And what most people don't realise is that it's actually full of antioxidants, and is a 100% unprocessed whole grain. Click or tap to zoom into this image
Do your little ones suffer from indigestion? Cabbage could be the answer!
It stimulates enzymes whose job it is to clear harmful toxins from the body. Clever, eh? Click or tap to zoom into this image
Most kids love a dippy egg and soldiers. And the good news is, eggs are
great for growing kids. They're a source of high quality protein which
builds muscle (a must for active kids) and vitamin D which helps the
body absorb calcium, great for healthy bones.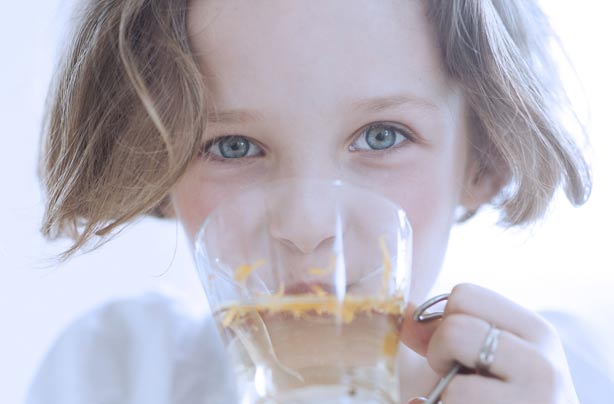 Click or tap to zoom into this image
Decaf tea – for calm kids
You may not have thought of giving tea to your little one before, but kids love the stuff! As long as it's decaffeinated, that is.
Not only is tea high in antioxidants, it's warming, milky and calming. A great one for them to wind down with in the evenings.
goodtoknow tip: If you're not keen on them drinking warm tea, let them have it iced instead. And for fussy ones who want it sweeter, stir in half a teaspoon of honey. Click or tap to zoom into this image
Whole grain oats are fibre rich, slow burn carbs, which'll keep your kiddiwinks full of energy and feeling full right up until lunchtime. Porridge is a brilliant source of oats, and you don't need to add sugar or honey to it as the milk makes it sweet enough. Click or tap to zoom into this image
Salmon, and any oily fish in fact, are full of omega 3 fats which are brilliant for brain development (child genius, here we come!). Click or tap to zoom into this image
This is an image
10
of
10
Beans are good for your... mood! They regulate blood sugar levels meaning that kids don't experience the rise and crash that comes after eating, keeping them calmer and less prone to mood swings. Phew!
Where to next?