Every Halloween is exciting when you've got kids, but we have to be honest – we think the best one might just be when they're babies.
Sure, kids' Halloween costumes can be pretty heartmelting, but nothing's ever quite as cute as the under-ones in their Halloween finery, mainly because they can't say no to whatever crazy costume you come up with. The only challenge comes with deciding which one to pick!
Some get-ups feel a little overdone, so if you're bored of witches and fed up with werewolves, and can't bring yourself to drape them in a white sheet and call it a ghost, you need to think outside of the (dressing up) box. That's where this collection comes in.
Here are 47 super-creative baby costume ideas that'll make sure their first Halloween trick-or-treating bucket is the fullest EVER… hands up who's doing a baby Audrey Hepburn this year!
1. Use the film Up for inspiration and you're bound to get some fans of your babies costume.
Image: Pinterest/Shana Crane
2. Could there be anything sweeter than a baby gumball machine?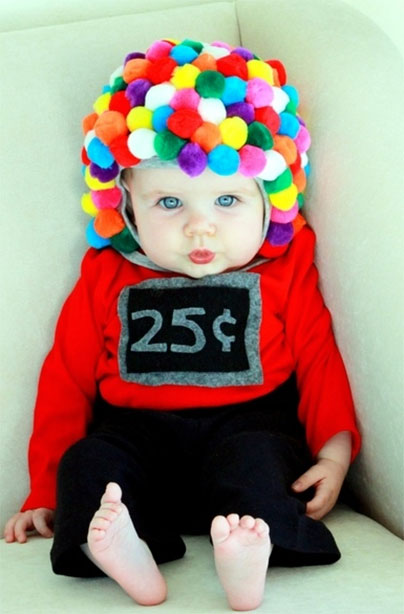 Image: Pinterest/Costume-Works
3. There's more than just Harry himself to choose from if you're going Potter-mad for Halloween, like this adorable Dobby
Image: Pinterest/Brit+Co
4. As this baby proves, you don't even have to be awake to work this owl costume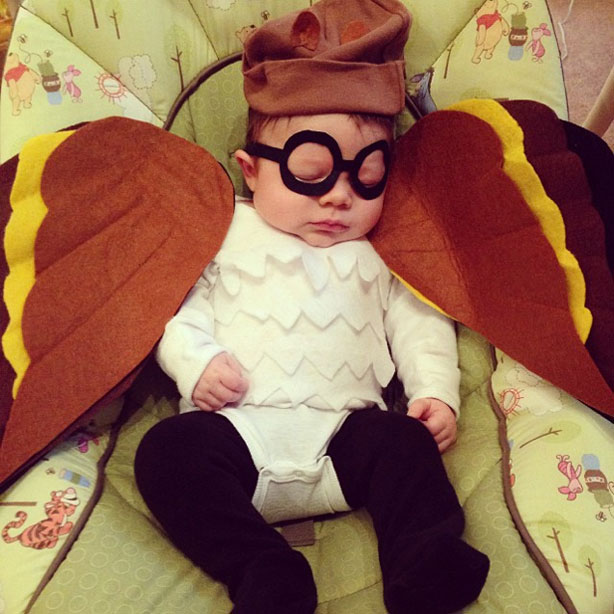 Image: Instagram/KristaHallPhoto
5. Well, pinatas do make a mess, just like babies…
Image: Little Inspiration
6. This pineapple costume is just a few updates to a basic yellow onesie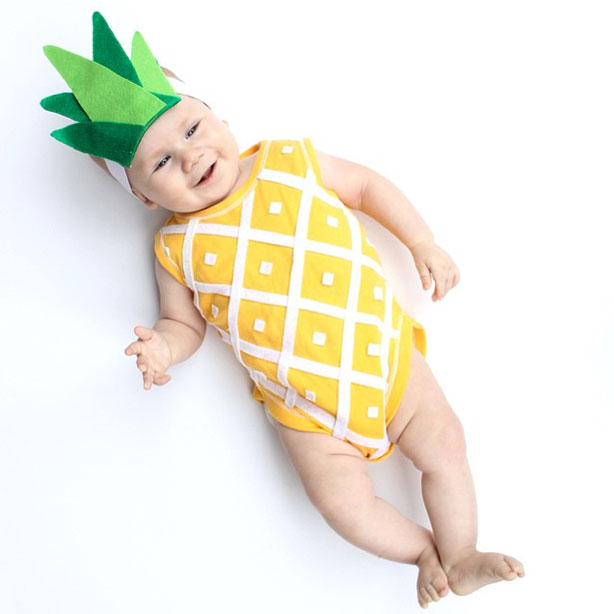 Image: Instagram/LinesAcross
7. Popeye is the perfect costume for babies with adorably chubby limbs
Image: StorytellerCinema
8. Some red wool, a cute dress, some stripy tights, and you've got yourself a ragdoll!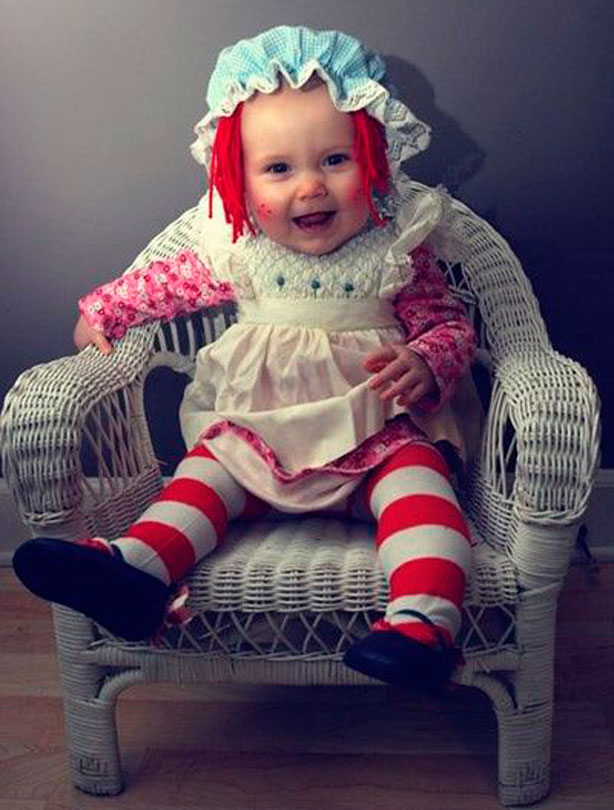 Image: Juxtapost
9. The drawn-on abs really make this baby Roman outfit
Image: MemeCollection
10. Got a water baby? Turn them into a scuba diver (they can wear a dummy and still be in costume!)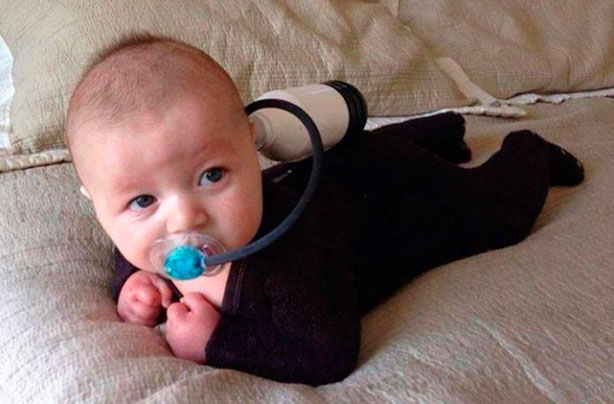 Image: Indulgy
11. Of course, a shark is an equally snappy choice
Image: Imgur
12. Get creative with a black babygro and white fabric paint for a DIY skeleton look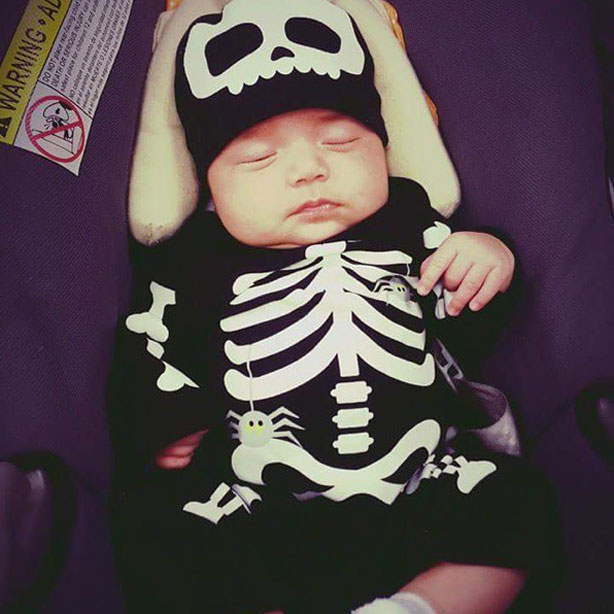 Image: Instagram/Miranomas_Lazorya
13. Spaghetti and meatballs! Now to find two dogs for your very own Lady and the Tramp scene…
Image: Treehouse TV
14. Ghostbusters fans, the Stay Puft marshmallow man is the costume for your sproglet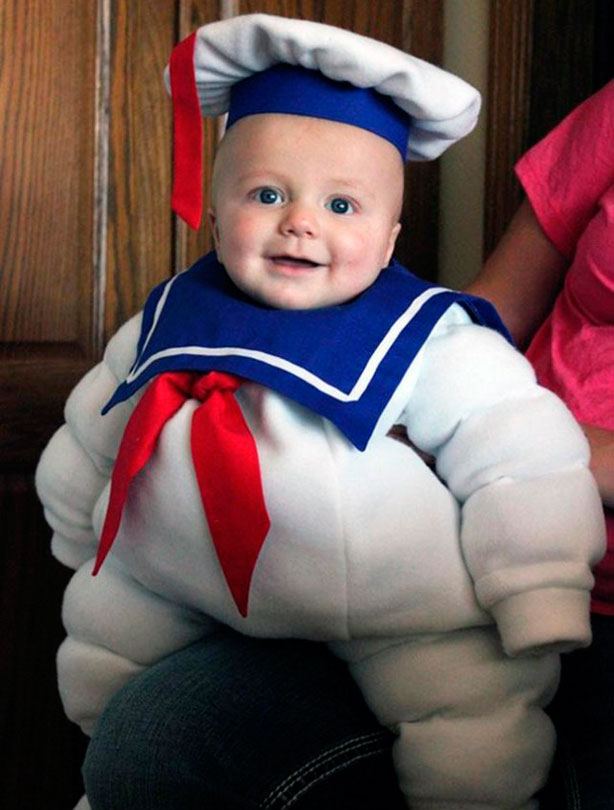 Image: Cha.lt
15. Add a dumbbell to a striped outfit for a quick and simple strongman
Image: You Are My Fave
16. Wrap your baby up in Subway wrappers and hey presto – an instant costume for you too!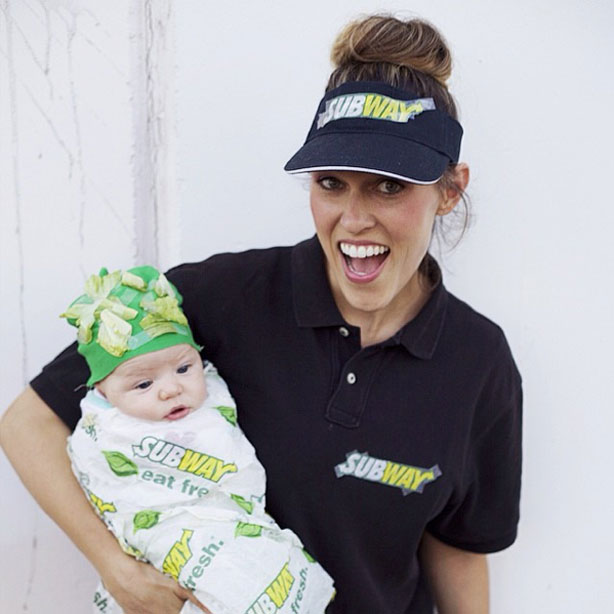 Image: Instagram/Lacy_Joy
17. Staying with the food theme, you could go for sushi…
Image: The Globe and Mail
18. …a crawling taco (because costumes don't need to get in the way of tummy time…)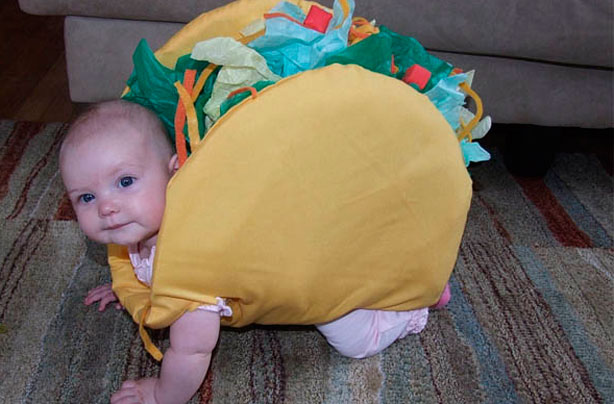 Image: Costume Pop
19. …cotton candy…
Image: Style Me Pretty
20. …or a box of Frosties, although you will need a supporting adult for this one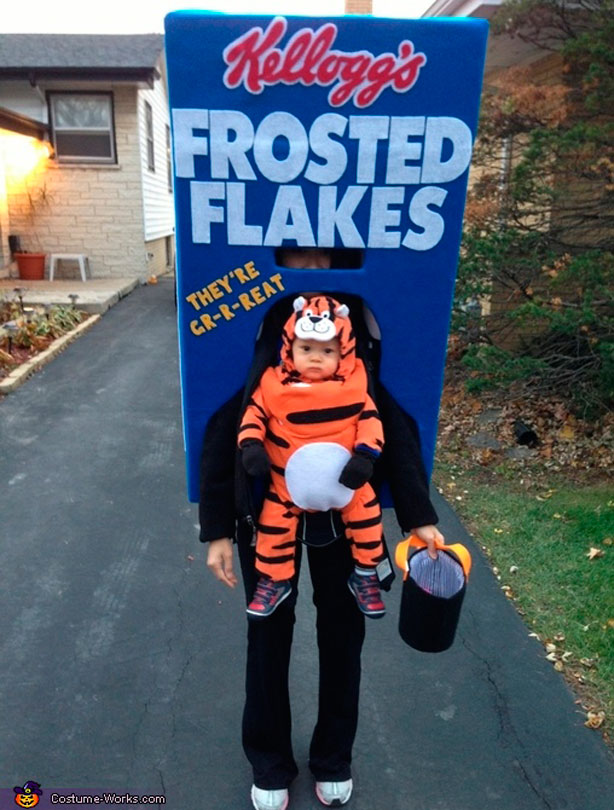 Image: Costume Works
21. This tiny tardis is just cardboard boxes, craft paper and a little creativity…
Image: Craftster
22. …whilst this turtle combo is as simple as colouring a paper plate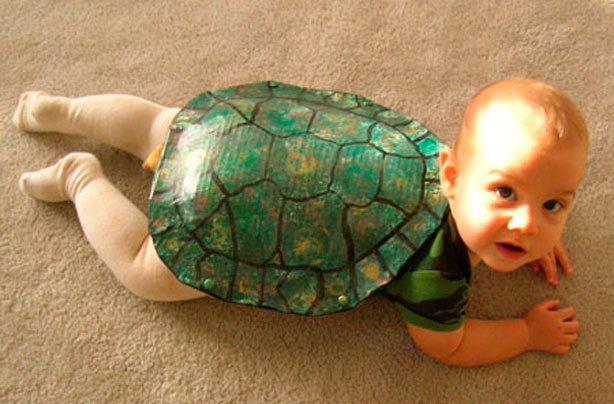 Image: Imgur
23. Star Wars lovers, we present you with a baby Yoda…
Image: Ravelry
24. …a chubby-cheeked Jedi…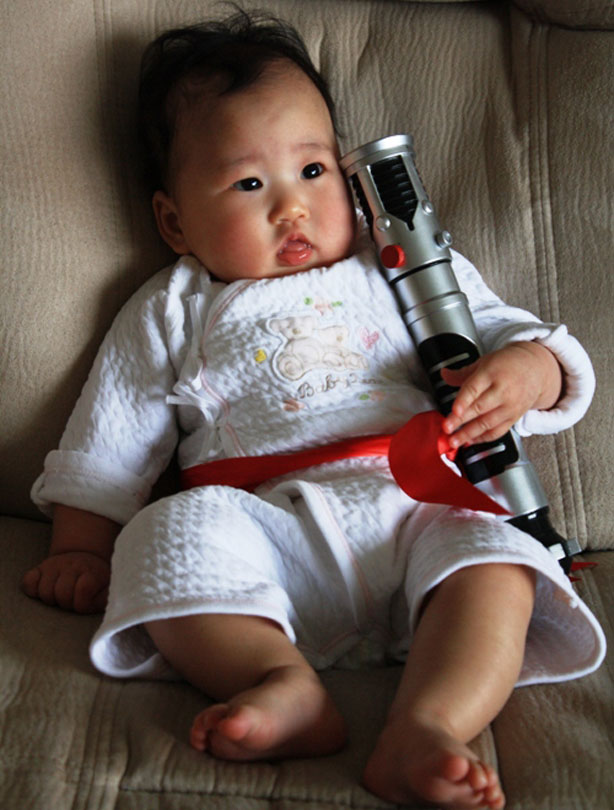 Image: Tim and Olive
25. …and the most gorgeous little Leia in town
Image: Imgur
26. Spread their wings AND keep them swaddled with this butterfly ensemble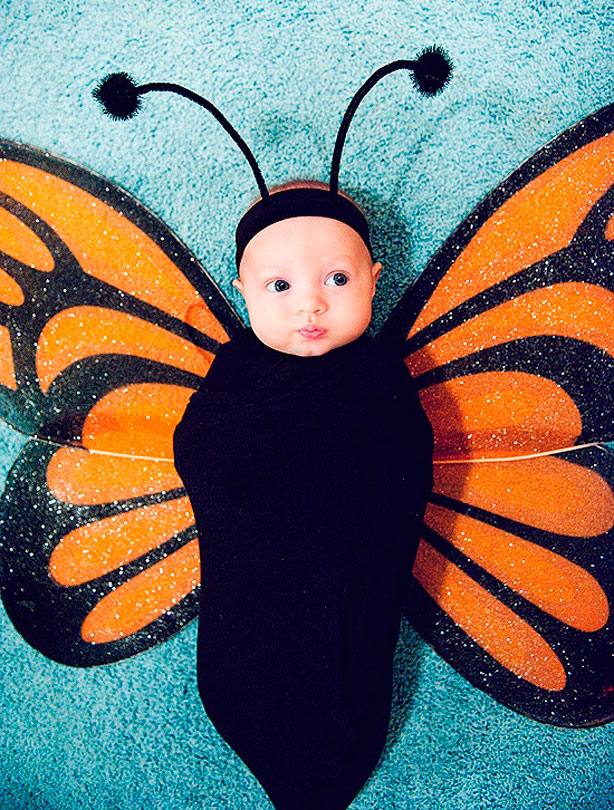 Image: MommyStatus
27. Create Cabbage Patch Kids – double the trouble, twice as adorable
Image: Coolest Homemade Costumes
28. Or take inspiration from a classic children's book instead of toys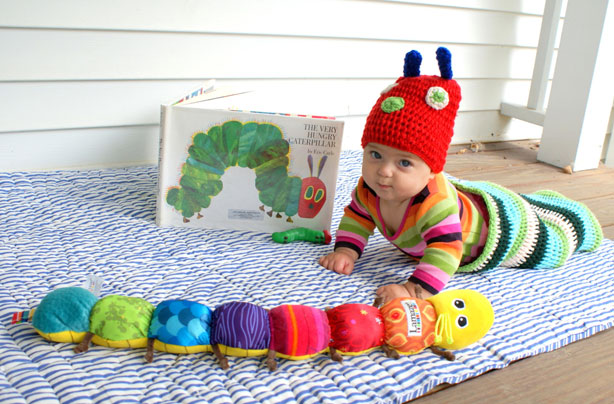 Image: Lola Pearl in Costume
29. A brown outfit + a hat with antlers = my first Halloween, nailed
Image: StudioDIY
30. The firebreathing dummy is icing on the cake of this dragon ensemble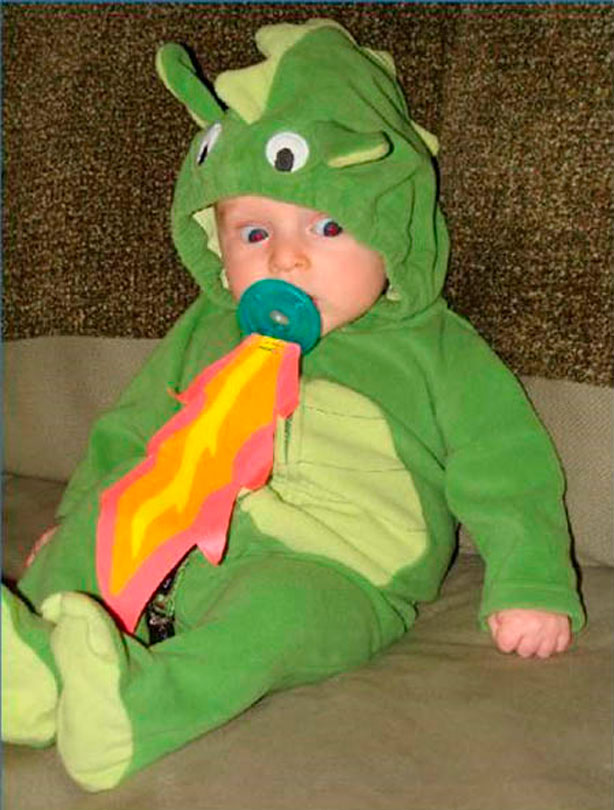 Image: Costume Pop
31. Start with an elephant, and they'll have a circus theme they can carry on for years!
Image: Imgur
32. The most flamboyant babies amongst us will look great as mini flamingoes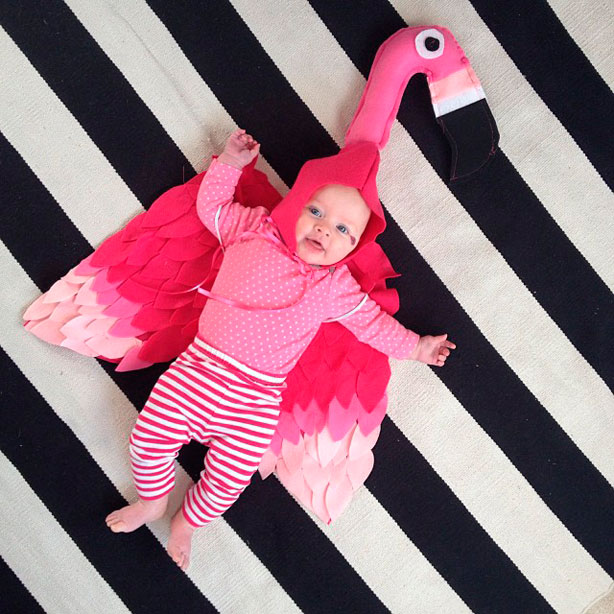 Image: Studio DIY
33. Whilst little Rosie or Daisy NEEDS this flower suit
Image:Instagram/SophiasMommy07
34. Caffiene addicted mama? Frappucino baby!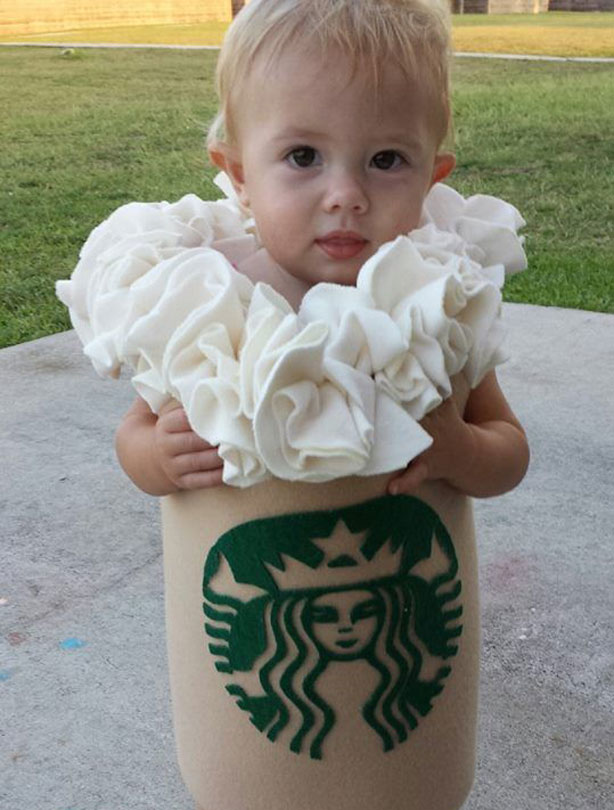 Image: Instagram/Goodas77
35. A garden gnome this angelic will be walking away with ALL of the Halloween candy
Image: CostumeWorks
36. Harry Potter is an easy but effective choice (don't forget the scar!)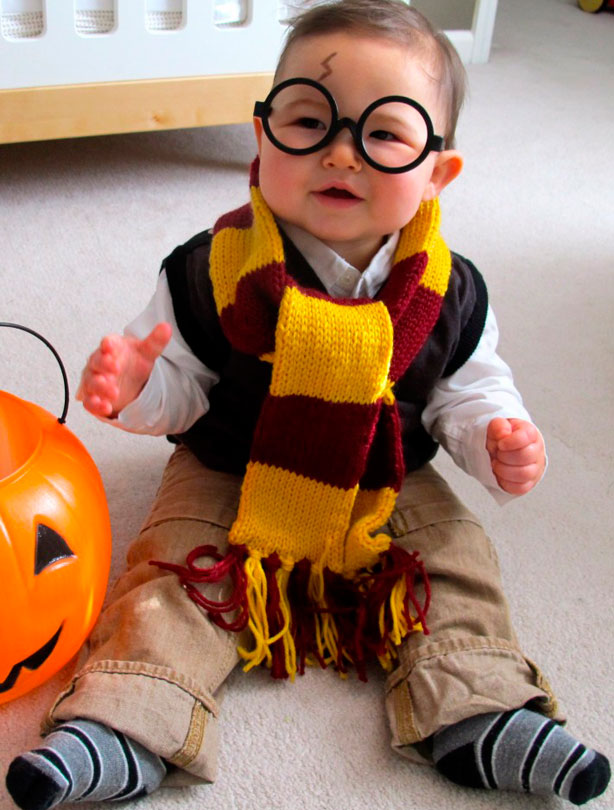 Image: Love and Lion
37. Or if you want them to save the world rather than Hogwarts, a hero outfit is a must
Image: Imgur
38. (Any hero will do)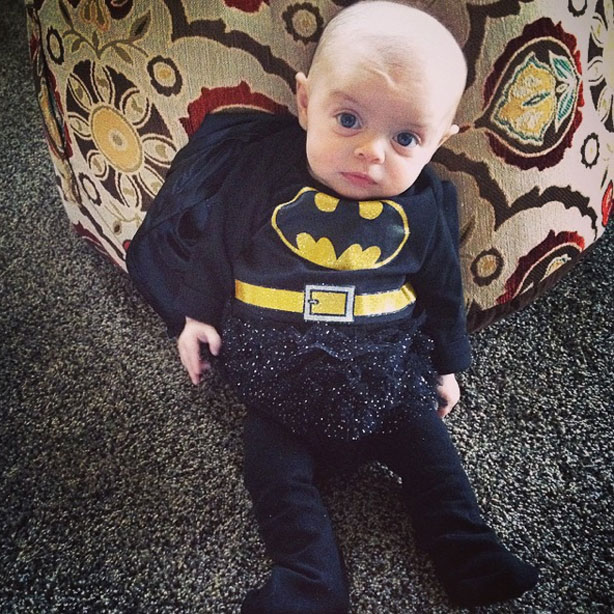 Image: Instagram/PaleGurlJoleen
39. How about a hot dog that you can push around in a buggy?!
Image: Tim and Olive
40. And this little lobster comes with her own personal carry pot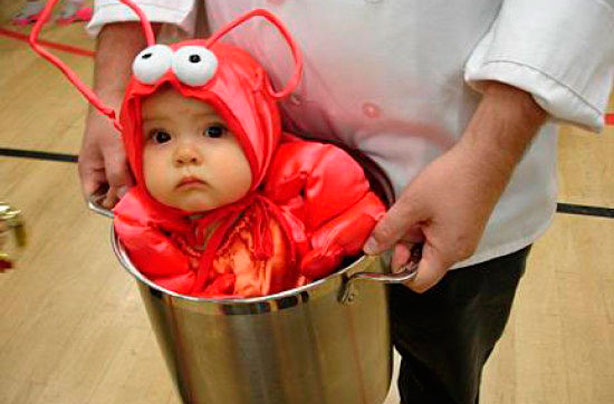 Image: Ordinary Parent
41. This mermaid costume works for all ages, even if they're not sitting up yet
Image: Instagram/FieryMermaidBlog
42. As does Mr Monopoly, king of baby board game personas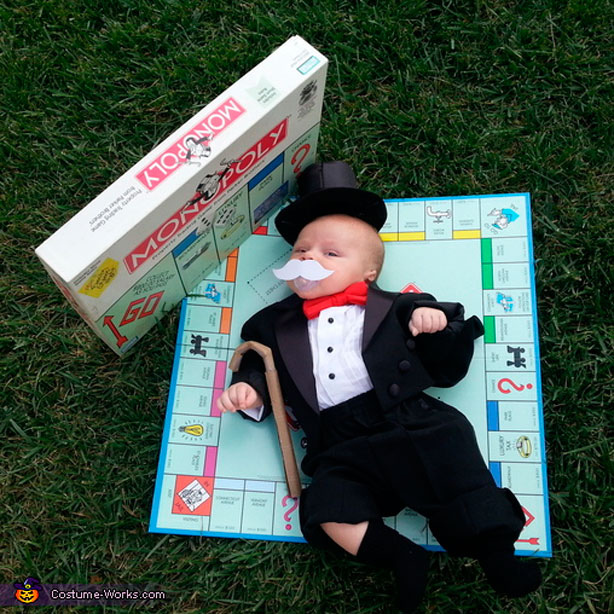 Image: Costume Works
43. Although an honourable mention does have to go to Mousetrap
Image: Coolest Homemade Costumes
44. Stuffed tights are the cheat's way to baby octupus chic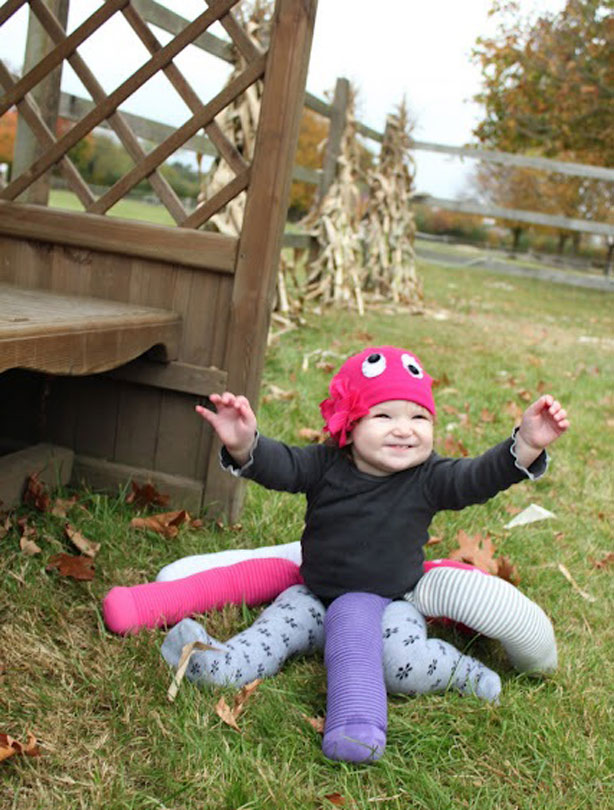 Image: Babble
45. Reach for the stars! Astronaut baby is here!
Image: Lola Pearl in Costume
46. They could shake a tail feather with this peacock get up…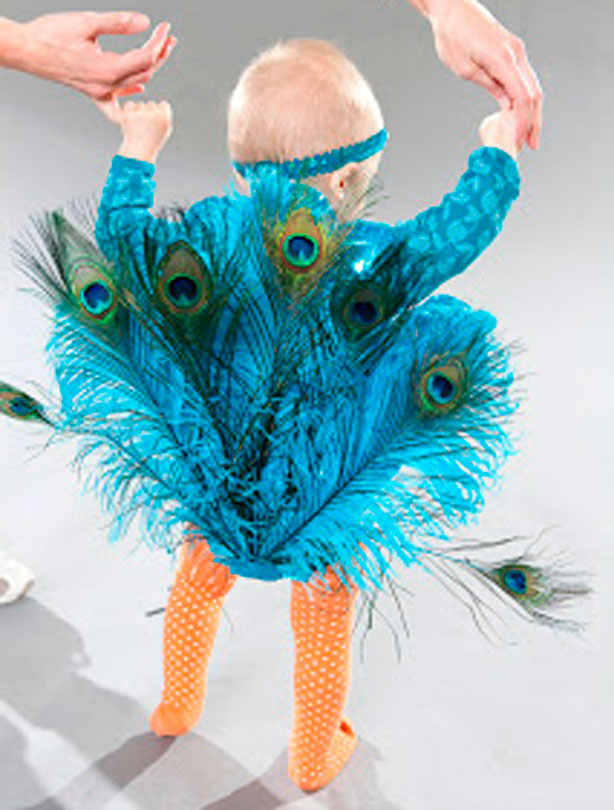 Image: Creatively Christy
47. …keep it classy with Audrey Hepburn Jr…
Image: Creative House Blog
48. …or take it back to the 80s with this aerobics instructor aesthetic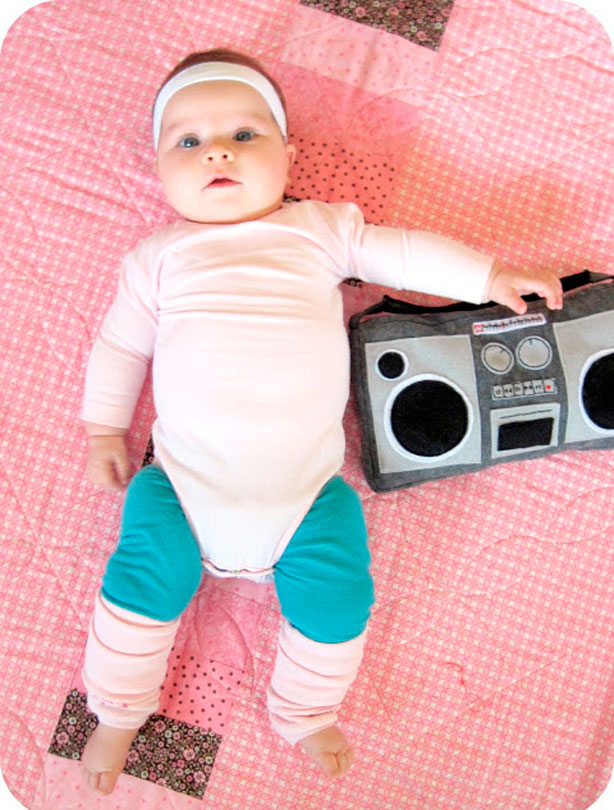 Image: Homemade by Jill
49. The choice is yours, but if all else fails, you can't go wrong with a classic – cos a bundle of baby dressed as a pumpkin will never ever ever get old.
Image: People
See?