A mum who lost her baby son at six months old has written a touching letter to other grieving mums.
Lexi Behrndt, from America, wrote the piece on her blog, Scribbles & Crumbs, during Infant Loss Awareness Month.
The piece addresses mums who've lost a child, offering them words of hope, courage and most importantly, honesty about the healing process ahead.
Lexi's little boy Charlie passed away at six-and-a-half months of congenital heart disease
Her son, Charlie, died of congenital heart disease when he was just six-and-a-half months old, and she describes her blog as an 'outlet' for her emotions, where she hopes to share her 'very real, very raw, very stubborn faith' in the hope that it 'heals someone else a little bit too.'
You can read Lexi's touching open letter below, and feel free to share with friends who might be going through the same.
'Oh, sweet momma…
I am so, so sorry you are here.
I know your heart is broken. How I wish I could make you feel at home again. How I wish I could take away the pain. How I wish I could place that baby back in your arms. You could watch them grow. All the giggles, skinned knees, and Eskimo kisses. I know you would savor every moment. I know you would breathe that baby in till you no longer had any breath in you. I know you would give every ounce of you to save every ounce of them, one thousand times over.
I know you miss them. I know you wish you could just smell them one more time, see their face one more time, kiss that squishy cheek and then freeze that moment so it would last forever. There are things that pictures and videos can never replace, and having that baby in your arms is at the top of the list.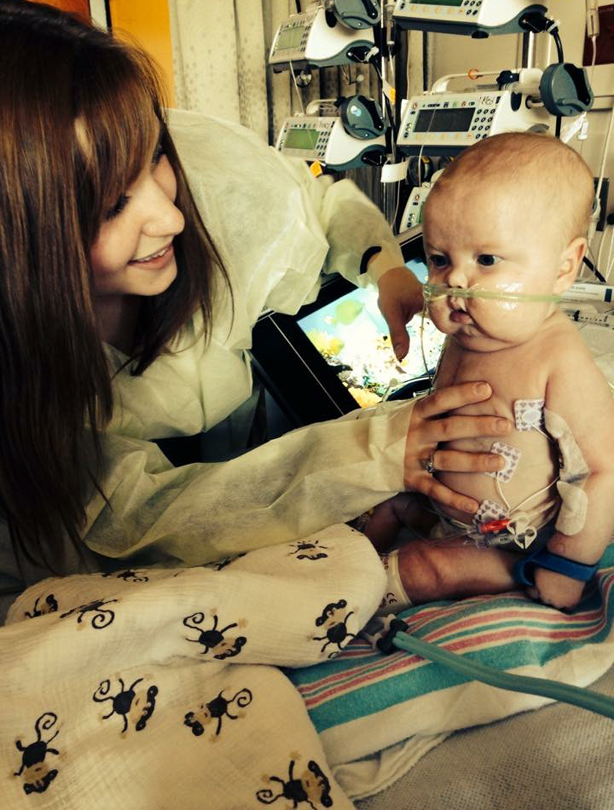 Lexi wrote the open letter – published on her blog – to other mums who were going through the same devastating experience
If I could "fix" this, I would move mountains. My gosh, I would in a heartbeat.
You, sweet momma, are so brave. You are strong. You are such a good momma.
On the days when it's all you can do just to function, that's okay.
On the days when no one but you mentions their name, I am so, so sorry. Say their name bravely. Know that they are still real, they were still here, and you are still their momma.
On the days when you feel like you could burst from anger and pain, go somewhere alone, cry it out, curse at the sky- there's nothing worse than having to fake it. Just don't. Please, let yourself feel it. You've been through too much to put on a face, and healing doesn't come when we are living under a facade.
Lexi – here pictured with her elder son, Lincoln, says she uses her blog as an 'outlet' to 'heal'
Friend, you will heal. You will breathe easier. You will ache maybe a little less, but I've heard from mommas much, much further down the road than I, the longing will never, ever, ever leave. That's the beauty and the fierceness and the strength of a mother's love. Momma, you are strong. You are so brave. You are doing such a good job.
Even when you don't feel it…Look, momma. Here you are…You're still breathing. You're still standing. You are so brave.
Sweet momma friend, I am so sorry you are here. Know that you are so loved.
Know that where there is great pain, there is even greater love.
So much love to you,
A Momma Who Knows'
Do you have any words for anyone, like Lexi, who's suffering the loss of a child? Feel free to leave your thoughts in our comments box below.