We earn a commission for products purchased through some links in this article.
Make bath time fun, not stressful with our pick of the best bath toys for your baby or toddler from £4.99.
Does your child love bath time so much that you can't get them out at the end, or do you have a job getting them in? We've picked the best bath toys for your baby or toddler, from £4.99, so bathtimes are fun, not stressful.
We've got a brilliant bubble maker to help you create an enjoyable atmosphere, a cute tea party set that little girls will love and a 5-piece set of bath toys to help your child learn to wash themselves while they play! There is loads your child can do with this fun fishing boat, which comes with a captain, floating sea creatures and pouring cups to keep them entertained during bath time.
Teach your child how to keep clean with the whale nail brush and octopus comb, then catch all of the colourful creatures with the fishing line at the back of the boat.
Costs: £30 at johncrane.co.uk
Age: From 6 months Summer Infant tub-time tea party
Bring the tea party to the bathtub with this pretty tea set.
Your child can collect, pour and drain water from the teapot and cups and add the floating sugar cubes to their tea. There's also a special button that spins to stir the water and sugar cubes.
Could bath or tea time be anymore fun than this?
Costs: £8.99 from toysrus.co.uk
Age: From 2 years Ducks and storage net set
You can't run a bath without a rubber duck!
Add this colourful, floating family of ducks to your baby's bath - the mummy duck and 2 ducklings can be squeezed and filled with water.
The set also comes with a net so you can store them in your bathroom and stay clutter free.

Costs: £5.99 at tippitoes.com
Age: From 3 months Starfish stay-put stacker
Teach your child stacking skills with this colourful bath stacker.
The stacking pole can be attached to the bathtub floor or it can float upright, so your child can have fun trying to stack the starfish as it floats. The shapes also cling to the bathroom tiles so the fun doesn't have to end!
Costs: £15 at bibsandstuff.co.uk
Age: From 18 months The iconic children's bubble bath, Matey, gets really fun as a new gift set.
Max Matey comes with a cool Tic-Toc Toucan hand puppet and Molly Matey is accompanied by bathtime buddy, Keldie the seahorse.
Your little ones will enjoy playing with the puppets and child-friendly bottles while you keep them clean with the soft and fruity bubbles.
Costs: £5.49 each from Asda, Tesco and most chemists.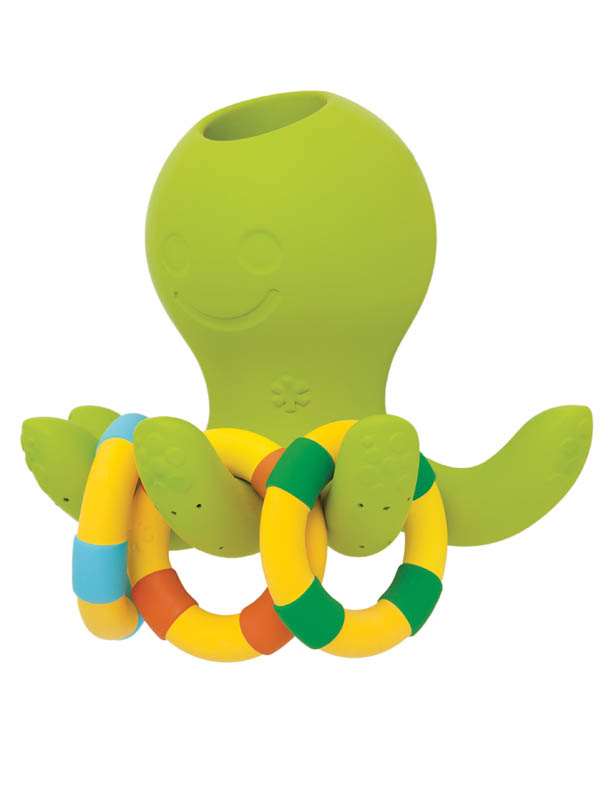 Skip-Hop Octopus ring toss fountain
This friendly octopus can be stuck on the wall so your toddler can pour water into its head and watch it sprinkle down from its arms.
It doubles up as ring toss, so you and your little one can enjoy the challenge of getting the 3 floating rings onto the octopus' legs.
Costs: £14 from bibsandstuff.co.uk
Age: From 10 months Introduce your little one to fishing and counting with this fun catch-and-count set.
Your baby can scoop up and count the different-textured fish over and over with the bright colours helping to develop their vision.
Costs: £6.95 at John Lewis
Age: From 6 months Brother Max ray digital thermometer
This one's for you and your baby, and is a must-have if you ever worry about your baby's bath being too hot or cold.
Pop this cute floating ray in your baby's bath and you'll be able to make sure the water temperature is perfect in a single glance - the thermometer reads 'HOT' if the water reaches above 39°C.
Your baby will also enjoy playing with their new bath time buddy and the thermometer can be used to check the temperature in the nursery so this bath toy is really worth the money.
Costs: £14.49 from kiddicare.com
Age: From birth If getting your little one out of the bath isn't an easy task, you can make getting dry just as enjoyable as splashing around in the water with this adorable duck towel.
It comes with a hood and is super soft.
Costs: £18 from bibsandstuff.co.uk This is an image
10
of
15
Brother Max play, wash and learn toys
These 5 bath toys will teach your child how to stay clean, have fun and learn all in one go.
They can stamp and scrub themself with the sponge stamper, brush their hair with the flexi brush, clean their face with the twister flannel, then rinse off with the sprinkler while they're wearing the fun bath rattle around their wrist!
Costs: £4.99 each from Tesco or £19.99 for the set from argos.co.uk
Age: From 12 months This is an image
11
of
15
Make bathtime really fun with this fishing boat, which allows your little one to hook and scoop up the fish, and develop their hand-eye coordination and motor skills.
The fishing hook can be detached from the boat and used separately and the deck of the boat pops off so it can be used for stacking and scooping up water. It also comes with a colourful dolphin and stingray pouring toy.
Costs: £15 from johnlewis.com
Age: From 12 months This is an image
12
of
15
Sassy snap-and-squirt creatures
You can never have enough bath toys, right?
These fun, floating sea creatures squirt water and can snap together to form a chain. They come in a fish bowl-shaped bag too, so they can be packed away neatly after bathtime.
Costs: £10 from jojomamanbebe.co.uk
Age: From 6 months This is an image
13
of
15
Summer Infant baby's first bubble maker
Who doesn't love bubbles?
This cool bubble maker is a great way of creating a fun atmosphere in the bathroom, plus, it's fun for mums too!
Costs: £9.99 at toysrus.co.uk
Age: From birth to toddlers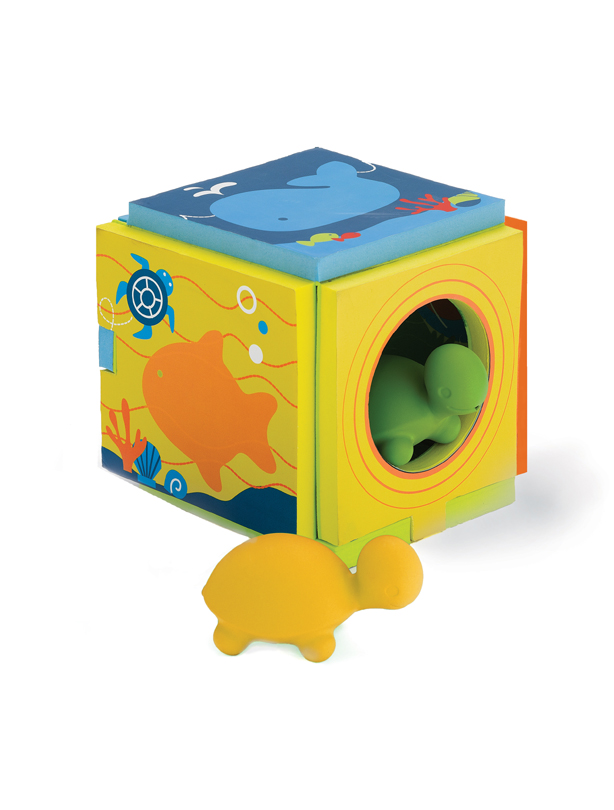 This is an image
14
of
15
This floating hangout for turtles is ideal for keeping even the most reluctant young bathers occupied during bathtime.
The soft foam box unfolds, creating a fun island path with holes for the turtles to dive through.
It comes with 3 little turtles making it perfect if you have multiple bathers.
Costs: £17 from bibsandstuff.co.uk
Age: From 18 months This is an image
15
of
15
This cute little snail floats in the bath tub and allows your child to stack the rings on its back and squirt water from the squeezy flower.
Costs: £9.99 at Asda, Wilkinsons, Argos and Boots.
Age: Young babies
Where to next?