You know what's cooler than an awesome Halloween costume?
An awesome COUPLES Halloween costume, that's what.
Okay, so if your other halves are anything like ours, they might need a bit of gentle nudging to wear anything that's not jeans and a jumper, but if you manage to get them into the spirit, these costume ideas will ensure you're the coolest looking twosome in town.
From classics like Morticia and Gomez to totally modern get-ups like Jack and Coke and Barbie and Ken, here are 35 of the best couples costumes to try this Halloween…
1. Let's start with a classic. There's no couple more Halloweeny than Gomez and Morticia
Image: Coolest Homemade Costumes
2. Although these spooky skeletons come a pretty close second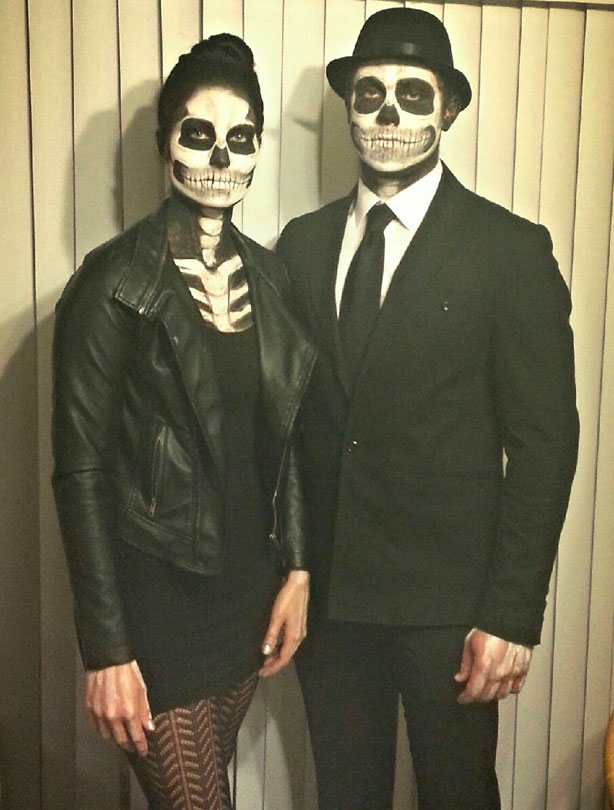 Image: Imgur
3. If scary ain't your thing, you could always go saucy – these two are 50 Shades of Grey
Image: Costume Works
4. After that you might need to cool down, frozen yogurt anyone?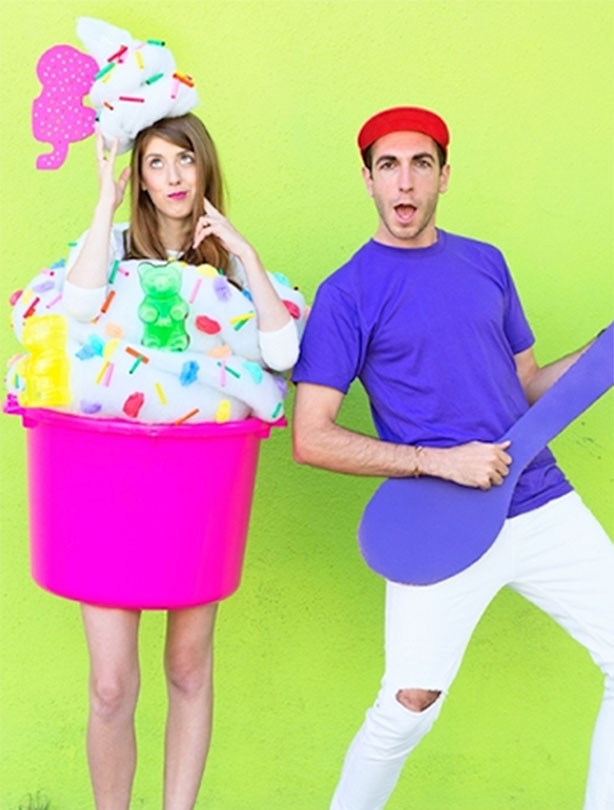 Image: Studio DIY
5. Why not embody a love that never ends, like Jenny and Forest Gump
Image: Mary Costa Photography

6. This one is bound to get some laughs, now who wants to be the cat and who wants the less glamorous part of the litter tray?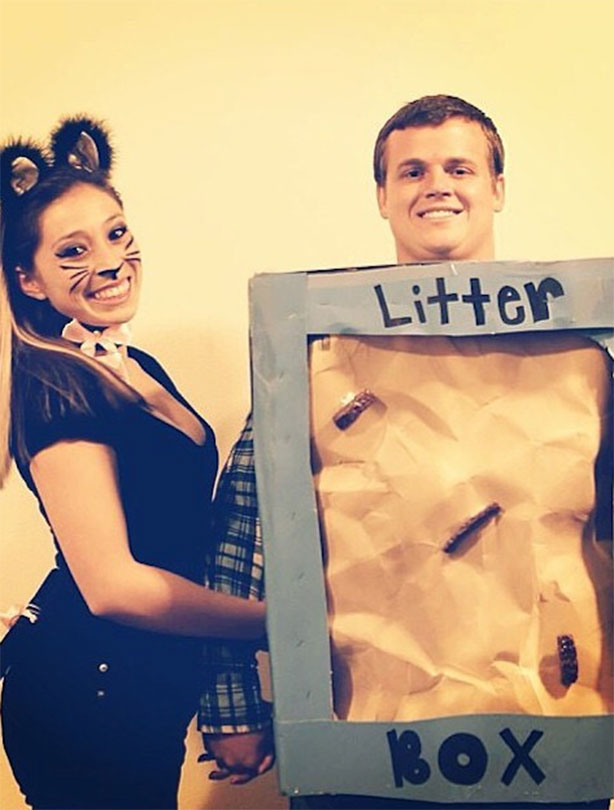 Image: Instagram
7. What could possibly go better together than the two sides of an Oreo!
Image: Instagram
8. If you've ever seen Forrest Gump, you'll know why this costume is so awesome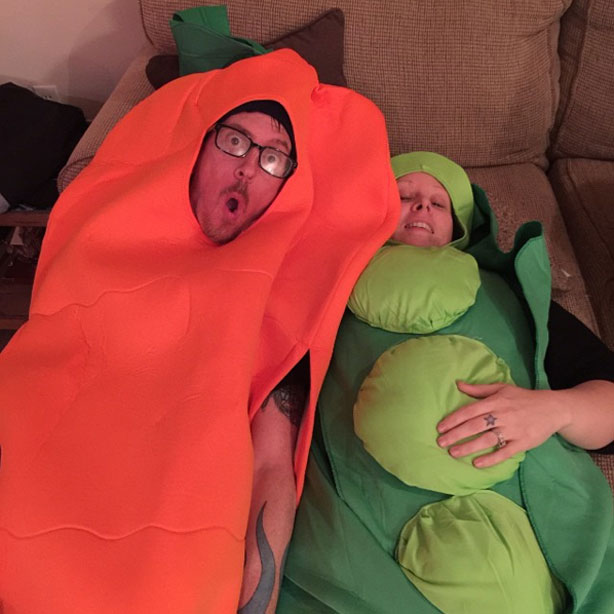 Image: Instagram
If you haven't, we'll direct your attention to this short clip.
9. The beauty of Lego costumes is that you don't even need to do your make up before heading to the party
Image: Craftster
10. These silent movie star costumes, on the other hand, require a lot of make up, but it's totally worth the effort
Image: Shrimp Salad Circus
11. Not into body paint? This clever Homer and Marge used modified morph suits instead
Image: Costume Works
12. You can't go wrong with a Disney-themed option – just ask Elsa and Olaf…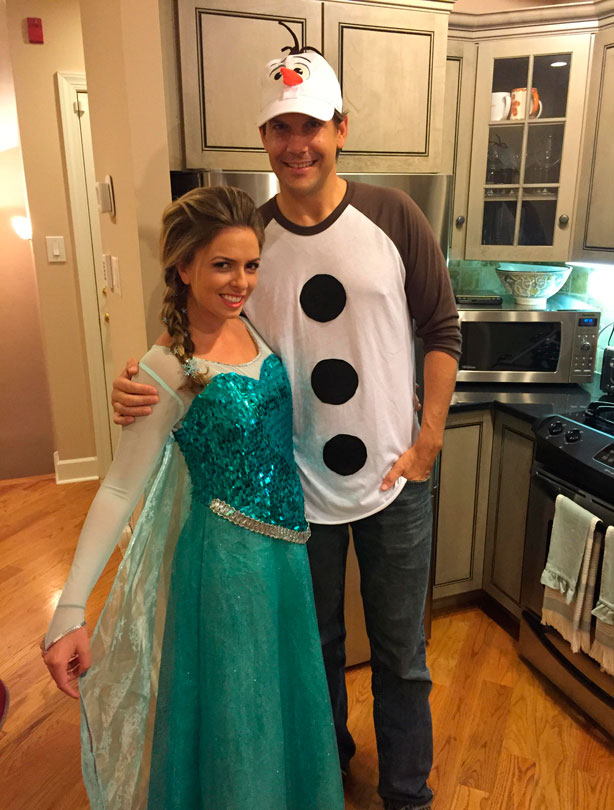 Image: Imgur
13. …Belle and her beast…
Image: Costume Works
14. …Mary Poppins and Bert…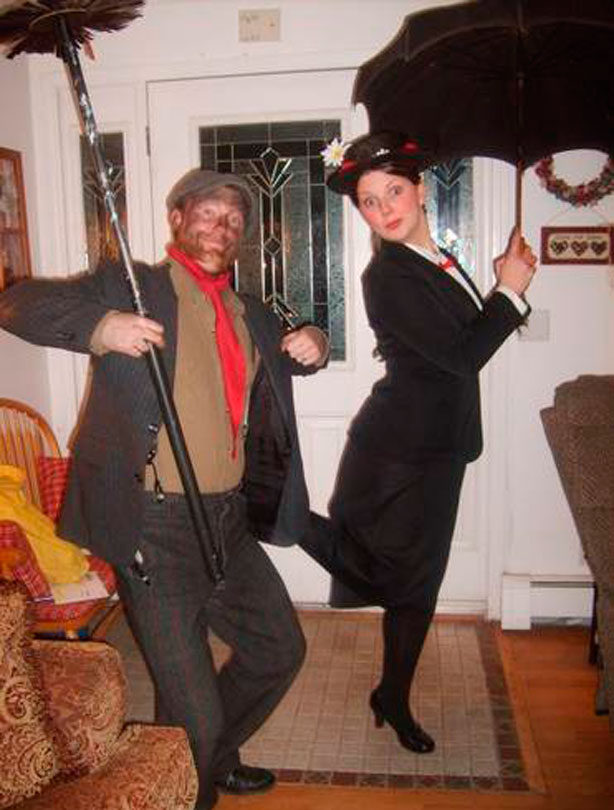 Image: Craftster
15. …and Peter Pan and Tink
Image: Instagram
16. Although an honourable mention has to go to Shrek and Fiona too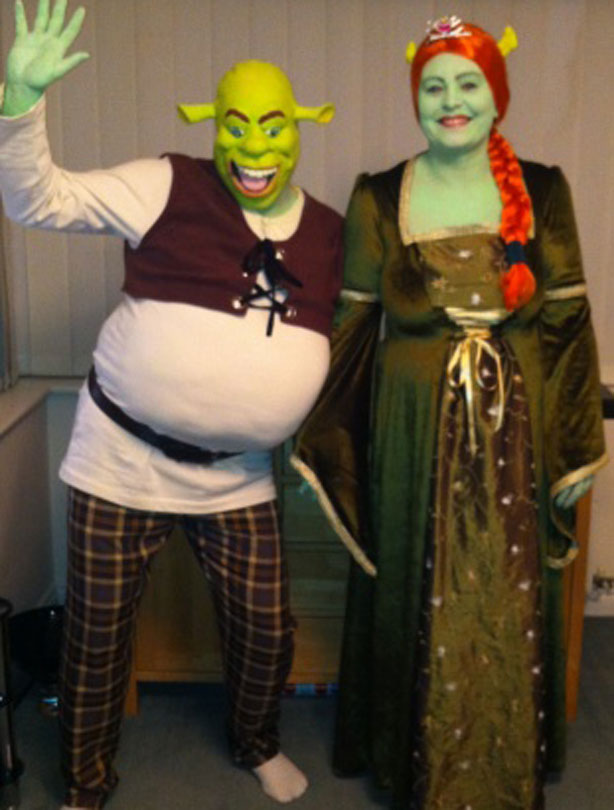 Image: Masquerade Shop
17. Pun-loving couple? You NEED this deer-in-headlights situation
Image: Youtube
18. Classic board game lover? You could do worse than this Operation costume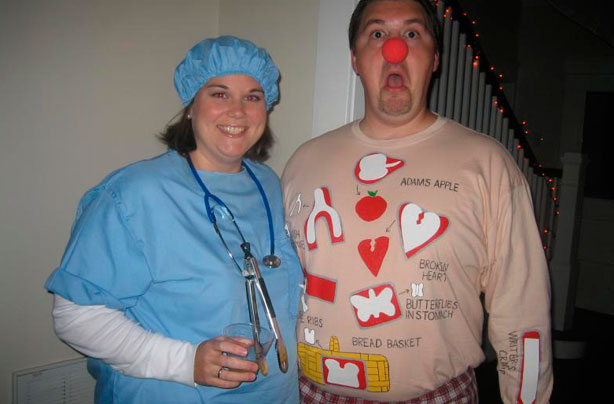 Image: Erin and Matt
19. Or this genius Guess Who look!
Image: Coolest Homemade Costumes
20. Hungry Hippos are a pretty strong option as well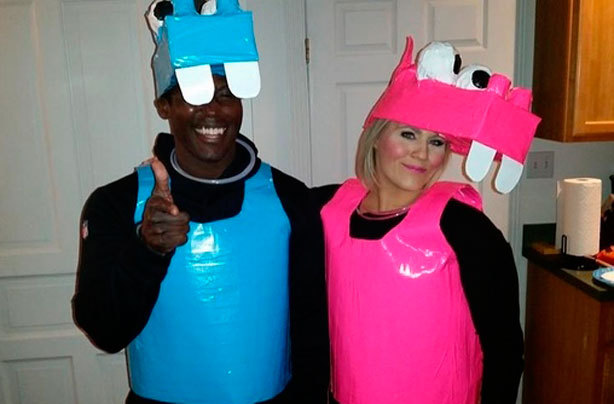 Image: Costume Works
21. Red Riding Hood and the Wolf would be ideal for a fairytale-themed party
Image: Love to Know
22. How amazing are this Barbie & Ken duo? The detail on those boxes!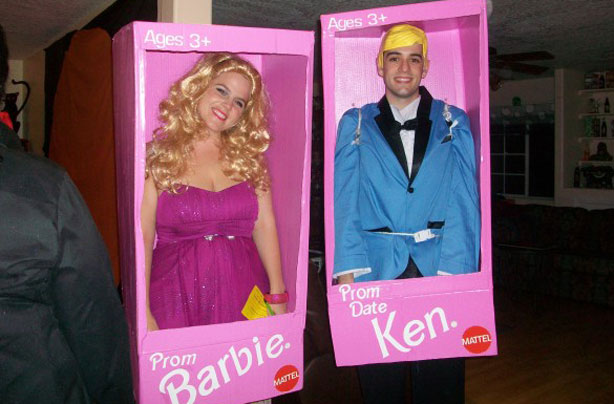 Image: Costume Pop
23. This Pacman and ghost number is also mostly cardboard, but just as impressive
Image: Coolest Homemade Costumes Waka waka waka waka etc.
24. Pinata costumes are easy to pull together, although we highly recommend reversing roles so YOU'RE the one in charge of the big stick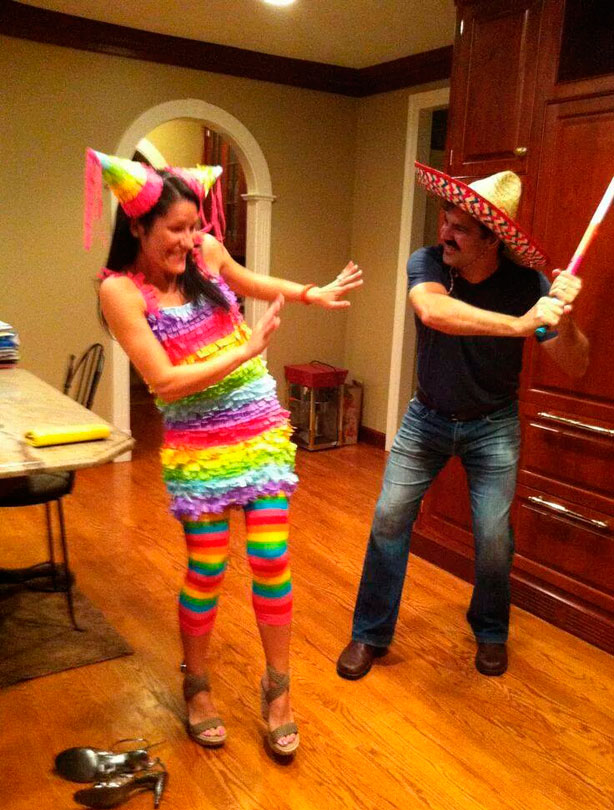 Image: Imgur
25. Or if you look better in gold than rainbow colours, try this Willy Wonka set-up!
Image: Love Fun and Football 
23. These scarecrow outfits would be fab for a couple of country bumpkins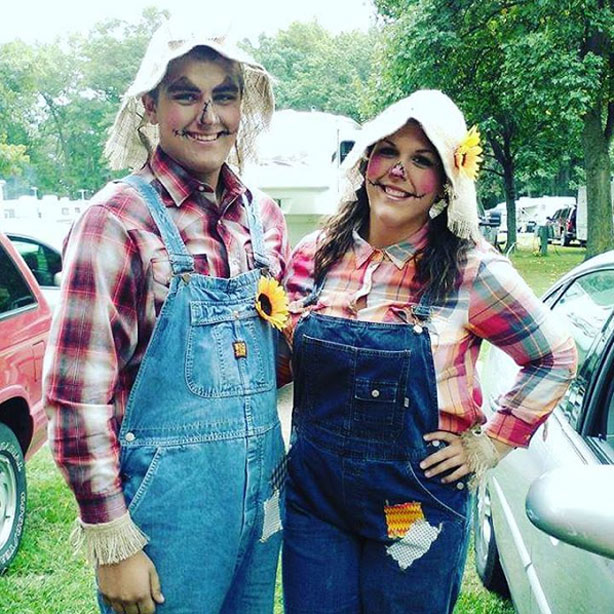 Image: Instagram
26. Sweet-toothed hubbies make perfect Cookie Monsters…
Image: Coolest Homemade Costumes
27. …whilst caffeine-addicted wives make adorable Frappucinos!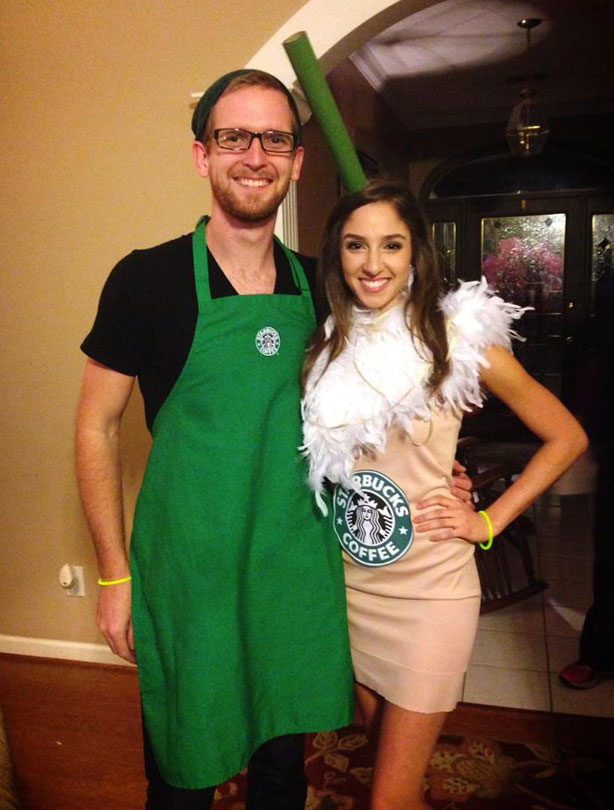 Image: Imgur
28. A Tom and Jerry costume is an oldie but a goodie
Image: Coolest Homemade Costumes
29. As is Papa Smurf and Smurfette!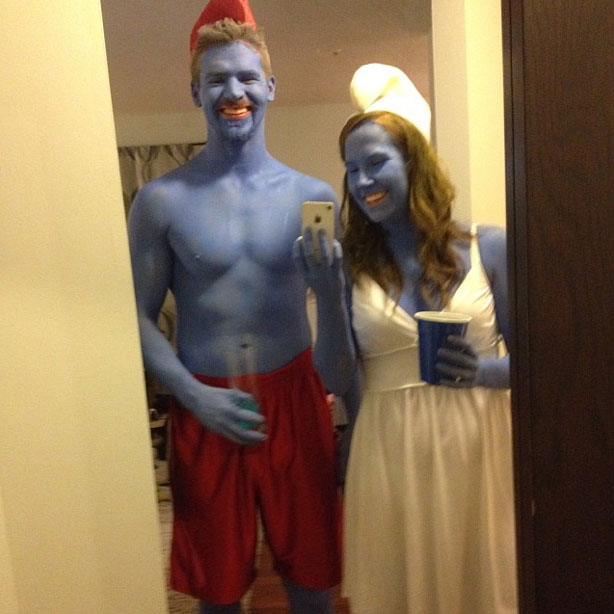 Image: Instagram
30. This couple went for Alice and the White Rabbit, but you could easily opt for a Mad Hatter take instead
Image: Buzznet
31. Men tend to be really into a Popeye costume, because it gives them a chance to flex like no other…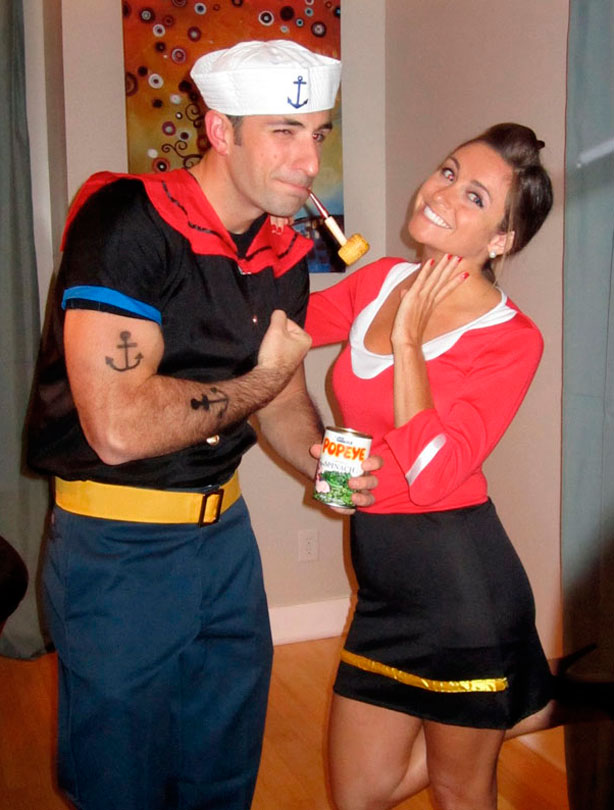 Image: Brit + Co
32. …whilst this summery number might take a little more persuasion
Image: Craftster Well, at least YOU'LL look adorable.
33. This Lord of the Rings pairing is a great idea, as long as you don't offend anyone deciding who has to be Gollum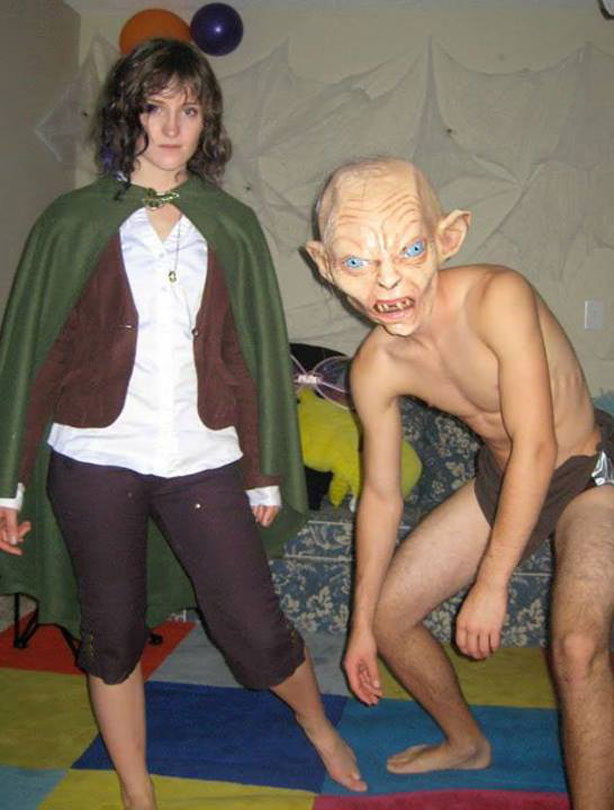 Image: Imgur
34. Jack and Coke make such a cute couple!
Image: Pinterest
35. And this pop-art pair aren't bad either…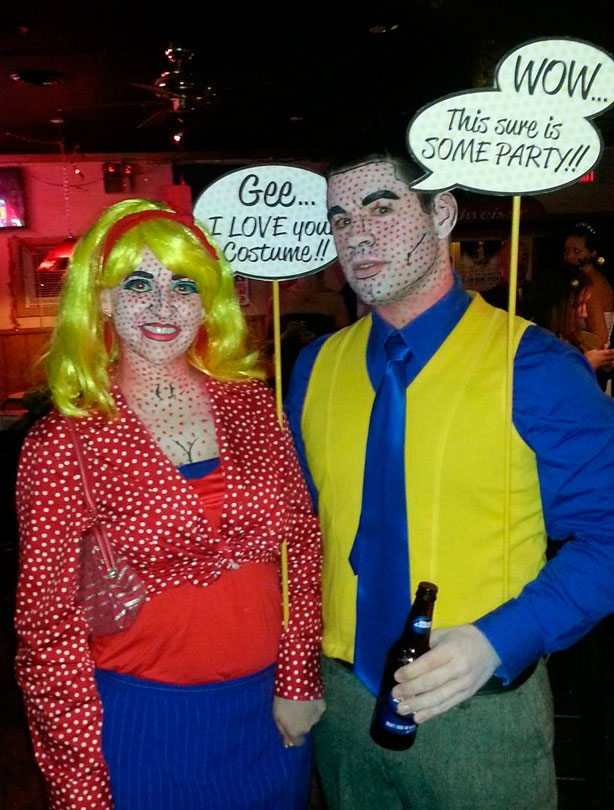 Image: Pinterest
36. Salt and pepper is so easy it's almost a cop-out costume
Image: Snappy Pixels
37. And all you need for this badass bandit look is basically a stripy top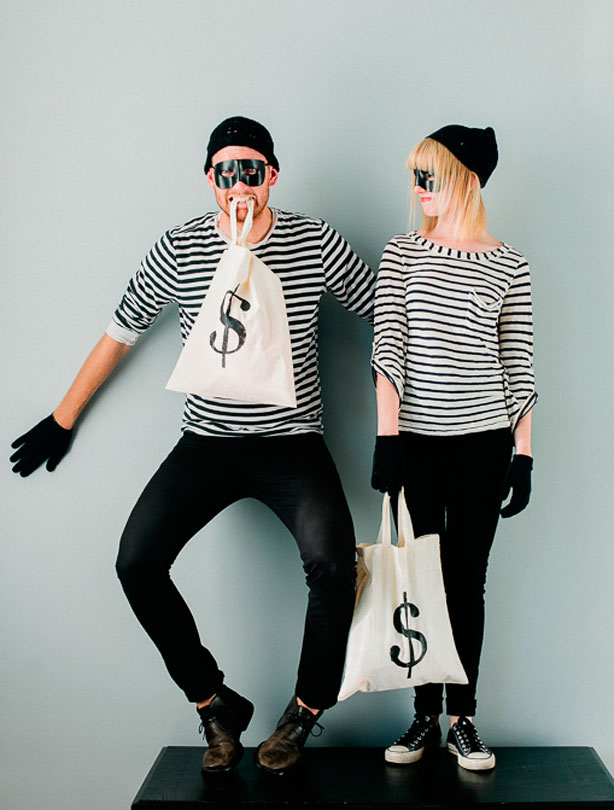 Image: Say Yes
38. But if you're a new parent and this all still looks like too much faff, don these handy outfits and you've got a built-in costume for baby too
Image: Snappy Pixels