'I'm keeping this kid safe' Dad speaks out against judgement for putting his child on a leash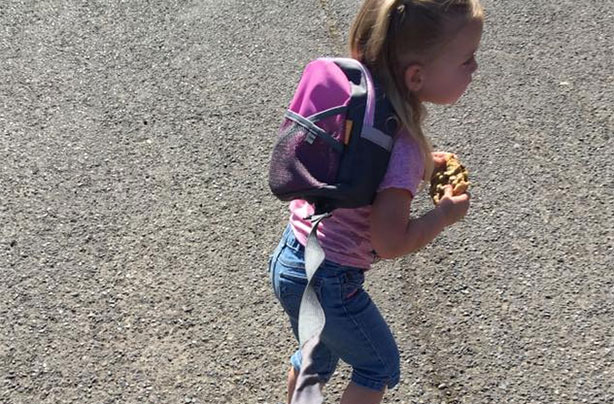 A dad has hit back at strangers who give him 'dirty looks' for using a leash with his 'wild child', saying that the most important thing is 'keeping her out of danger'.
Dad-of-two Clint Edwards has taken to Facebook to speak out against the judgement he faces when using a leash with his daughter, claiming that he needs one because of her 'curious' nature.
Describing how the leash had already kept his little girl safe previously, the dad blogger said, 'We were at the farmers market. No shame. I put this kid on a leash.
'She's a wild child, and this thing has already kept her out of the road and from sticking her hand in an ice cream machine, along with keeping me sane.'
He continued to express his frustration at how he feels 'damned if you do and damned if you don't'.
'The real difficulty with having a wild child is that you are damned if you do, and damned if you don't. Because the fact is, if I didn't put Aspen on a leash while at amusement parks, the zoo, a crowded mall, or the farmers market, she'd be the lost child announced over the intercom.
'She'd be the kid popping up in every Facebook feed for wandering into a shopping center parking lot, unattended. She could be the child climbing into the tiger cage. Because I can't, for the life of me, keep her from moving.
'Her curiosity is incredible, and for only having a 12 inch stride, she moves faster than any Olympian.'
The No Idea What I'm Doing blogger explained that he feels judgement from others for using a leash with his child, but sees her safety as the priority.
'And sure, I get dirty looks from strangers. In fact, I'll probably get some "I'm the perfect parent and this is why you suck" comments on this post. And to you I say this, "I'm keep this kid safe while maintaining my piece of mind, and that is 100% worth it".
'Because the reality is she'll calm down. She'll figure it out, because all kids do. But until that day comes, I'm going to do whatever I can to keep her out of danger, even if it means a leash.'
Despite expecting some negative backlash on his post, the father was supported by fans who agreed that safety is most important when it comes to little ones.
One Facebook user said, 'This is a different world we're living in & I'd much rather see a child tethered to a backpack any day than lost or abducted. I travel a lot & I commend those brave parents that hold their heads high while clinching the leash. Safety never takes a holiday~ neither do child traffickers.'
Another agreed, 'used to be pretty judgy about those things. Then I had kids. Keep on keepin' on, man.'
A third said, 'Until those judgmental people have a runner or as you describe a child with a wild streak. They will never understand. Parents of truly spirited children just get it, no explanation needed.'
Would you use a leash on your child? Tell us your thoughts in the comment box!