You may think your little one's already a little devil without the face paint, so we're here to show you how they can live up to their name with one of these Halloween face paint ideas.
Dressing as a devil for Halloween is so easy, all you'll need is some red clothes and a little bit of material to make a blood red cloak.
To achieve the devil face paint look, find a comfortable place to work and cover surfaces in case of slips or spillages. Water-based face paints are great as they come off easily with soap and water, so no sore faces when the fun's over! Try Snazaroo's Halloween Face Painting Kit which has all the colours you'll need for our devil face paint and plenty more fun party designs, from snazaroo.com.
Face paint is safe to use on most skin types, but always do a patch test of the paint on the back of your child's hand. If there is no reaction in an hour or so it should be safe to use.
What you will need
Water-based face paint in red, black, white and orange
1 medium paintbrush
1 fine paintbrush
Face painting sponges
A pot of clean water Click or tap to zoom into this image
Using a brush, outline the upper eye line with white paint, exaggerating the corners. Then add two upside down triangles at either side of the bottom lip to create fangs.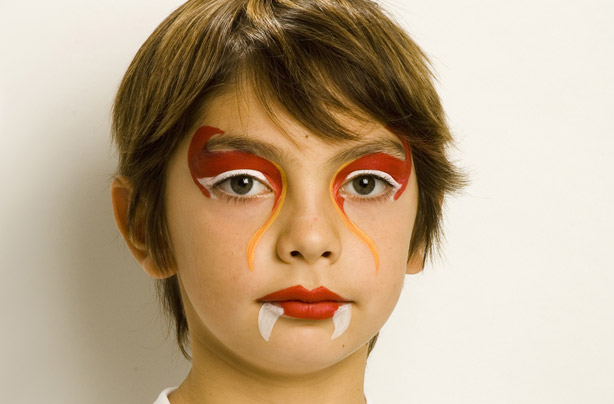 Click or tap to zoom into this image
Next use a brush to sweep red paint across the eyelid and paint the lips. Paint a curved orange line from the inner corner of the eye to the bottom of the nose on both sides. Click or tap to zoom into this image
To finish, create eyebrows, sideburns and a goatee with black paint and some dramatic brush-strokes. Click or tap to zoom into this image