We earn a commission for products purchased through some links in this article.
Kim Kardashian has finally shared the first picture of son Saint West – and isn't he a cutie!
Kim shared the adorable snap on her website, KimKardashianWest.com, on Monday 22nd February, with the caption:
'Today is my dad's birthday. I know there's nothing more in the world he would have wanted than to meet his grandchildren. So I wanted to share this pic of Saint with you all.'
Image: KimKardashianWest.com
The new mother, who already has a two-year-old daughter, North West, delivered her baby boy in the early hours of 5th December at Cedars Sinai Medical Centre in Los Angeles.
Despite the long history of 'K' names in the family, parents Kim and Kanye took nearly 48 hours to pick out a name for their new baby.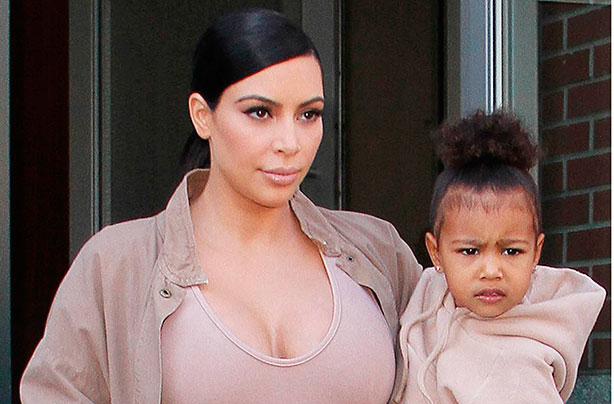 'North' and 'Saint' might not be the most popular celebrity baby names, but they're certainly unusual!
It was on the Monday evening that they finally revealed to Kim's 37.5 million Twitter followers that their 8lb son has been named Saint West.
The baby took rapper husband Kanye's surname rather than Kardashian, but there have been reports that his middle name may be Robert, after Kim's father who died of cancer in 2003.
Previous speculation that the child would we called Easton West were repeatedly shot down by the pair.
The socialite said; 'I don't like South West because that's like, you know, North will always, you know, be better and be more… she has a better direction.'
The family previously said that Kim was not due until Christmas Day, but it seems the miracle was a little earlier than planned.
The 35 year old had a difficult pregnancy, recently suffering with a sinus infection, flu and undergoing a procedure to turn her breeched child.
After Kim's name news, we can't help but take a look back at other celebrity baby name choices!
Ever the professional, the E! television star shared all the details of her pregnancy with her social media fans; 'This weekend I checked into the hospital and underwent a procedure called an ECV, which is done to manually turn the baby to a head-down position… probably more painful than childbirth.'
Their new arrival makes matriarch Kris Jenner a grandma for the fifth time. Both she and sister's Kourtney and Khloe Kardashian were present at the birth.