We earn a commission for products purchased through some links in this article.
Michelle Heaton is one tough cookie.
When we meet her at The Baby Show at ExCel London, she looks the picture of health. She's glowing – partly down to the fluorescent pink tracksuit top, but she's glowing nonetheless – and she's looking incredibly fit.
In the last few years, she's been through more than most people go through in a lifetime. She's had two potentially life-saving operations to ensure that her husband and children will never have to lose her to breast or ovarian cancer. On top of that, she's had two (gorgeous!) children, qualified as a personal trainer, works out five times a week, and released her own fitness DVD, Michelle Heaton Active Pregnancy – oh and let's not forget that brief reunion with her old band, Liberty X, either. All in all, she's been rather busy.
We caught up with her about her whirlwind few years, motherhood, fitness and of course, Frozen.
Michelle is mum to Faith, three, and Aaron Jay (AJ), one.
Image: Instagram/Michelle Heaton
GoodtoKnow: Your kids are super cute. Do they get on?
Michelle: Yes! Just today Faith and AJ were giggling with each other. She loves it when he tickles her! He can't actually tickle her, but she thinks that he is. He's actually just trying to climb over her to get whatever he wants. It's all very cute. They love each other.
How does Faith feel about being a big sister?
She's really good. Today she helped me with a dirty nappy, although she did have a massive tantrum because I wouldn't let her wipe the poo up. There have to be some boundaries! I know that if I let her wipe it up, it would go everywhere. So I say, 'No Faith, thank you for helping and bringing over the nappy, but that's as far as it has to go.' Overall, she loves it.
What do you miss most about life pre-children?
Being able to leave the house! I suppose everyone would say, 'I don't miss anything, because it's beautiful,' and it is. They're amazing, but you can't do anything spontaneous anymore. You can't just go to the cinema. You can't just go, 'Oh, let's go to Nandos, just the two of us'. We've got two babies, so wherever we go, they come with us. Everything after children is just secondary, because your life is with them now, and they make things more interesting and bring new challenges and new things to your life, that you tend to miss, because they get further away the older you get.
You and Hugh are fitness mad! What does a 'cheat day' look like in your house?
I live by the 80/20 rule, so I'm really good and clean with my diet around 80% of the time, and then at weekends I eat pretty much whatever I want, within reason, and that's how I maintain my physique. At weekends it could be sushi, teppanyaki, Nandos, a bottle of wine or a few drinks with the girls. Being clean in the week means I know I can let loose at the end of it. Hugh's a lot stricter than I am though. He doesn't drink, but he likes it that way.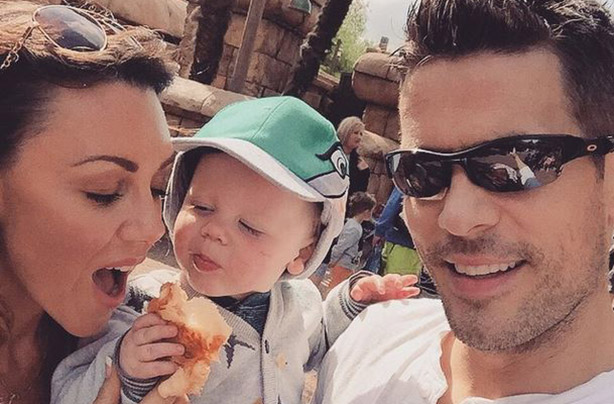 Michelle with AJ and husband, Hugh Hanley
Image: Instagram/Michelle Heaton
We're glad you seem to be doing so well after your operation last year. How did you find the support was after talking about it so openly?
My family have obviously been my number one support and, because I was so open with what I went through, I got support from the public, too. I had loads of tweets or emails and the public have really helped me. Knowing there are other women out there who've faced the same surgery, are thinking of going through it, are looking for advice or want to give me advice, it's been an amazing support system. 
So have other women come and asked you questions?
Yes, lots. Gone are the days when people come to ask me when my next single is out! Now it's, 'How's your scar from your hysterectomy?'
Times have changed, but I find that good. It's nice to be open, and knowing it's having a helpful influence on other women is great.
Some mums can get quite competitive, have you ever felt that way?
I think every mum asks what the other child is doing, not so much as a comparison, but more as reassurance that it's okay if your child isn't walking yet or whatever it might be. Everybody is different, and with my second baby, I'm a bit more laid back. With your first you can be a little more worried, and you tend to do a lot of Googling! It's ridiculous to put precise ages on milestones, because it's just not the case. As AJ had meningitis when he was little, he's about a month behind kids of his age anyway, but he's actually doing really well!
Are you quite strict with your kids?
I try to be. We now have, 'Go to your room.' That's a new one, except that Faith actually asked to go to her room the other day, because she said she had been naughty. She said, 'Can I go to my room now?' So… That's obviously not working. She's asking to do all of the things that I would punish her with! If I say, 'No more iPads,' and then it'll be, 'Mummy, do you want my iPad? Because I think I'm going to be naughty!'
I do have very good children on the whole, so I really don't have too much to worry about, but yes I am a discipliner! You have to be. You have to have rules and regulations. I'm not one for, 'Just go and help yourself to the fridge,' because she'll just pick chocolate, but who wouldn't?
Michelle (here pregnant with AJ) married Hugh in the Bahamas in 2010.
Do you ever sing to your kids?
All the time! Faith knows Liberty X, she's seen some of the videos, but I haven't shown her all of them. She knows that I'm a singer, or was a singer, she understands that. Her favorite songs are Frozen, obviously, so that's all we pretty much sing. 'LET IT GOOO!' every day! We have two CDs, one in the car, and one in the house, because I can't get it out of the CD player quick enough to meet her demands.
What do you worry about as your kids grow up?
God, I worry about everything! I worry about what school Faith's going to get in to, I worry about outside influences at school, I worry about the fact that I'm in the public eye, and sooner or later she's going be able to Google my life. Not all of it I wanted her to know, but obviously I'm going to have to be open with her at some point because of that.
I worry about the BRCA gene, because there's a 50% risk that she may have it. I'm a bit of a worrier in general, but I try not to make that evident to my kids, because at their ages, they're like sponges.
On a day when I'm worrying, Faith will ask, 'Why you upset Mummy?', and she'll keep at me until she understands why I'm upset, and that's not good I don't think, I think you need to separate it a little bit.
Do you think Faith understands that you're famous?
No, I don't think she understands that, she's only three. I think she thinks that everybody gets to go to premieres! Eventually she'll understand that she's just very lucky, and she gets to go to really cool premieres. I do tell her she's very lucky, and that not everybody gets to see the film before it comes out. She doesn't quite get it yet. When I say, 'We're going to the cinema', she says, 'Premiere?', and I say, 'No, no, we're just going to a normal cinema!' and she goes 'Pictures?' 'No, not at this one!'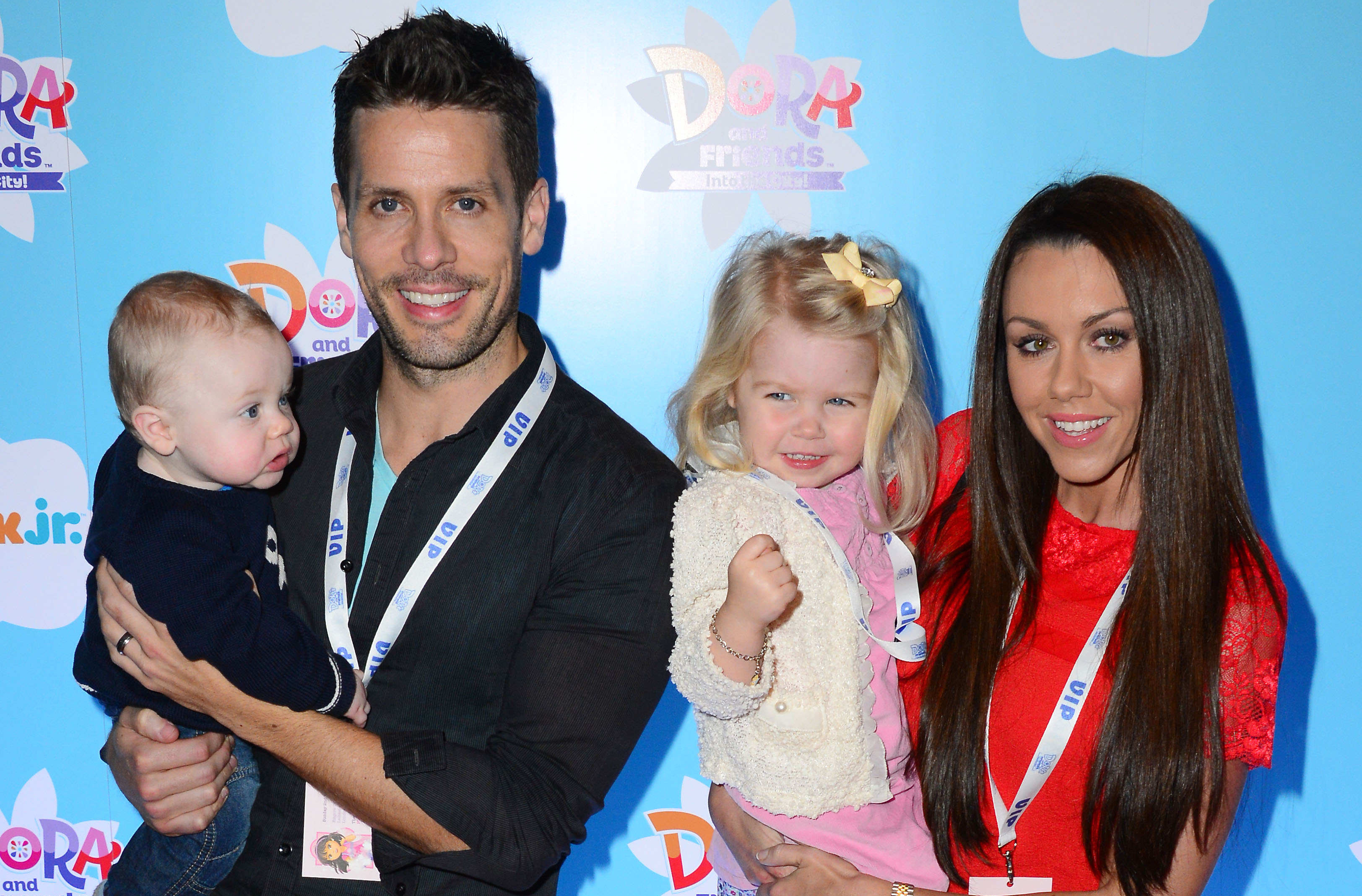 Michelle, Hugh and the kids at a premiere
What would be your number one piece of advice to a new mum?
Don't take advice, learn yourself. Every child is different. Every way of mothering, or bringing them up, is different because of what that child needs and how they react to certain things. It's all well and good giving them advice and trying to look for things to reassure you – that's fine and I still do it. But what I've learnt is that mother knows best. I think sometimes, you just need to believe in yourself as a mum, and not over-analyse things.
What's your favourite thing to do with your kids?
We go to Willows Farm in St. Albans, which is really nice. It's got like a massive indoor play area, and you can feed the animals. As a mum of two it's hard, I don't have help or family or nannies or anything like that around, and it's hard to keep them entertained in the house. So the more you can get out, the better. I almost find it easier being out of the house with the two of them than in the house, because they're constantly looking for something in the house, whereas out, they're distracted by other things.
A little while ago we saw that Faith had decided to crayon on the walls!
Haha yes. She was too young to understand that it was wrong, so I didn't discipline her heavily. And then I was thought, 'Well, the wall is in her playroom, so I can't really tell her off because it's her playroom.' So I joined in! We'll just paint the wall when she's older. But she did get a telling off when she did it on the walls of the living room. In the living room, no chance! No.
Being a parent with two young kids, you must have had plenty of sleepless nights. Do you have any useful tips for mums who need to look awake quickly after a rough night?
Oh god, have a cold shower! Or have a black coffee? I can't remember the last time I had a sleep that wasn't disturbed. 
Really? Since having Faith?
Every night there's something. One of them wakes up – AJ is looking for his dummies, or Faith wants some water or cuddles, or wants me to get in the bed because of the dinosaur in there. There's always something! I'm pretty tired! Cold water, coffee and eating well helps.
Michelle was demonstrating her fitness DVD, Michelle Heaton Active Pregnancy, at The Baby Show, ExCel London. Visit The Baby Show's website to book tickets to their next event!