On the hunt for non-chocolate advent calendars? You've come to the right place...
Tired of necking Cadbury chocolate squares every December morning?
The answer to this question is of course no, because who gets tired of chocolate, but we must admit that there are days when we wish our advent calendar gift was a little more of a surprise.
Luckily, we're not the only ones that have felt this way, and over the past couple of years, more and more alternative advent calendars have sprung up for sale. And the array of fillers on offer is getting better and better each year!
From beauty products and booze to toys and treats for your pets, there really is something for everyone!
Here are the best non-chocolate advent calendars for 2018 – to sit beside your chocolate one, obviously…
Food & drink advent calendars
Beauty advent calendars
Lifestyle advent calendars
Toy advent calendars
And if you're keen to part with tradition, you might want to have a look at our round-up of the best Christmas crackers because they've experience a big makeover in recent years too…
Food & Drink
Virgin Wines Advent Calendar
£79.99 +P&P from Virgin Wines If you want this advent calendar you'll need to be quick. It has sold out for the past two years and had 10,000 pre-orders placed in the first day days of going live. Jam-packed with 24 187ml bottles this advent calendar is perfect for those who love wine. In total there is 11 reds, eight white, one rose and three fizz. You can pay a £10 deposit to secure your order and calendars are set to be dispatched in early November.
The Protein Ball Co. Advent Calendar
£12.99 from The Protein Ball Co. (available from end of September) If you're trying to keep in shape in the run up to Christmas and want to keep topped up on your protein, this advent calendar is perfect. Packed with 24 different protein balls, you'll be fuelled up for the day ahead, guilt-free and still get to enjoy the fun of opening an advent calendar! Flavours include: Peanut Butter + Jam, Raspberry Brownie, Lemon + Pistachio and Goji + Coconut, Peanut Butter, Cacao + Orange, Coconut + Macadamia and Cherry Bakewell. Plus, behind door no.24 is a special Christmas-flavoured protein ball…
Candy Kittens Calendar
£12 from Ocado
If chocolate isn't your thing but you've still got a craving for something sweet this Candy Kittens advent calendar will hit the spot. Behind each door is two vegan, gluten-free treats for you to enjoy in the run up to the big day. Flavours include sour watermelon, blueberry bliss, peach fizz and wild strawberry.
Aldi's Wine Advent Calendar
£49.99 from Aldi (on sale from 4 November)
Back by popular demand, Aldi's wine advent calendar has 24 doors with a mix of red, white and rose wines hidden inside. This is one of the most affordable alcoholic advent calendars on the market and a must-buy if you're a huge fan of Aldi wine… It will be on sale from November 4 and once they're gone, they're gone so bookmark the date!
Beer Advent Calendar
£65 from First4Hampers
This beer advent calendar will get your loved one into the festive spirit with 24 cans of beer from breweries across the UK including a Ghost Ship pale ale and a Clementine and Southwold bitter. If you know someone who is serious about their beer, this is the advent calendar for them!
Buttermilk Advent calendar
£15 from Waitrose (in store from 17th September) Other retailers include: Amazon, National Trust, Moonpig, Debenhams, Buttermilk shops (on sale date may vary) If you're bored of chocolate this fudge advent calendar is the perfect alternative. Each piece of fudge is wrapped in a compostable wrapping making it more environmentally friendly! Plus in each door you'll also find a the title of Christmas song for you to act out as a charade – what fun!
Wine Advent Calendar
£69.99 from First4Hampers
Inside this advent calendar you'll find 24 quarter-bottles from all across the globe. There's a mix of red, white and rose wines plus a festive bottle of mulled wine for you to enjoy on Christmas Eve.
Jelly Belly Advent Calendar
£14.50 from Amazon Know someone who is mad about Jelly Belly jelly beans? Why not treat them to this fun advent calendar. Behind each of the 24 doors is a different flavoured10g pyramid bag of the sweet treat. The Jelly Belly jelly beans are gluten free, gelatine free, dairy free and fat free.
Gin and premium tonic Advent Calendar
£99 from First4Hampers (available from mid-September)
This is the perfect advent calendar for all the gin lovers out there! Filled with premium tonic waters from the likes of Fever Tree, Fentimens and Double Dutch, you can rest assured that your gin finds its perfect partner. Behind number 24 there's a 70cl bottle of gin from the award-winning Lakes Distillery.
Tipsy Advent Tree Calendar
£24.99 – £140 (depending on drinks included and tree size) from First4Hampers
The Tipsy tree is perfect if you want to customise it for a booze lover but you can also buy it full stocked. A tall tipsy tree stocked with wine costs £85 but if you want it stocked with gin. whisky or fizz it costs £140. The tiny tree frame costs just £24.99 un-stocked and the tall tree is £29.99.
Biscuiteers Advent Box and Calendar
£175 from Biscuiteers (available from 1st September) This limited edition, hand-stitched calendar from Susie Watson is designed to be filled with the beautifully decorated biscuits from Biscuiteers – they're almost too beautiful to eat! You can re-use the cloth calendar for many years to come and it doubles up as a wonderful festive decoration for in your home.
Fizz Advent Calendar
£125 from First4Hampers
Treat yourself to a bottle of fizz each night in the run up to Christmas… Behind the 24th door is a 20cl bottle of Lanson Champagne so you'll head into Christmas in high spirits! Behind the other doors is a selection of sparkling wine, Prosecco, Cava and Sparkling Pinot Rose!
Carluccio's Luxury Advent Calendar
£85 from Carluccios (available from October in store and online) For an Italian-inspired countdown to Christmas, this luxury advent calendar features Italian products from Carluccio's core collection. Treats behind the doors include limoncello chocolates, truffle butter, aged balsamic vinegar, torrone pieces and porcini oil.
Haribo Advent Calendar
£7 from Amazon If chocolate isn't your thing, but gummy sweets most definitely are, then try the Haribo calendar, with 25 mini bags of everyone's favourite chewy candy.
English Tea Shop Advent Calendar
£10.90 from Amazon
One for tea lovers, the English Tea shop have Christmas flavours such as Christmas Cake, Ginger bread man and Candy Cane. Drink one every day and you'll be feeling extra Christmassy by the time the 25h rolls around.
House of Newby Advent Calendar
£55 from Newby Teas (available from 1 October) For Christmas 2018, luxury tea company Newby Teas of London presents a collectable advent calendar full of sumptuous tea choice for those who love a cuppa with a bit of luxury on the side. Two giant calendar doors open outwards to reveal a chest of 24 individual multi-coloured drawers, each coordinated with the patterned sachet teabags which are tucked inside of it. Each draw is embossed with the day of the month on it and finished with a gold silk handle. There are four individually wrapped sachets of tea in each draw and no two drawers are the same.
Beauty advent calendars
Boots No7 Advent Calendar
£42 from Boots (available from 19 October, waiting list now live) A bestseller every year, the No7 advent calendar contains 24 of the brand's best products, ranging from mascaras, lipsticks and liners, to the latest skincare saviours – no wonder there were 80,000 people on the waiting list last year! With contents worth a whopping £177, this is one you won't want to miss. Sign up to the waiting list now!
The Body Shop Beauty Advent Calendars
£45 – £99 from The Body Shop
Freddie the fox 25 Days Of The Enchanted Ultimate Advent Calendar, pictured above
This is The Body Shop's most expensive advent calendar this year at £99 and a worth of £231. Inside you'll find 14 full-size products and items from The Body Shop's most luxurious ranges. For example you'll be able to enjoy an at-home purifying facial with the bestselling Himalayan Charcoal Purifying Glow Mask!
Dani the deer 25 Days Of The Enchanted Deluxe Advent Calendar, £65
This advent calendar has a worth of £121 and behind each of the doors you'll find a mix of essential and luxury beauty products.
Olivia the owl 24 Days Of The Enchanted Advent Calendar, £45
The cheapest offering from The Body Shop is the Olivia advent calendar yet it still has a worth of £85! This advent calendar is perfect if you're new to The Body Shop as it is packed with mini essentials for a whistle-stop guide to cruelty-free beauty.
Green People's Beauty Advent Calendar
£75 from Green People (available from 1 October)
For the first time ever, organic beauty brand Green People have launched an advent calendar for people seeking cruelty, free, organic beauty treats in the run up to Christmas. There are 15 products behind 12 doors with a combined retail value of over £125. Three of the make-up items are full size and the other hair and beauty products are miniatures making them perfect for your handbag!
Marks & Spencer Advent Calendar
£35 when you spend £35 on clothing, beauty or home ware from Marks and Spencer (available from 1 November in store) This cracking advent calendar is filled with beauty treats worth over £280! Inside you'll find a specially curated selection of 25 products from M&S or other big brands like This Works, L'Occitane and Nuxe. The products are designed to get you looking and feeling great in the run up to Christmas – what's not to love?!
Cath Kidston advent calendar
£40 from Boots (available from 17th September) If your hands suffer from all the present wrapping in the run up to Christmas this Cath Kidston advent calendar is perfect for you. Inside you'll find 8 x 30ml Hands Creams, 4 x Cuticle Creams, 4 x Hand Balms plus 8 x Bathing Salts when you're in need of a full night of relaxation.
Soap and Glory Advent Calendar
£40 from Boots (available from 17th September) Love all things Soap and Glory? This is the advent calendar for you! With this calendar you'll be looking and feeling fully pampered in the run up to Christmas with treats like the Soap & Glory rich & foamous body wash, body scrub and body butter to enjoy. There's also lots of makeup inside including the popular thick & fast HD mascara in black.
ELEMIS Advent Calendar
£150 exclusively from ELEMIS.com (available 1st October 2018) Aptly named '25 Days of Beauty', the exclusive Elemis advent calendar is a must for fans of the brand who want to get their hands on an array of travel-sized goodies worth over £345 every day in the build up to Christmas Day. As well as award-winning products and bestselling heroes, the advent calendar also has a few new secrets and skincare staples to share, as well as a generous full size Pro-Collagen Marine Cream as the final gift.

Birchbox Advent Calendar
£65 from birchbox.co.uk (available from Wednesday, 3rd October) A beauty advent calendar so popular it sold out in less than 24 hours last year, this is one Christmas countdown you won't want to miss out on. Stuffed full of loads of your favourite brands from Benefit to OPI and Lumene, prepare to feel pampered this festive season!
Gloss beauty calendar
£12.50 from Boots (available from 17th September) A fun and affordable take on the beauty advent calendar craze, you'll find an array of accessories stuffed inside including brow wax and powder, mini tweezers, a blusher and brow brush, ponybands and much, much more.
Lifestyle advent calendars
Primark Disney Bauble Advent Calendar
£15 from Primark (In stores soon)
Your Christmas tree will look spectacular in the run up to Christmas with this quirky bauble advent calendar. It's a must for any Disney-fanatic and at £15 it's an affordable and exciting way to celebrate the build up to the big day! The advent calendar is available at the following locations: Cardiff New, Bristol, Newcastle, Lakeside, Manchester, Oxford Street East, Hammersmith and Oxford Street West. It should be arriving in stores from next week (10 September) so keep your eyes peeled…
Yankee Advent Calendars
Yankee Candle Holiday Sparkles advent calendar
£24.99 from Yankee Candle (available from October) The Yankee Candle calendar, in the form of an advent wreath, is a scented festive treat filled with 24 tea lights including the new Icy Blue Spruce and Glittering Star scents plus one tea light holder! With each window concealing a different tea light candle, it's never been easier to fill your home with festive scents.
Yankee Candle Christmas Tower Advent Calendar
£74.99 from Yankee Candle (available from October) This is the more expensive of Yankee Candle's two advent calendars but it comes with more than tea lights. Inside you will be treated to 2 Small Jars, 12 Votives, 6 Wax Melts, Smart Scent Vent Clip, Wicker Trimmer, Snuffer, 1 x Votive Holder, which is exclusive to the Tower Advent Calendar.
Advent calendars for pets
Wilko Advent Calendar for Dogs
£2 from Wilko (In some stores from 5 September)
Another calendar that will get your dog's tail wagging! Behind every door is a little treat for your fluffy friend to enjoy so they don't have to miss out on the festive fun. Plus it's only £2 and they also have a version for cats!
Lily's Kitchen Advent Calendar for Dogs and Cats
£10 from Lily's Kitchen , Ocado, Amazon, Pets at Home, Waitrose and in more than 700 independent pet shops (available from 4th September) Dogs and cats may not be able to open the actual calendar doors, but with a little bit of help they can have a treat, every day, in the run up to Christmas just like the rest of the family.
Toy advent calendars
Gibsons 12 Days of Christmas Jigsaw Puzzle Advent Calendar
£20 from Royal National Lifeboat Institution (RNLI) (available from 1 September) This advent calendar from the RNLI is the perfect little treat to keep you busy. Behind each door is an 80-piece jigsaw and the 12 puzzles eventually create one gorgeous Christmas scene. Plus, all the profits go towards helping prevent tragedies at sea for years to come.
Play-Doh Advent Calendar
£13.99 from Amazon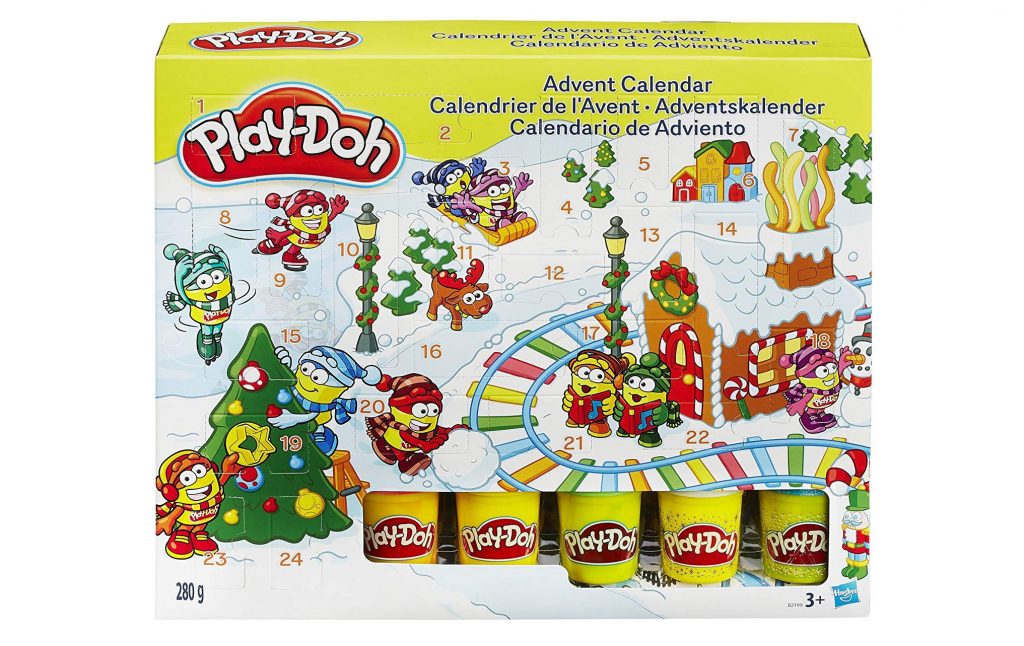 If you know a little one who loves Play-Doh, then why not let them get creative with a surprise behind each of this advent calendar's 24 secret doors? Set includes five Play-Doh cans plus two Sparkle cans for some Christmas dazzle.
Hama Advent Calendar
£17 from Amazon The popular craft toy now offers a complete advent set, with all of the beads to create a different design for each day leading up to Christmas!
Disney Storybook Advent Calendar
£19.99, from all good retailers (available from 10th September) Your little one will enjoy unwrapping a special storybook featuring some of their favourite Disney friends, everyday in the run up to Christmas. The magical tales are a brilliant way to settle their excitement before bed!
V-Tech Toot Toot Animals Advent Calendar
£25.99 from Amazon This calendar will get your little ones into the Christmas mood with fun characters behind each door to play with – including a reindeer, a snowman and a penguin.
Lego Advent Calendars
£28.99, from Amazon Open up a door each day up to Christmas to reveal a fun Star Wars gift, including characters, vehicles, starships and more. There's even a foldout play mat so that you're little one can set up their own epic battles. In total there are 8 mini-figures and a Battle Droid, including an exclusive holiday-themed mini-figure. 
Which of the alternative advent calendars will you be trying to get your hands on? Do you have a favourite non-chocolate advent calendar that you get every year? Head over to our Facebook page join the conversation and share your ideas!