On the hunt for non-chocolate advent calendars? You've come to the right place...
Tired of necking Cadbury chocolate squares every December morning?
The answer to this question is of course no, because who gets tired of chocolate, but we must admit that there are days when we wish our advent calendar gift was a little more of a surprise.
Luckily, we're not the only ones that have felt this way, and over the past couple of years, more and more alternative advent calendars have sprung up for sale. And the array of fillers on offer is getting better and better each year!
From beauty products and booze to toys and treats for your pets, there really is something for everyone!
Here are the best non-chocolate advent calendars for 2018 – to sit beside your chocolate one, obviously…
Food & drink advent calendars
Beauty advent calendars
Lifestyle advent calendars
Toy advent calendars
And if you're keen to part with tradition, you might want to have a look at our round-up of the best Christmas crackers because they've experience a big makeover in recent years too…
Food & Drink
Tipsy Advent Tree Calendar
£24.99 – £140 (depending on drinks included and tree size) from First4Hampers
The Tipsy tree is perfect if you want to customise it for a booze lover but you can also buy it full stocked. A tall tipsy tree stocked with wine costs £85 but if you want it stocked with gin. whisky or fizz it costs £140. The tiny tree frame costs just £24.99 un-stocked and the tall tree is £29.99.
Biscuiteers Advent Box and Calendar
£175 from Biscuiteers (available from 1st September) This limited edition, hand-stitched calendar from Susie Watson is designed to be filled with the beautifully decorated biscuits from Biscuiteers – they're almost too beautiful to eat! You can re-use the cloth calendar for many years to come and it doubles up as a wonderful festive decoration for in your home.
Fizz Advent Calendar
£125 from First4Hampers
Treat yourself to a bottle of fizz each night in the run up to Christmas… Behind the 24th door is a 20cl bottle of Lanson Champagne so you'll head into Christmas in high spirits! Behind the other doors is a selection of sparkling wine, Prosecco, Cava and Sparkling Pinot Rose!
Carluccio's Luxury Advent Calendar
£85 from Carluccios (available from October in store and online) For an Italian-inspired countdown to Christmas, this luxury advent calendar features Italian products from Carluccio's core collection. Treats behind the doors include limoncello chocolates, truffle butter, aged balsamic vinegar, torrone pieces and porcini oil.
Haribo Advent Calendar
£7 from Amazon If chocolate isn't your thing, but gummy sweets most definitely are, then try the Haribo calendar, with 25 mini bags of everyone's favourite chewy candy.
English Tea Shop Advent Calendar
£10.90 from Amazon
One for tea lovers, the English Tea shop have Christmas flavours such as Christmas Cake, Ginger bread man and Candy Cane. Drink one every day and you'll be feeling extra Christmassy by the time the 25h rolls around.
House of Newby Advent Calendar
£55 from Newby Teas (available from 1 October) For Christmas 2018, luxury tea company Newby Teas of London presents a collectable advent calendar full of sumptuous tea choice for those who love a cuppa with a bit of luxury on the side. Two giant calendar doors open outwards to reveal a chest of 24 individual multi-coloured drawers, each coordinated with the patterned sachet teabags which are tucked inside of it. Each draw is embossed with the day of the month on it and finished with a gold silk handle. There are four individually wrapped sachets of tea in each draw and no two drawers are the same.
Beauty advent calendars
Marks & Spencer Advent Calendar
£35 when you spend £35 on clothing, beauty or home ware from Marks and Spencer (available from 1 November in store) This cracking advent calendar is filled with beauty treats worth over £280! Inside you'll find a specially curated selection of 25 products from M&S or other big brands like This Works, L'Occitane and Nuxe. The products are designed to get you looking and feeling great in the run up to Christmas – what's not to love?!
Cath Kidston advent calendar
£40 from Boots (available from 17th September) If your hands suffer from all the present wrapping in the run up to Christmas this Cath Kidston advent calendar is perfect for you. Inside you'll find 8 x 30ml Hands Creams, 4 x Cuticle Creams, 4 x Hand Balms plus 8 x Bathing Salts when you're in need of a full night of relaxation.
Soap and Glory Advent Calendar
£40 from Boots (available from 17th September) Love all things Soap and Glory? This is the advent calendar for you! With this calendar you'll be looking and feeling fully pampered in the run up to Christmas with treats like the Soap & Glory rich & foamous body wash, body scrub and body butter to enjoy. There's also lots of makeup inside including the popular thick & fast HD mascara in black.
Lifestyle advent calendars
Yankee Advent Calendars
Yankee Candle Holiday Sparkles advent calendar
£24.99 from Yankee Candle (available from October) The Yankee Candle calendar, in the form of an advent wreath, is a scented festive treat filled with 24 tea lights including the new Icy Blue Spruce and Glittering Star scents plus one tea light holder! With each window concealing a different tea light candle, it's never been easier to fill your home with festive scents.
Yankee Candle Christmas Tower Advent Calendar
£74.99 from Yankee Candle (available from October) This is the more expensive of Yankee Candle's two advent calendars but it comes with more than tea lights. Inside you will be treated to 2 Small Jars, 12 Votives, 6 Wax Melts, Smart Scent Vent Clip, Wicker Trimmer, Snuffer, 1 x Votive Holder, which is exclusive to the Tower Advent Calendar.
Advent calendars for pets
Lily's Kitchen Advent Calendar for Dogs and Cats
£10 from Lily's Kitchen , Ocado, Amazon, Pets at Home, Waitrose and in more than 700 independent pet shops (available from 4th September) Dogs and cats may not be able to open the actual calendar doors, but with a little bit of help they can have a treat, every day, in the run up to Christmas just like the rest of the family.
Toy advent calendars
Play-Doh Advent Calendar
£13.99 from Amazon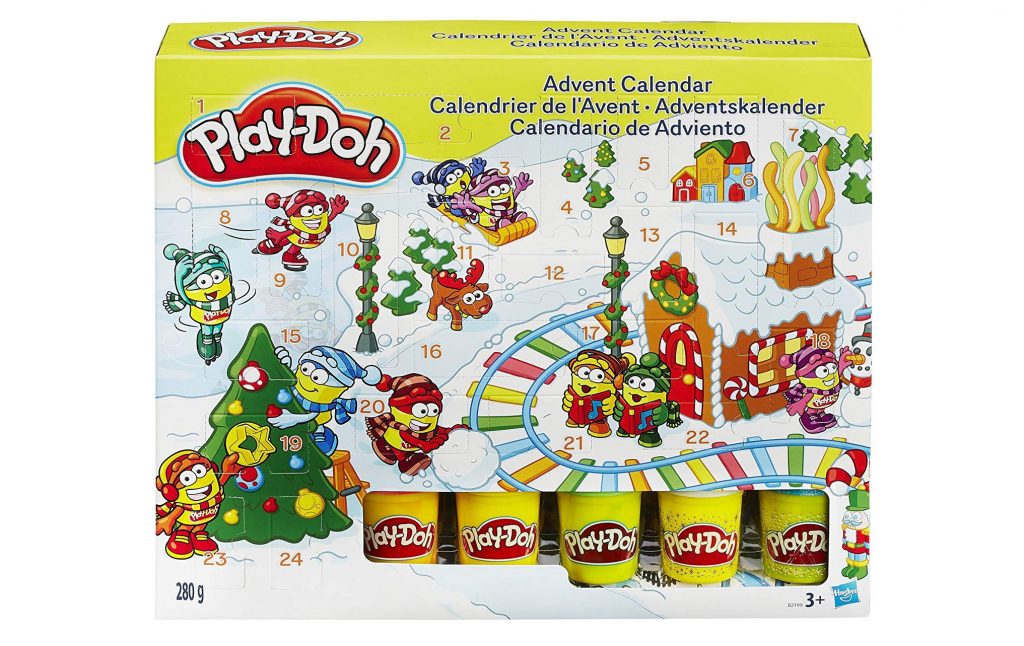 If you know a little one who loves Play-Doh, then why not let them get creative with a surprise behind each of this advent calendar's 24 secret doors? Set includes five Play-Doh cans plus two Sparkle cans for some Christmas dazzle.
Hama Advent Calendar
£17 from Amazon The popular craft toy now offers a complete advent set, with all of the beads to create a different design for each day leading up to Christmas!
Disney Storybook Advent Calendar
£19.99, from all good retailers (available from 10th September) Your little one will enjoy unwrapping a special storybook featuring some of their favourite Disney friends, everyday in the run up to Christmas. The magical tales are a brilliant way to settle their excitement before bed!
V-Tech Toot Toot Animals Advent Calendar
£25.99 from Amazon This calendar will get your little ones into the Christmas mood with fun characters behind each door to play with – including a reindeer, a snowman and a penguin.
Lego Advent Calendars
£28.99, from Amazon Open up a door each day up to Christmas to reveal a fun Star Wars gift, including characters, vehicles, starships and more. There's even a foldout play mat so that you're little one can set up their own epic battles. In total there are 8 mini-figures and a Battle Droid, including an exclusive holiday-themed mini-figure.