We earn a commission for products purchased through some links in this article.
This little boy's optimism and resilience through a tough cancer battle has inspired his dad to run six marathons in just six days…
Oscar Rudolf was your usual happy-go-lucky five year old when he was suddenly rushed to A&E with stomach upset early last year.
Doctors were horrified to find an 11cm tumour on his pelvis, which was later diganosed as Ewings Sarcoma – a very rare form of cancer which is found in the bone and soft tissue.
His parents, James and Sarah Rudolf, were 'absolutely devasted' and 'reeling from shock' after his diagnosis, but found that the optimism they saw in their little boy gave them the courage to carry on.
In this touching video made by mum Sarah, she reveals the sheer strength and courage this little five year old has shown over the last year, during which he endured 13 gruelling rounds of chemotherapy, 15 blood transfusions, several major infections and a trip to Florida to try groundbreaking proton beam therapy not available in the UK.
Almost a year on, and his dad now plans to run six marathons in as many days to raise money for the charity which helped to fund Oscar's treatment, which will end exactly a year to the day that Oscar started his treatment. On his JustGiving page James writes:
'He is an inspiration. He is my hero. He is my son.'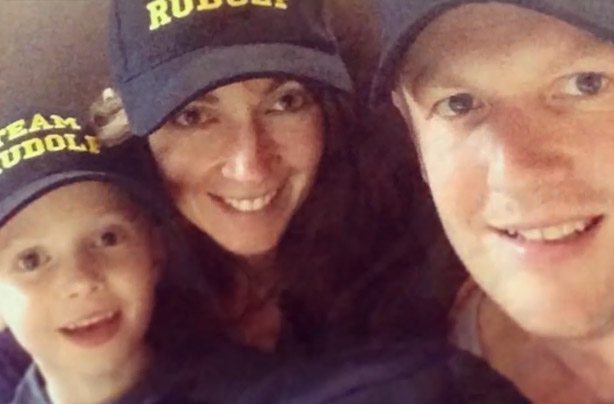 Oscar is now on the road to recovery. He has one more round of chemo to go, and is looking forward to celebrating a 'double birthday' in April, as he was too ill to celebrate it last year.
He'll need regular scans every three months to make sure the cancer doesn't reappear.
Inspired? Us too. Humbled? Us too. Want to donate? Us too. Visit James Rudolf's JustGiving page to read more about Oscar's plight and to support his charity marathon challenge.