Kate Middleton and Prince William have announced the name of their newborn baby girl: Princess Charlotte of Cambridge.
Kensington Palace released a statement via Twitter at 3pm on 4 May 2015 stating:
'The Duke and Duchess of Cambridge are delighted to announce that they have named their daughter Charlotte Elizabeth Diana.
The baby will be known as Her Royal Highness Princess Charlotte of Cambridge.'
Alice was the bookies favourite girls' name for the majority of Kate's pregnancy, with Charlotte just pipping it to the post in the days between the birth and the naming, becoming the favourite at 5/2. George was also the bookmakers favourite boys' name, with James at close second, in the lead up to the birth of the Prince in 2013.

Touching tribute: The little Princess, named Charlotte, also inherited the names of her great grandmother, the Queen, and her paternal grandmother, the late Princess Diana.
The two-day old Princess has been being visited by members of the royal family over the weekend, including grandparents Prince Charles and Camilla, the Middletons, and of course great-grandmother, Queen Elizabeth II, from whom she gets her middle name.
Proud Kate and William emerged from the doors of the Lindo Wing to introduce their newborn baby girl to the world, just before 6:30pm on 2 May 2015. Almost two years earlier, they did the very same with the arrival of Prince George.
Kate's baby girl was delivered at 8:34am on 2 May 2015.
Kate Middleton cradled the newborn baby Princess infront of the world's media.
The new couple grinned out at the crowds as they introduced their baby daughter.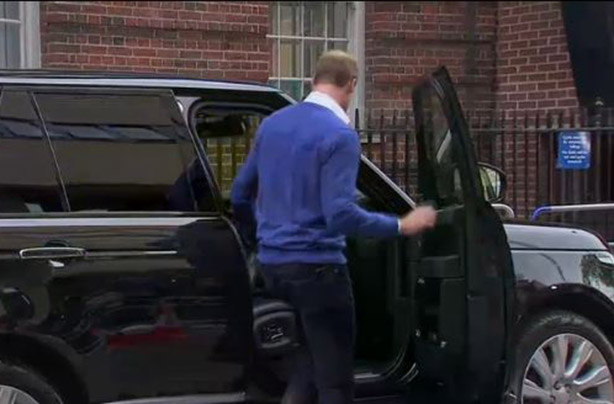 Prince William drove his wife and newborn home to Kensington Palace.
Kensington Palace confirmed just before 6pm that the Duke and Duchess would leave St Mary's the same evening, travelling back to Kensington Palace, where little George is waiting. The Prince has already met his new baby sister, brought along to the hospital by his dad earlier in the day. He was later taken back to Kensington Palace away from the eyes of the press, Kensington Palace confirmed.
Prince William takes a – slightly bewildered looking – Prince George to meet his new baby sister.

The Duchess was safely delivered of a baby girl at 8:34am on 2 May 2015, Kensington Palace announced just after 11am this morning.
The Palace also added: 'Their Royal Highnesses would like to thank all staff at the hospital for the care and treatment they have all received. They would also like to thank everyone for their warm wishes.'
It is thought the Royal family will spend their first night at their London home of Kensington Palace, before travelling to their home Anmer Hall in Norfolk, to enjoy these precious moments with their newborn baby girl.
Congratulations Wills and Kate! We'll miss that bump, let's take a reflective look back at Kate's second pregnancy.