Christmas trees are one of the pillars of Christmas cheer. After all, where else would you put the presents?
If the classic trinity of tinsel, baubles and fairy lights is not enough for you anymore, then it's time to try some new Christmas tree decoration tips.
Christmas tree decorating is always a highlight of the festive season for both children and grown-ups, even though you may be tempted to slightly alter (read: completely redo) the colourful extravaganza your children went for on the side of the tree you assigned them.
If you're tired of always having red tinsel and golden baubles, then we have plenty of original ideas that can refresh your Christmas tree decorating game. We even have some Christmas tree decorations to make, too!
There's something for everyone – DIY lovers, foodies, nostalgics… Get decorating!
1. Christmas messages

Image: Pinterest/The Project Girl
If you have a favourite Christmas song, Christmas film line, or any other Christmassy messages you really love, why not hang it on your tree? Just remember you have to look at it until January, so listen up Home Alone lovers – maybe 'Merry Christmas you filthy animal' is not the best line.
2. For the foodies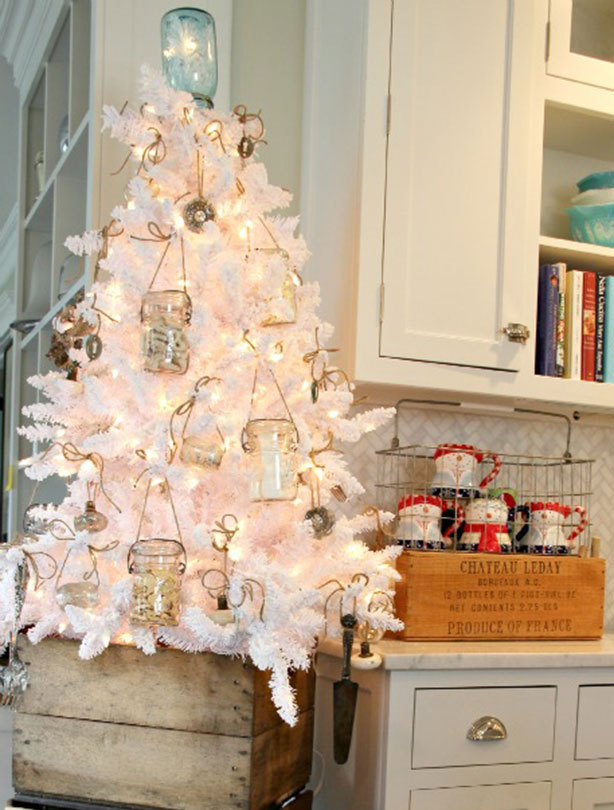 Image: Pinterest/Eclectically Vintage
Christmas is the BEST time of the year for food. Upgrade the traditional wrapped chocolate ornaments to actual jars of your favourite treats – popcorn, marshmallows, mince pies… Perfect if you have a tree in the kitchen.
3. Family pictures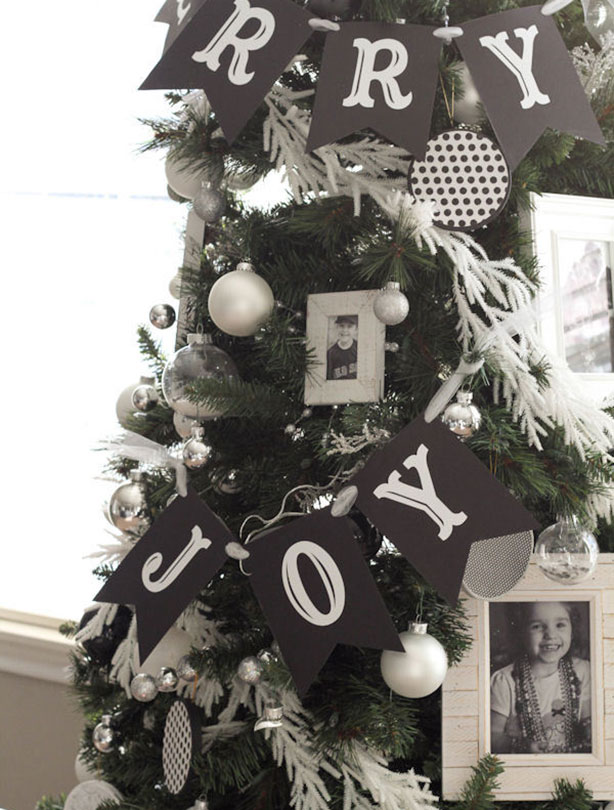 Image: Pinterest/Lil Luna

Image: Pinterest/Cottage in the Oaks
As much as we love the food, Christmas is also a time for family and friends. Get your best pictures out and hang them on the tree so you can remember everyone you love during the holidays.
4. The clever snow trick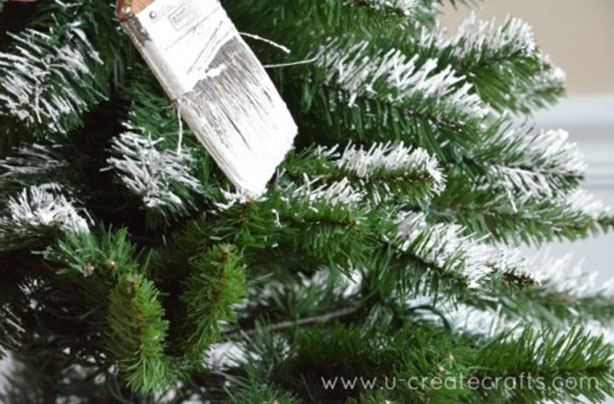 Image: Pinterest/U Create Crafts
A Christmas tree always looks better with a little snow, especially if we're not being treated to the real thing outside. This year ditch the spray and paint your snow. Even if you usually recycle your artificial tree, you'll still have last year's snow to give you a white Christmas again!
5. Rainbow Christmas

Image: Pinterest/Inspired by Charm
Swap the traditional red and green for a rainbow look and you'll be sure to kickstart the holiday spirit.
6. Handmade clay ornaments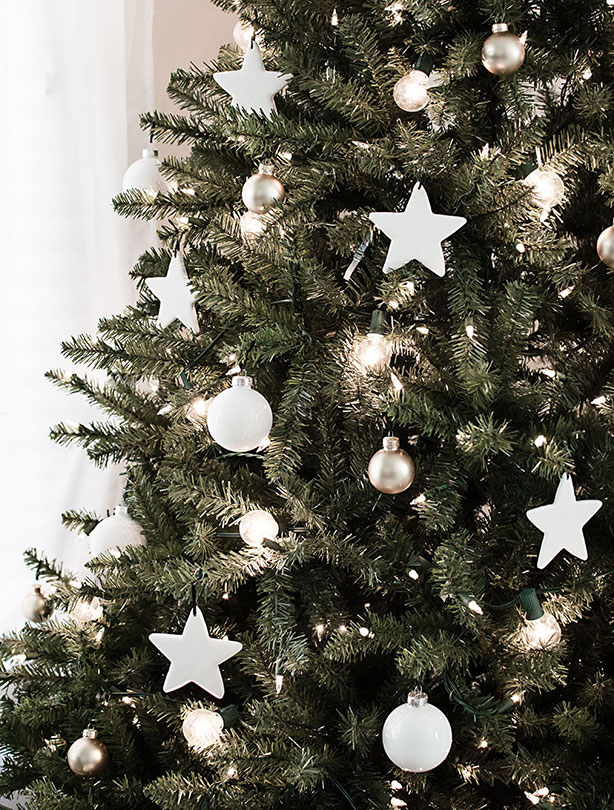 Image: Pinterest/Homey oh my
If you're bored of the Christmas tree decorations from the shops, then why not make your own? Simple ornaments made of clay look beautiful on the tree and could be a great craft project for you and the little ones to share and keep for the years to come.
7. Scrabble it

Image: Pinterest/Brian Patrick Flynn
Share your hopes for the festive season and the new year with Scrabble pieces – maybe they'll come true!
8. Have a monochrome Christmas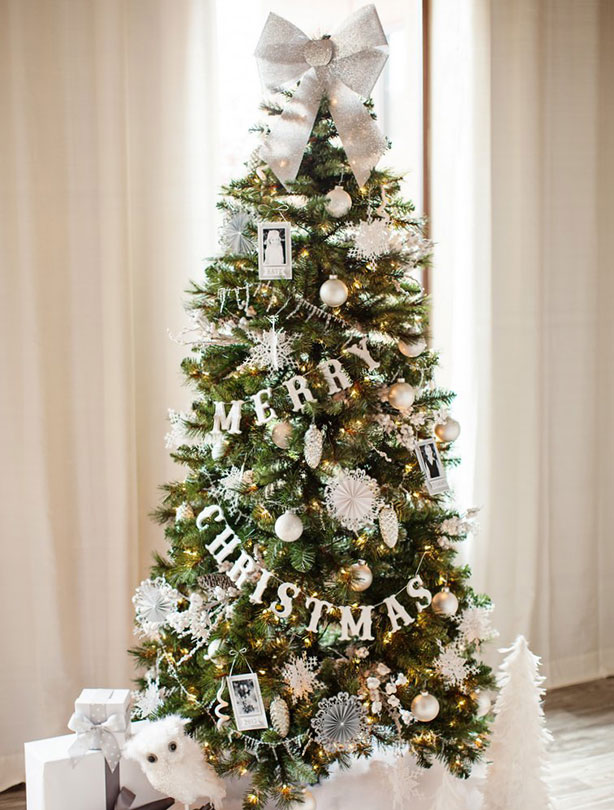 Image: Pinterest/The TomKat studio
If you want a more modern feel in your home, decorate your tree in monochrome tones. It's in no way less festive, especially if you go for a white version, and you can always add statement ornaments later if you fancy something a bit more special.
9. Snowy cotton balls

Image: Pinterest/Home Remedies
Cotton balls make for excellent snowflakes either on the tree or just on their own hanging from the window. You can have a white Christmas after all!
10. Wood slice ornaments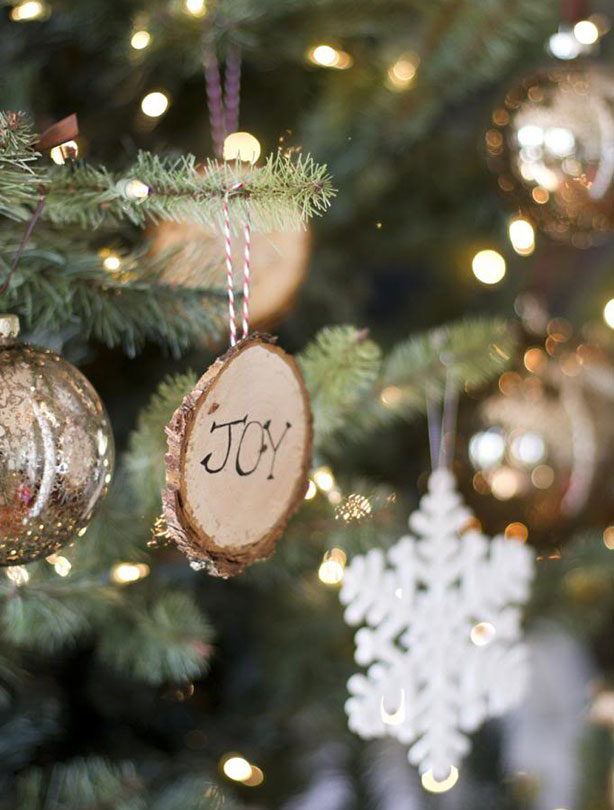 Image: Pinterest/Perfectly Imperfect
Here's another way to give a personal touch to your ornaments collection, but it requires a little bit more effort. After you get the hardest part out of the way – getting and cutting the little pieces of wood – you can get children involved in decorating them.
11. Popcorn and cranberries garlands

Image: Pinterest/Freutcake
Get children involved and make very festive garlands using popcorn and cranberries. When you take the tree down, you can go for a family walk in the park and give the squirrels a Christmas treat.
12. Cute little mittens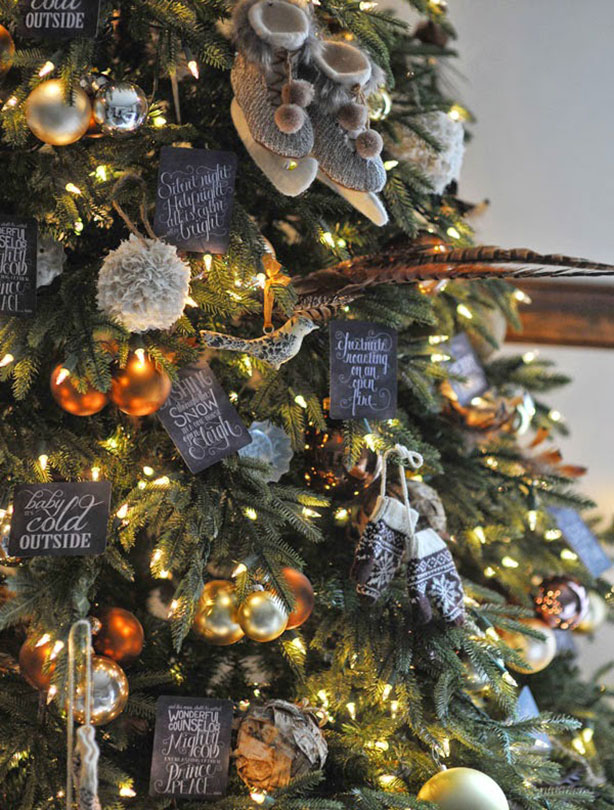 Image: Pinterest/Dear Lillie Blog
Add your little one's old mittens for a nostalgic touch that will make everyone go 'aaaww'. Cute baby shoes work too!
13. The irresistible tree

Image: Pinterest/Handmade Pride
Everyone will find it extremelly hard to resist the most delicious ornaments on the tree, with cookies hanging from every branch. The only downside is that you'll probably have to be in the kitchen continuously baking more batches to replace what everyone's eaten!
14. Advent treat bags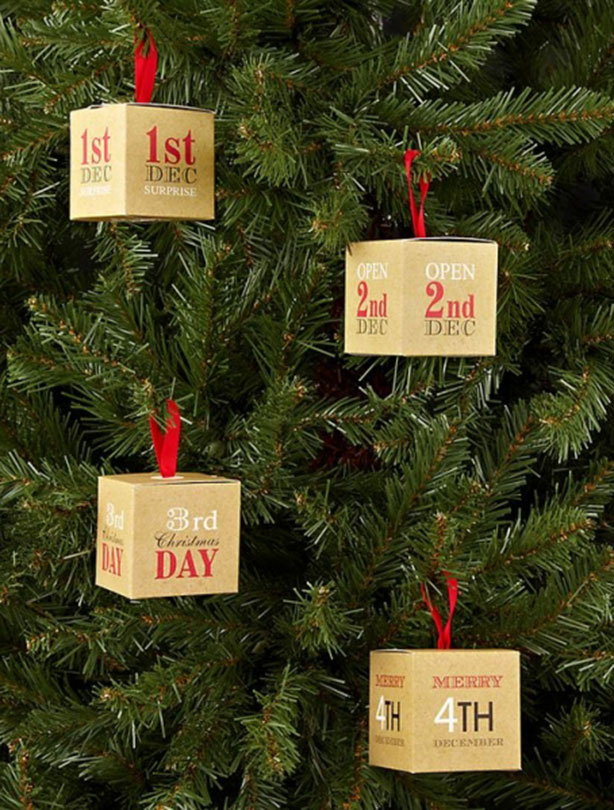 Image: Pinterest/Minimalisti
Surprise the entire household with different treats for a very original advent calendar. Treats can be anything from chocolates to a planned family activity, just as long as it's for the whole family.
15. Display those Christmas cards

Image: Pinterest/Who Arted
Finally a good use for all those Christmas cards. Hang Christmas greetings from family and friends as they arrive, and see the proud look on their faces when they see it displayed on the tree!