Homemade personalised gifts: 7 crafts that make perfect presents Looking for the perfect creative gift to show off your craft skills AND show someone you care? These personalised craft ideas are all perfect for giving as thoughtful presents, and there is something for everyone from your neighbour to the kids' favourite teacher!
Cork board letters
What? A cork board in the shape of a letter of your choice. As eye-catching and useful as it is simple.
How? You will need various cutting implements, cork floor tiles and glue to put these together in a couple of hours.
Why? These cork boards avoid the messy office eyesore effect of the standard fare, instead providing a trendy yet practical addition to the home. Perfect for sale on a stall or as personalised gifts, too!
Personalised tea light holder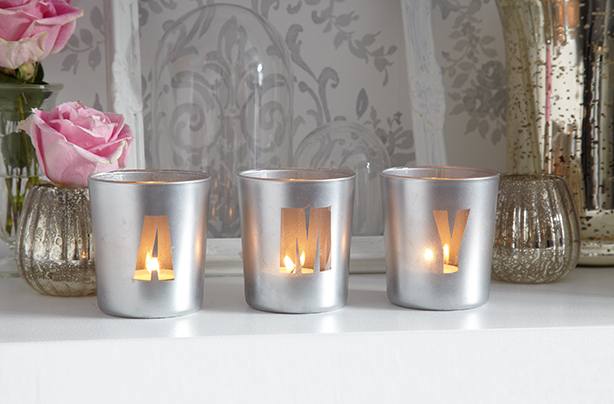 What? Pretty tea light holders personalised with letter-shaped cutouts.
How? This project will involves printing off letters on sticky labels, then cutting them out, spray painting them and sticking them on glasses.
Why? These delightful little holders make the perfect personalised gift, allowing the receiver to enjoy soft, flickering candle light through the letters of their own name.
Name bunting
What? Lovely fabric bunting, personalised with letters of your choice!
How? You will use scissors to cut letters and shapes out of your preferred fabrics, and then use a sewing machine to stitch them on to a long ribbon.
Why? These are great for a birthday party, allowing you to hang the birthday girl or boy's name around the house, with the fabric giving a nice, quality look and feel.
Family tree cushion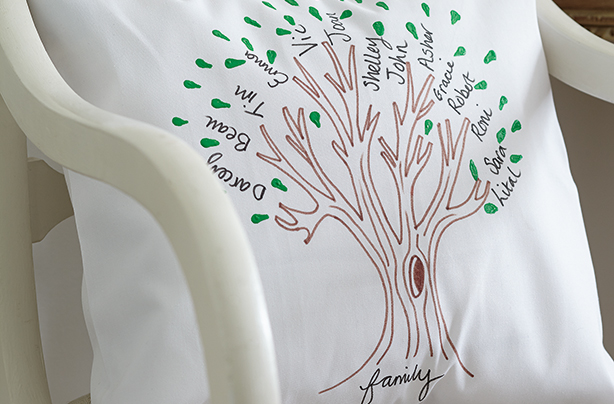 What? Add a bit of family history to the furniture with this ingenious idea, which lets you decorate a cushion with your own family tree design!
How? You can either follow our detailed instructions to make your own cushion cover from fabric, or simply fabric paint and pens to create the effect on a shop bought white cushion.
Why? This highly personalised cushion is the perfect gift for helping small children understand how they are related to their family member, and are a sweet and homely addition to any family household.
Get our family tree cushion craft
Washi tape initials
What? A funky initial with streaks of washi tape creating a wacky, DIY effect.
How? This is a very simple process (if you can call it that) using a cardboard letter cutout, some rolls of washi tape and a pair of scissors.
Why? The fun to be had in the process of making these with the kids is reason enough, but they also make a quirky prop to give a surreal, fun-house feel to you or a friend's home!
Get our washi tape initial craft
Crayon letter picture craft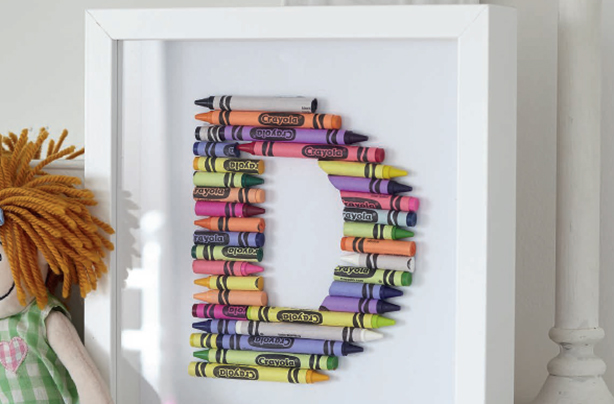 What? This block containing a letter composed of crayons is an unusual yet strangely elegant gift idea for people of all ages.
How? The process is suprisingly easy. Cut up some crayons, glue them on a letter printout, stick it in a frame, et voilà! You are all done!
Why? These framed crayon letters are a fun project and gift for kids, and double up just as well as a stylish gift for adults!
Jigsaw hearts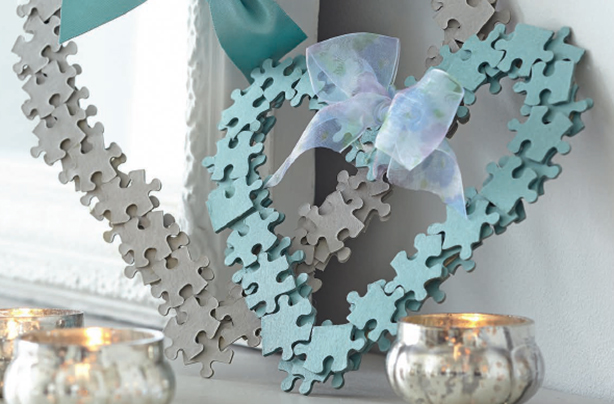 What? An old jigsaw puzzle can be given new life through this fun creative project that turns the pieces into a pretty heart shape.
How? Using cardboard as a base, you will glue on the jigsaw pieces to create a heart shape, and finish it all off with an ornamental bow, for added charm.
Why? This project will allow you to rid yourself of useless puzzles with missing pieces and create unusual, alluring works of art in the process, that make great gifts for all ages.