We love the soaps, we really do. The slagging matches, the cliff-hanger moments, and the heavy beat of the drum after a gasp-inducing revelation by one of the characters.
But we can't say we've ever felt the need to get up and boogie to the flat and rather dull theme tune of Eastenders. We love it, don't get us wrong, but it's not exactly a move-buster.
OMG our favourite!
Image: YouTube/tw1light
These twin babies – who are possibly two of the most adorable things we've ever seen – think differently. They can't get enough of the drab tones of the Eastenders theme tune, especially when their mother is singing it to them. And this ingenious mum has caught it all on camera, and it's bloomin' hilarious!
Our mum is a HOOT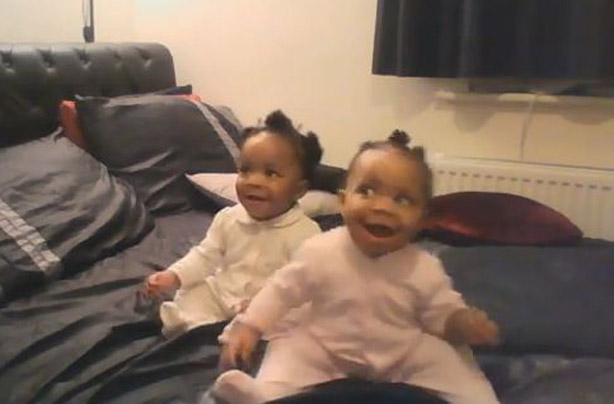 Image: YouTube/tw1light
The video shows the baby girls bouncing around in glee as their mum (who's standing out of shot) sings them the tune and clicks her fingers to the beat. The girls faces light up and they fall about in fits of giggles, especially when mum adds her own 'break it down now' into the mix.
And then it all got too much…
Image: YouTube/tw1light
One of the tots is so amused that she actually topples back onto the bed in her excitement. See the video below – you'll want to watch it over and over again!
Watch the (hilarious!) video below:
We're definitely going to be trying this one on our kids, I mean think of all the ones we could choose from, Corrie, Emmerdale, Hollyoaks… the list is endless.
Do your kids love any unusual songs? We'd love to hear about it. Let us know by leaving a comment below.