Are you in need of some Halloween costume ideas? We've got this great vampire Halloween face paint idea and plenty more...
A pale and bloodthirsty vampire is one of those classic Halloween face paint ideas that never fails to cause a fright! Transform your little one with our easy step-by-step instructions and then add a cheap cape to complete their spooky look. Just make sure you've got some garlic in stock to ward your child off after you've turned them into a vicious vampire!
To paint the vampire, first find a comfortable place to work and cover surfaces in case of spillages and mucky fingers. Using a water-based face paint is best as they wash off easily with soap and water. Face paint is safe to use on most skin types but always do a patch test of the paint on the back of your child's hand. If there's no reaction in an hour or so, it should be safe to use. Wash the paint off with soap and warm water immediately if your child does experience any discomfort.
To create the vampire face paint idea you will need:
A pot of clean water
Water-based face paint in white, green, black, and red
Face painting sponges
1 medium paintbrush
1 thin paintbrush
Cotton wool
An old towel, to put around their shoulders and stop their clothes getting mucky Click or tap to zoom into this image
Vampire face paint step 1: for the base
Drape an old towel around your child's shoulders to avoid stray drips of face paint making a mess on their clothes. Start by painting your child's face with a white base. Spread the paint evenly across their face with the face paint sponge. Bring the colour down their neck a little way. Still using the sponge, add light green shading around their eyes, cheeks and chin. Click or tap to zoom into this image
Vampire face paint step 2: for the eyes
Next you need to paint the eyes. Ask your child to close their eyes for this step. Using a thin paint brush, carefully draw a black line around the top and bottom of each of your child's eye, as close to the lashes as you can. Bring the lines out to a point to make your child's eyes look wider. Make sure you have some damp cotton wool handy to tidy up any mistakes. Click or tap to zoom into this image
Vampire face paint step 3: for the head and eyebrows
Take a clean face paint sponge or clean, medium brush to paint your child's forehead black, making a point in the middle, then paint their eyebrows black, too.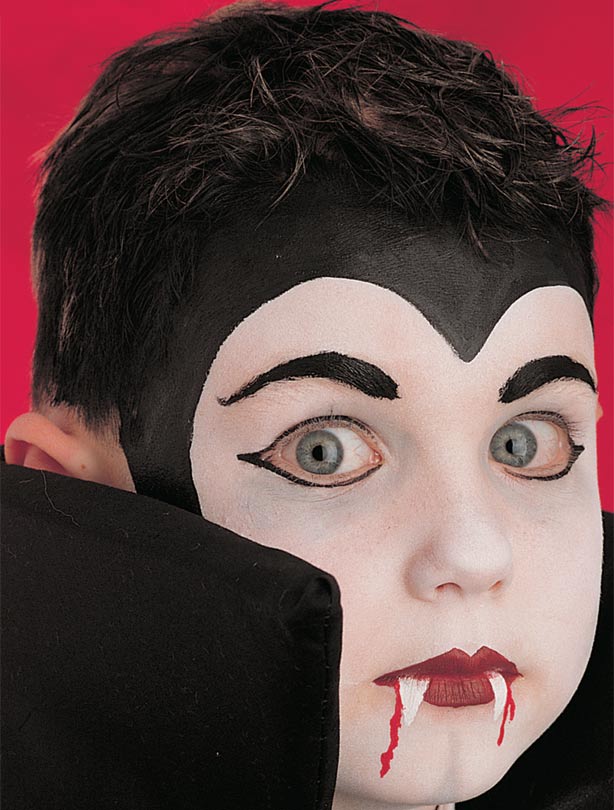 Click or tap to zoom into this image
Vampire face paint step 3: add the finishing touches
Finally, using a clean, thin brush paint your child's lips dark red and add two pointed, white teeth. To make your vampire look blood-thirsty, add some dribbles of blood flowing down the teeth.
You could even use some temporary spray-on hair colour to give your child vampire jet black hair and complete the look.
This face painting idea is from 'Face Painting: Step-by-step instructions to create 38 fantastic faces!' created for The Works by Top That! Publishing plc, RRP £7.99.