Image: Facebook/Gentle Birth Options, LLC/Kate Murray Photography
A picture of a new mother breastfeeding her baby boy after a mastectomy has gone viral – and looking at the emotional image, we can completely see why.
The photographs were originally shared on the Gentle Birth Options, LLC Facebook page, accompanied by a post which explained that: '[The mother] really wanted to breastfeed after having many of her birth choices and preferences taken from her if only for a short time because cancer treatments resume when she is discharged from the hospital.'
'After he was born he latched to her right breast all on his own and the room was full of emotion. These images show the incredible strength and love through the art of breastfeeding'.
The woman, who at present remains unidentified, was diagnosed with stage 3 breast cancer at around 20 weeks pregnant – the full post explains her story: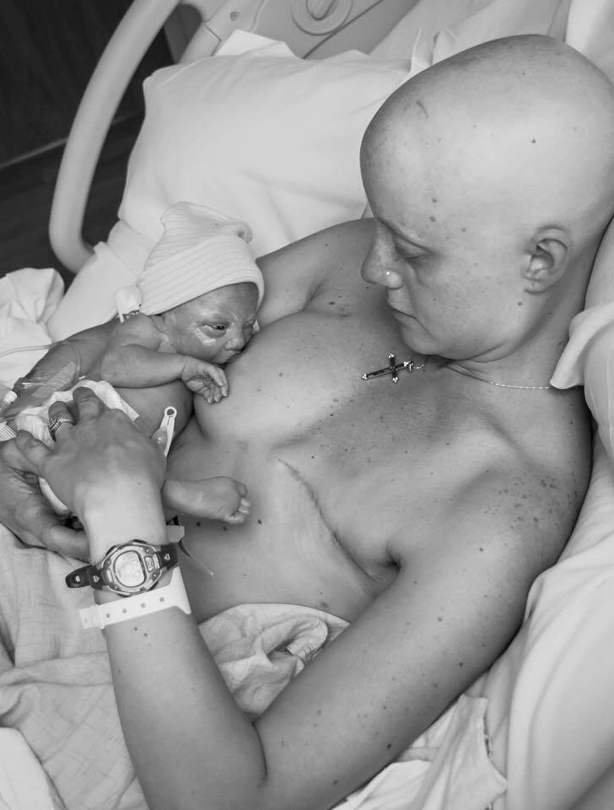 Image: Facebook/Gentle Birth Options, LLC/Kate Murray Photography
The caption for the powerful picture reads: 'I don't want to sleep because all I want to do is treasure every moment he is at the breast.' Unsuprisingly, it has since been shared thousands of times and received countless supportive comments from Facebook users across the world.
'This is the absolute most beautiful picture I have EVER seen. This shows strength, true love and true commitment to her child. It's absolutely breathtaking,' one commenter wrote, whilst another simply stated, 'Having her left breast removed brings her heart closer to the surface.'
The bond between the mother and her son is clear, and we're so glad she gave us the opportunity to share this touching moment – congratulations on your new arrival, and we wish both of you a safe and healthy onward journey.