We earn a commission for products purchased through some links in this article.
If you (or your kids) have ever made an online purchase that you instantly regretted when it landed on your doorstep, you'll definitely relate to this parent.
Amazon user sb043's daughter placed an order for this bargain $3.38 top online…
…but when it arrived, it wasn't quite the flattering addition to her staple wardrobe that she imagined. Unfortunately, the top only comes in one size, and despite being described as 'running small' on the website, it turns out that it runs really, really small – so small, in fact, that it is completely unwearable.
FOR HUMANS.
sb043 then left a scathing (and admittedly, somewhat hilarious) 1-star review on the product page, detailing the reasons why their daughter would not be sporting this little number to any festivals or parties this summer…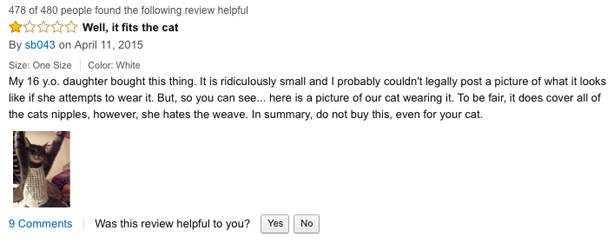 'My 16 y.o. daughter bought this thing,' they wrote. 'It is ridiculously small and I probably couldn't legally post a picture of what it looks like if she attempts to wear it. But, so you can see… here is a picture of our cat wearing it. To be fair, it does cover all of the cats nipples, however, she hates the weave. In summary, do not buy this, even for your cat.'
And just in case the point wasn't quite driven home enough, here is said moggy in all of its crocheted glory:
We can't work out whether he looks bemused, or rather proud of his stylish new outfit, but one thing is for sure – we don't know many 16-year-old's that have the same size torso as the family kitty, and even if they did manage to get it over their heads, there's no way they're going out in THAT (young lady).
There are two key lessons to be learned from sb043's story. One: if you see a super-cheap item advertised online, it's probably because it's made from 50% less fabric.
Two: tabby cats look really good in ivory.
Have you ever brought something online with laughably bad results? Leave us a comment and let us know – we'd love to see your pics!