Have you ever heard of the cronut? What about the duffin? Or how about the ramenritto? We promise, these weird and wonderful things are real and are not just words pushed together to make funny sounding phrases.
With more and more hybrid foods getting in on the trend, we're determined to find out what all the fuss is about and tell you a little bit more about these peculiar creations.
Which hybrid food will be tickling your fancy this year?
Ice-cream macarons
Image from Instagram/@yolkinmacic So, everyone loves ice-cream, and everyone loves macarons, but ever thought of putting the two together to make ice-cream macarons? This is a new trend we can certainly get on board with. With such lovely colours and inventive flavour combinations, how could we resist!
Apple pastry roses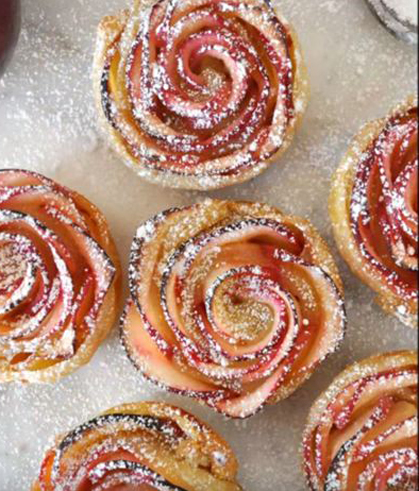 Image from cookingwithmanuela.blogspot.co.uk
Everyone is going crazy for these apple roses. They're SO easy to make but look like something you'd find in a 5 star restaurant! Made with an apple and just a thin strip of pastry you've got fancy edible roses.
Fact:
The YouTube recipe video for these amazing treats has been watched over 5.3 million times and counting! Watch how to make your own below…
Candy cane bagels
Image from Instagram/thebagelstore
These sweet and oh-so-colourful bagels are taking the internet by storm. Not only has the classic bagel been given a sweet twist, it's also been given a rainbow makeover. We love it! These bagels come with different choices of filling including Nutella, cream cheese and plenty of sprinkles!
Fact:
These rainbow bagels are available in The Bagel Store in Brooklyn and are selling out at an alarming rate. Time to hop on a flight to America!
Scotch egg pasty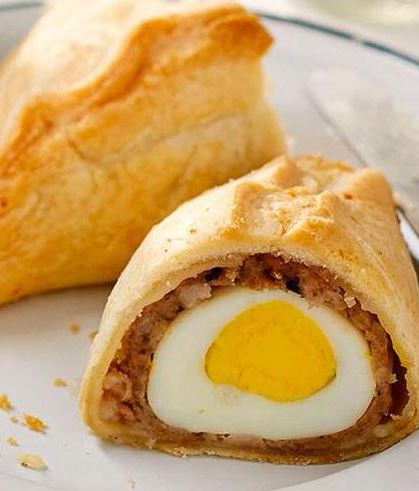 Image from Twitter @Tesco
Yes, you've read correctly. This hybrid brings two British classics together – the Scotch egg and the Cornish pasty to make one mouth-watering, mind-boggling lunch time treat.
Fact:
The Scotch egg pasty is an invention by Tesco. One portion of pasty works out at 567 calories – ouch!
Ice cream doughnuts
Image from Instagram gelatissimogelato
If you love ice cream and you're a fan of doughnuts you'll adore this latest creation – the ice cream doughnut. These ice cream sarnies are being sold in Australia and we have a sneaky suspicion that they'll be making their way to the UK sometime soon. Well, our fingers are crossed!
Fact:
These sweet treats were created by the food team at Gelatissimo and have been one of their biggest hits on Instagram.
Brrr-ito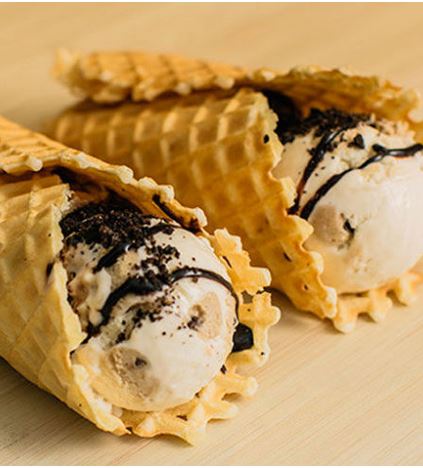 Image from benjerry.com/scoop-shops/brrr-ito
Ben & Jerry's has come up with yet another ingenious idea – meet the brrr-ito! Sweet Ben & Jerry's ice cream wrapped in a soft and chewy waffle wrap, just like a burrito. We love it!
Fact:
The brrr-ito comes in 5 different flavours, including chocolate chip cookie dough and chocolate fudge brownie and coffee coffee buzzbuzzbuzz and chocolate therapy. Available in scoop shops from 20 April 2015.
Cruffin
Image from London bakery Foxcroft & Ginger
It's not just America that's inventing all these weird and wonderful treats, good old England has jumped on the bandwagon to create this delicious hybrid, the cruffin. It's a muffin with the texture of a croissant. Phwoar!
Fact:
The cruffin will be available to buy from 6 March 2015 at Foxcroft & Ginger bakery in London. Fillings include chocolate ganache, a house-made 'Snickers' with nuts and caramel and classic jam and custard.
Cronuts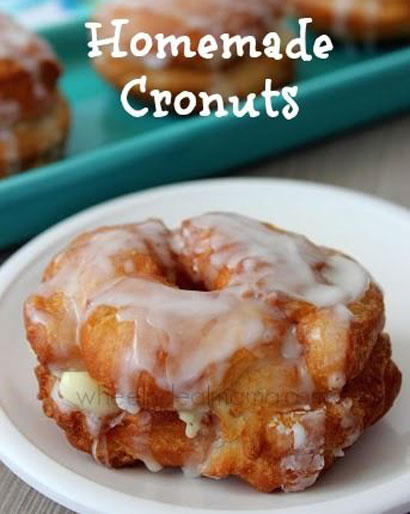 Get the recipe: Pinterest/wheelndealmama.com
"What is a cronut?", we hear you say. Well, a cronut is a mixture between a croissant and a doughnut. They're pretty tricky to make but taste delicious with a layered pastry effect, just like a croissant but with the iconic, round shape and golden finish of a doughnut.
Fact:
The cronut was invented by chef Dominique Ansel in a Bakery in New York. Thank you Dominique!
Crepe cake
Get the recipe: Pinterest/theprimlankitchen.com
If you love crepes and you love cake, we may have just found your perfect match. This impressive cake is layered with crepe upon crepe to make one delicious and rather naughty dessert. It's a crepe (or pancake if you'd prefer) crosssed with a cake with beautiful results.
Fact:
Crepe cakes are also known as mille crepes and are a French creation, if you hadn't already guessed!
Ramenritto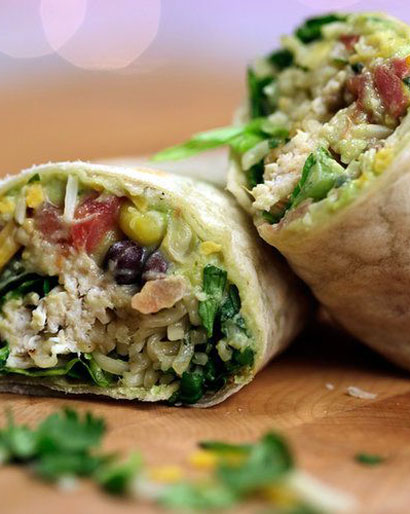 Get the recipe: Pinterest/yummly.com
Have you ever heard of a ramenritto? It's a classic Mexican burrito with a twist – a noodle twist at that! Not only is the burrito packed with traditional burrito ingredients like chicken and guacamole, it's also packed with ramen noodles. It's a Mexican and Japanese blend of deliciousness.
Fact:
The ramenritto was invented in New York's Press Tea Café in 2014.
Cake pop
Get the recipe: Classic cake pops
Yes, don't forget the trusty old cake pop. It may have been around for some time now but we're still in love with the cake and lolly pop hybrid, cake pops. You can cover them in candy melts and decorate to your heart's content. They make perfect gifts and party favours and will vanish in one large bite.
Fact:
Cake pops came into the lime light in 2009 so have been on the 'must-make' list for quite some time…
Duffins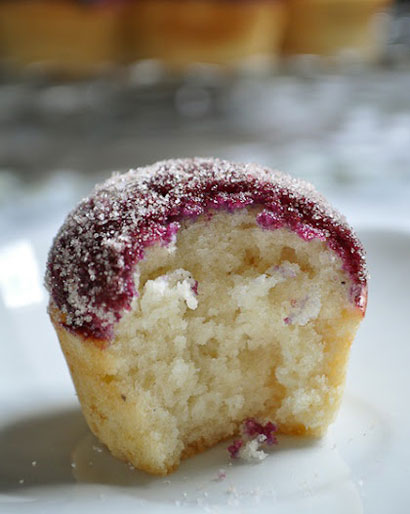 Get the recipe: Pinterest/thegingersnapgirl.blogspot.com
Duffins have to be one of our favourite creations as it brings two iconic bakes, the doughnut and the muffin, together to make one delicious ball of goodness. They may look like a muffin but they taste like a doughnut and are coated in sugar too. Mmmm…
Fact:
Duffins were created in good old England but were made by an American baker, Bea Vo. The duffin was brought to life in London tearooms Bea's of Bloomsbury.
Ramen burger
Get the recipe: Pinterest/notquitenigella.com
We haven't stopped talking about this next craze… the ramen burger! It's pretty simple to figure out what it's all about – it's a burger with no buns, but a patty of ramen noodles instead. Have we got your attention? It's unlike anything we've ever seen and has completely boggled our minds.
Fact:
The ramen burger was voted one of "the 17 most tnfluential burgers of all time" by Time Magazine, and we can see why!
Wonut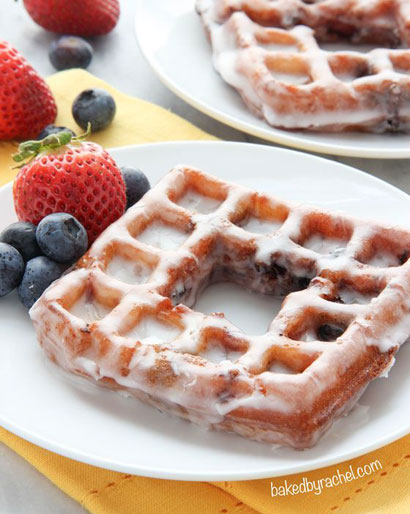 Get the recipe: Pinterest/bakedbyrachel.com
It's another doughnut hybrid – a wonut. Yep, you guessed it, it's a donut-waffle mash up! Doesn't it just sound like an American dream? The sweet, stickiness of a waffle and the soft, sponginess of a doughnut makes one mouth-watering combo.
Fact:
The wonut originates from the Waffle Café in Chicago making it another amazing American creation.
Pizza cone
Get the recipe: Pinterest/gonnawannagetit.com
Eek! We just love this next hybrid mash-up, the pizza cone. It's a pizza in a cone – how simple yet mind boggling all in one! The pizza cone uses classic pizza dough but shapes it into a cone and bakes the cone in a holder to keep its shape. The cone is filled with classic pizza toppings including cheese, pizza sauce and pepperoni.
Fact:
You can get those fancy, spiral-like holders on Amazon – just in case you're thinking of giving them a go!
Bruffin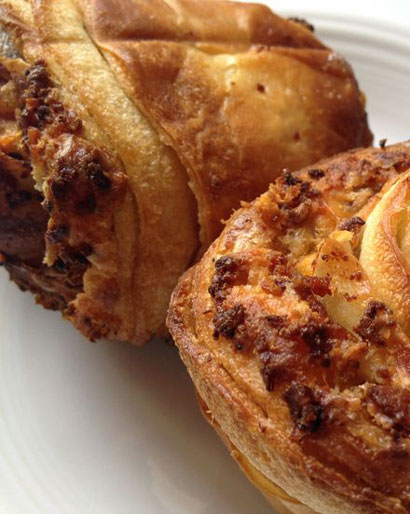 Get the recipe: Pinterest/thebruffin.wordpress.com
What happens when you cross brioche with a muffin? Well, you get a bruffin, of course! The soft buttery pastry texture is captured in muffin form. Add flavours and toppings and you've pretty much got breakfast in one.
Fact:
The bruffin is currently only available in New York's Manhattan, where it has slowly but surely becoming the talk of the town. Please let it come over to the UK soon!
Cookie shot
Get the recipe: Pinterest/wannacomewith.com
If you're a fan of the cookies and milk combo, you're going to LOVE this next hybrid, the cookie shot. It's pretty much self-explanatory – cookie dough shaped around or baked in a metal cup or pot to create a cup that once baked, you can pour milk into. Just shot the milk and eat the cookie cup.
Fact:
It's better to add more flour to your cookie mix than you would usually to make sure your cookie dough isn't sticky and moist when it comes to shaping otherwise you're in for a mess!
Cupcake cone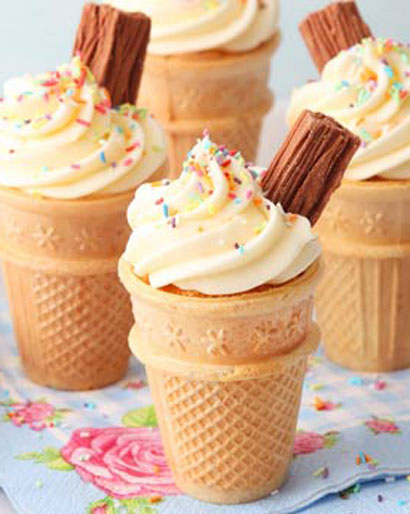 Get the recipe: Ice cream cone cupcakes
Ok, so cupcake cones have been around for some time but we still love them! All you have to do to make them is whip up a batch of your favourite cupcakes, pour the mixture into ice cream cones and bake. We like to decorate ours with a buttercream swirl and add a Flake so it looks just like the real thing!
Fact:
The first mention of a cupcake dates back all the way to 1796 when a recipe notation of a cake to bake in small cups was written in the American Cookery book by Amelia Simmons.
Crookie
Get the recipe: Pinterest/pillsbury.com
This croissant-Oreo hybrid is one to scoff when you're not on a diet! With a buttery pastry croissant coating and a thick layer of Oreo in the middle, these naughty but oh-so-nice treats are a gift that keeps on giving.
Fact:
The crookie was invented by Clafouti Patisserie et Cafe in Canada in 2013.