Erm, you may want to put the potato peeler down and take a look at this nifty trick. YouTube food lover, Dave Hax has discovered a simpler way to peel those potatoes without fail and we really can't believe we hadn't thought of it sooner!
One of our pet hates in the kitchen has to be peeling potatoes. If they're small potatoes you end up catching your fingers or breaking a nail when vigorously peeling. Once you've peeled off a bit of the skin, the potato becomes a surprisingly slippery little thing and will fly out of your hand spontaneously onto the floor, into the bin or into the dog's mouth.
But never fear, those dramatic potato peeling days are over, thanks to this nifty little trick by food hacker and YouTube user Dave Hax. With a sharp knife, plenty of water and a little bit of magic, you can have naked, peeled potatoes in no time. Just watch and learn…
1. Run a sharp knife around the middle of the potatoes to pierce the skin
2. Pop the potatoes into a pan and add some boiling water. Cook!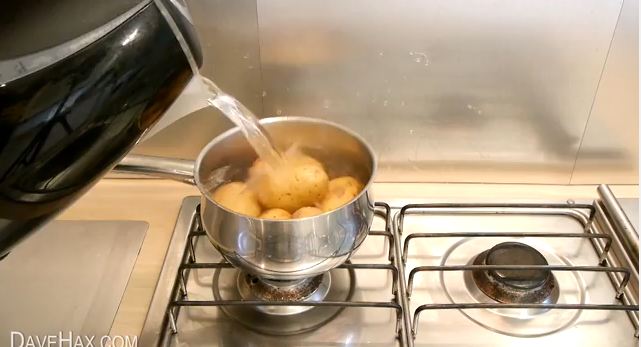 3. Drain and then cool the potatoes with cold water
4. Once cooled, peel the skin off into two parts – top and bottom. Ta-dah, peeled potatoes!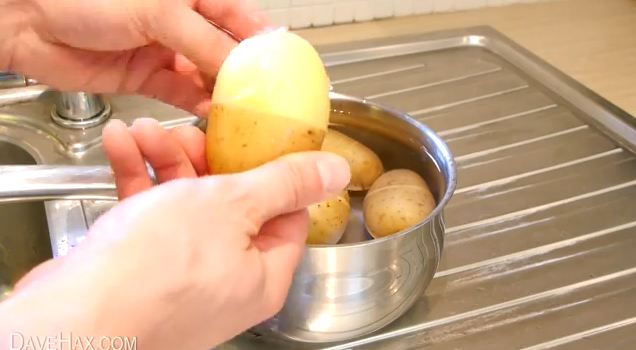 WATCH: Super quick potato peeling – life hack
If that's boggled your mind, you should take a look at our other amazing food hacks including how to tell if an egg is fresh just by popping it into water, how to ripen bananas in the oven, how to keep asparagus fresher for longer, how to get the perfect scoop of ice cream every time and many many more. Oh, we do love a food hack!