We earn a commission for products purchased through some links in this article.
Sometimes a pricey tag doesn't mean better quality, and we're all for a bargain – especially when it comes to booze!
It seems like almost daily we see a new wine or spirit that's making headlines thanks to its ability to stand up to more expensive alternatives. But where can you regularly find the best alternatives to expensive spirits and wines?
Asda Extra Special Gingerbread Gin Liqueur This limited-edition pearlescent gin from Asda is a sure fast way to take your G&T to the next level! It's delicious when added to a glass of fizz and will make a lovely festive cocktail to share with friends and family. It's priced at £12.99 and launches on 12 September.
Aldi Gingerbread Gin Liqueur Aldi's offering might not be as shiny as Asda's but it's cheaper at £9.99 for a bottle. You'll have to wait until 1 October to buy this gin liqueur online and in store but once again it's best served straight over ice, mixed with a dash of tonic or in a glass of fizz!
Asda Rhubarb and Ginger Gin Liqueur Gin remains one of the UK's favourite spirits and as supermarkets keep bringing out bargain bottles of the stuff, the craze shows no sign of slowing down anytime soon. Asda's latest offering costs just £12 and combines the fiery flavours of ginger with sweet rhubarb for a match made in gin-Heaven. If you're looking for something a little sharper they've also got a pink grapefruit and elderflower gin liqueur for the same price.
Asda's Ginger and Rhubarb Gin Liqueur, £12 (available in store and online)
Aldi Veuve Monsigny Champagne Brut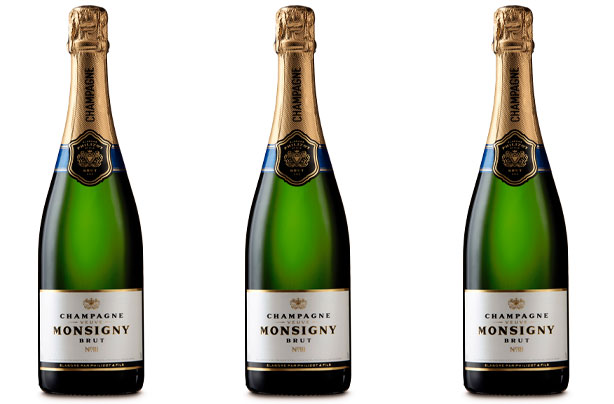 Britain's thirst for Champagne shows no sign of stopping with Aldi reporting that their sales increased by 40 per cent last month (May 2018). We can see why when the budget supermarket's Veuve Monsigny Champagne Brut costs just £10.99 and is the winner of a very prestigious award.
At the International Wine and Spirits Challenge the Champagne was awarded a 'Silver Outstanding' medal beating much more expensive rivals…
The bestselling bottle is made by Champagne house Philizot & Fils. Aldi have bene working with them for over five years to ensure its customers always have top quality fizz to stock-up on. Cheers!
Aldi's Veuve Monsigny Champagne Brut, £11.49 (available in store and online)
Aldi Speyside Single Malt Scotch Whisky Speyside Single Malt Scotch Whisky has just been announced as one of the best whiskies in the world! And it's under £20 – proof that you don't need to splash the cash to enjoy a glass of the smooth stuff.
Aldi's purse-friendly whiskey was awarded a silver medal at the the prestigious International Spirits Challenge, the same accolade awarded to a bottle of 19-year-old Blended Scotch Whiskey by renowned whiskey makers Whyte & Mackay, which costs twice as much at £38.
While you're at it, try the Aldi Highland Black Scotch Whisky, which was also awarded a silver medal at the International Spirits Challenge and it's even cheaper than the single malt – just £12.99!
Aldi's Speyside Single Malt Scotch Whisky, £17.49 (available in store) and Aldi Highland Black Scotch Whisky, £12.99 (available in store)
Morrisons Albarino white wine If you're fan of a nice glass of white wine after a hard days work, this Spanish classic is sure to please.
The International Wine and Spirit Challenge (IWSC) have voted Morrisons Albarino white wine as one of the top 10 Spanish wines. A bottle costs only £8 – by far one of the cheapest in the top 10 list with the most expensive being £48.
The IWSC said the wine had: 'Melon and stone fruit characters which caress the palate and bring a layer of minerality. The wine is medium to full bodied, lashings of fruits and bags of personality.' – certainly one to try this summer!
Morrisons Albarino white wine, £8 (available in store)
Aldi Aperol Spritz If you're a fan of a refreshing Aperol Spritz – especially during a sunny day in summer – you'll be happy to know Aldi are offering their own version of the Aperitif drink for less than half of the price.
While a bottle of Aperol usually costs £16, Aldi are selling their Aperini, infused with orange, rhubarb, vanilla and herbs and spices, for just £6.99! We love this bargain already…
Plus, at the International Spirits Challenge 2018 Aperini was awarded a bronze medal. Infused with perfectly balanced orange, rhubarb, vanilla and an abundance of herbs and spices – we don't need any more persuading to give this bargain booze a try!
Aldi's Aperini, £6.99 (available in store)
Lidl vodka While we think it might be easy to mistake this Lidl vodka for the famous upmarket brand Grey Goose, this is actually the budget retailer's French Grain Ignis Vodka.
It's been awarded Gold at the The Grocer Drink Awards 2017, where they commended its 'depth of smell and taste' as well as its 'hints of citrus, a little sweetness and complex aftertaste'.
Costing less than half the price of its famous lookalike – it's priced at £15.99 while Grey Goose will set you back £34 for the same quantity – this budget alternative might be worth a try…
Lidl's French Grain Ignis Vodka, £15.99 (available in store)
Spar Prosecco Supermarket chain Spar have won a prestigious wine award for selling the best own-brand Prosecco in the UK.
The one-stop-shop for all of your weekly necessities now sells award-winning fizz (another thing to cross of your shopping list while in store then!)
Spar's own brand of bubbles, Valdobbladene Prosecco, has been named the best Italian fizz in the UK by consumer group Which? with experts giving the bottle a commendable 78% score.
The Spar own-brand prosecco, which can be bought for just £10, beat Asda's £6.50 Fillipo Sansovino Processo and Waitrose's £10.99 San Leo Brut NV.
Bottles will only be available while stocks last – so you better be quick if you want to stash away some award-winning bubbles before Christmas!
Spar's Valdobbladene Prosecco, £10 (available in store)
Aldi's gin The UK's love of gin is seemingly unstoppable with an additional 51 million bottles of the spirit being sold nationally compared to last year.
Aldi's spirits and wines often win accolades from industry experts for their high quality, even when put against big, well-known brands.
The supermarket's £9.99 own label gin, is no stranger to beating premium brands. Once again it has been awarded a gold medal at the International Spirits Challenge (ISC).
This is an impressive achievement given Aldi is competing against brands which are more than double the price such as Sipsmith and Hendrick's.
Topaz Premium Gin, Aldi's upmarket own-label option costing £13.99, also beat tough competition and was awarded a silver medal at the ISC 2018 awards.
Aldi's Oliver Cromwell London Dry Gin 70cl, £9.99 and Aldi's Topaz Premium Gi, £13.99 (available in store plus, have you heard that Aldi gin can now be bought online?!
Lidl's Bitterol Fantasising about sitting in the sunshine with an Aperol spritz? Get your friends round and make it spritzes all round with Lidl's take on Aperol, which is half the price of the original. Lidl's Bitterol Original Italian Aperitivo is just £7.99 for 70cl and available while stocks last. What are you waiting for? Just add Prosecco and soda for a refreshing Bitterol spritz. Aperol Aperitif is £15 for the same-sized bottle at Waitrose.
Lidl's Bitterol, £7.99 (available in store)
ASDA's Prosecco Magnum It's no secret we're a Prosecco-obsessed nation, and ASDA is finally giving the people what they want.
The supermarket is now selling magnums of bubbly – 1.5L of the good stuff, compared to the common 75cl bottles – for £14, so you get more booze to enjoy on a special occasion, or just on a sunny day…
ASDA describe their giant Prosecco as being 'soft and appley' and recommend it should be enjoyed as an aperitif or with light fish and pasta dishes. Sounds good to us!
Buy it now: Fillipo Sansovino Prosecco Magnum, £14
Aldi's summer punch When it comes to summertime drinks, nothing beats a refreshing glass of Pimm's in the garden, especially if the sun's out.
But getting your Pimm's fix could become a lot cheaper, if you invest in Aldi's bargain alternative. Austin's Summer Punch has been a hit with consumers already this summer, with The Sun reporting that sales went up 188 per cent during the recent heatwave.
The budget tipple costs only £6.99 for 1L, compared to Pimm's which usually costs £15 for the same size bottle. Great news!
Buy it now: Austin's Summer Punch, £6.99
Lidl's gin If you're a fan of gin, then we strongly recommend you head to Lidl to snap up their latest offering – a fruity summer gin.
The budget supermarket's new launch is being compared to the upmarket London craft gin distiller Sipsmith, and you could get it for only £15.99 – a staggering £13.01 cheaper than Sipsmith's version which costs £29.
With notes of rosehip and hibiscus, and top notes of fresh citrus orange, lemon and bergamot peel, the fruity gin is a limited edition available during summer months only, so enjoy it while it lasts!
Buy it now: Hortus Artisan London Dry Gin, £15.99
ASDA's 'Progrigio'
ASDA is another great supermarket to get your booze fix from for cheap. The supermarket allows you to order wine by the case, with a minimum order of six bottles, which gives you small discount on every bottle.
With some of their wines, you can get 6 for £25, which means you'd be just £4.16 per bottle, for wines that can cost almost £8 if bought individually. Asda have recently launched their £5 'Progrigio'
They've also recently launched their 'Progrigio' – a cut-price version of Prosecco that blends the sparkling wine with Pinot Grigio, and costs £5, while ASDA's Prosecco range costs between £6 and £10.98.
Buy it now: Progrigio Sparkling Wine, £5
Tesco's Pinot Grigio
Tesco can be one of the cheapest places to buy your alcohol from, thanks to their fantastic deals – a bottle of Tesco's Pinot Grigio 75Cl will only set you back £4.36.
Bars and restaurants often buy their alcohol from there, so you know it's worth keeping an eye out for cheap alcohol deals at the retailer. We've found promotions around seasonal events to be our best bet when it comes to bagging a bargain, with Christmas and Easter coming out on top for scooping some seriously savvy alcohol deals at Tesco. These offers are usually placed at the end of aisles, so you won't be able to miss them!
Buy it now: Tesco's Pinot Grigio, £4.36
Do you have any bargain booze tips that we haven't covered here? Let us know in the comments below