We earn a commission for products purchased through some links in this article.
When it comes to Christmas dinner we've all got our favourites, and according to a recent survey conducted by ASDA, some foods are much more preferred than others.
Christmas is the perfect time to pile your roast dinner plate high with all your favourite festive treats, from Yorkshire puds to pigs in blankets, and roast potatoes to Brussel sprouts, but some choices are much more popular than others.
A recent survey of 2,000 Brits conducted by ASDA revealed that the classic roast potato takes the top spot over a traditional roast turkey, stuffing and even Christmas pudding.
According to the budget supermarket, on average Brits will tuck into their first mince pie on 29th November, will have purchased their first Christmas present 20th November and will start embracing the festivities on 5th December.
An ASDA spokesman said: 'Christmas is one of those occasions that doesn't need messing with too much.
'We've done our best this year to make traditional favourites that little bit more special and have won numerous awards for things like our new recipe mince pies, cranberry sauce and festive turkey – all key components for the perfect Christmas.'
Scroll down to see if your festive favourite made the most popular list of food to consume on Christmas Day…
Most popular Christmas foods
1. Roast potatoes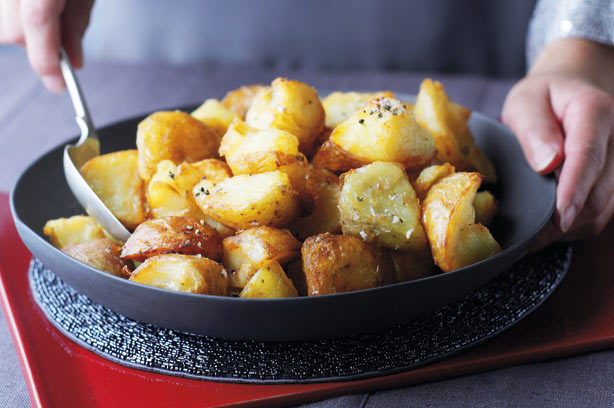 Those crispy roast potatoes came in 1st place on the list of most popular foods!
2. Carrots 3. Turkey 4. Gravy
5. Stuffing Classic stuffing came in 5th!
6. Pigs in blankets 7. Parsnips 8. Brussels sprouts
9. Christmas pudding Traditional Christmas pudding came in 9th on the list, beating Yorkshire pudding
10. Yorkshire pudding 11. Cranberry sauce 12. Broccoli 13. Cauliflower cheese
14. Roast ham Succulent roast ham came in 14th, beating smoked salmon and beef
15. Smoked salmon 16. Roast beef 17. Prawns 18. Bread sauce 19. Eggs
20. Roast chicken We all know you can't beat a tender roast chicken
21. Roast sweet potatoes 22. Roast lamb 23. Chutney 24. Cheese sauce 25. Berries
26. Nut roast Vegetarian-friendly nut roast came in 26th on list of most popular foods!
27. Chips 28. Spinach 29. Kale 30. Avocado
Did your favourite Christmas food make the list? If not, comment below and tell us what you love to eat on Christmas Day!