We earn a commission for products purchased through some links in this article.
Learn how to make bread in just a few simple steps. This easy bread recipe is perfect for beginners!
Few things in life are more comforting than a big old freshly baked loaf of bread.  To make it even easier to make one, we give you: our easy bread recipe.
What's more, you'll also get to enjoy the lovely loaf with the satisfying knowledge that you baked it all on your own – because if you're learning a valuable new skill in the process, then you best believe that tasting your creation will be a 100 per cent guilt-free affair.
With this step-by-step easy bread recipe you'll have a tasty and delicious white loaf ready in moments. It only takes 40 mins to bake in the oven, and will fill your home with a warming smell you won't be able to resist.
Also perfect for beginners, the prep for this recipe takes approximately 1hr 10 mins which includes time for the dough to rise. This large loaf will produce between 10-12 slices depending on how thick you slice it.
The loaf will also last up to 1 month in the freezer so there's no need for waste. Toast it or just simply smother in butter, this tasty homemade bread is spongy on the inside and crisp and golden on the outside.
Easy bread recipe: ingredients
500g white strong plain flour
7g sachet easy-bake/fast-action yeast
1 level teaspoon salt
2 tbsp sunflower oil
Water spray
To make bread rolls:
Beaten egg, for glaze
Assorted toppings, eg, poppy or sesame seeds and salt flakes
Whether you've been invited to a dinner party, an afternoon tea affair, a girls night in or are just simply feeling bored and want to flex your baking muscles as well as learning a new skill, this recipe is all you need and more. How to make bread: Step 1
Tip the flour into a bowl, add the yeast and salt and then stir. Now add the oil. Pour in 300g warm water — it's more accurate to weigh the water than measure it in a jug. How to make bread: Step 2
Mix to give a smooth dough, then turn the mixture out onto a lightly floured work surface and knead it by hand for 5-7 minutes. Alternatively, knead in a food mixer with a dough hook for about 5 mins. The dough should be smooth and elastic. How to make bread: Step 3
Place the dough in an oiled bowl and cover with a clean tea towel. Leave the dough in a warm place for about 1 hour, or until it has doubled in size. How to make bread: Step 4
Turn the dough out onto a lightly floured surface and knead it again briefly to 'knock back'. Form it into an oval shape and place in the tin, pressing down into the corners using your knuckles. How to make bread: Step 5
Dust the top with a little extra flour. Set oven to 220°C/425°F/Gas Mark 7, and put a solid baking sheet on the shelf below the one on which the bread will be baked.
Leave the loaf to prove, until it rises above the level of the tin, then place it in the oven. Working quickly, so it doesn't lose too much heat while the oven door is open, spray water onto the hot baking sheet underneath the loaf and around the loaf to create a steamy atmosphere. Bake the bread for 20 minutes. How to make bread: Step 6
Reduce the oven temperature to 180°C/350°F/Gas Mark 4, and cook it for a further 20-30 mins, or, when the loaf is removed from the tin, the base sounds hollow when tapped. If it doesn't, return the loaf (on a baking sheet) to the oven for 5-10 minutes, which will help to crisp the sides. Leave to cool on a wire rack.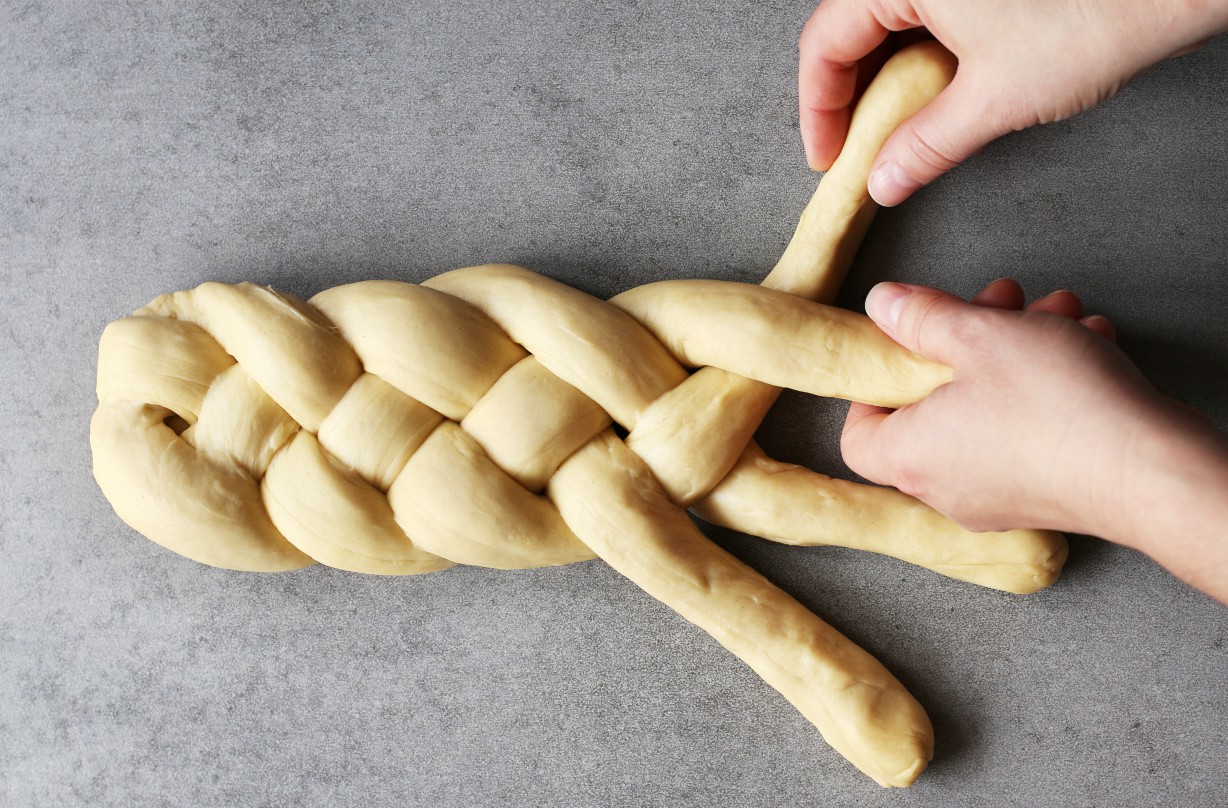 How to make bread: Step 7
If you fancy making bread rolls instead use the same method above to make the dough and the divide the dough into 60g pieces.
For a plain roll: roll dough into a ball, then hold in the palm of your hand and pull the edges in, repeating to give a smooth top. Place on a baking tray with the folds underneath.
For a small cob loaf: break off one third of the dough and shape both pieces into balls. Brush the larger ball with water and place the smaller one on top. Press a floured finger through the centre of both until it touches the baking tray.
To make a sausage shape: roll the dough with one hand, moving the hand up and down as you roll it, to lengthen it. How to make bread: Step 8
For a bread knot: roll all the dough out into a long sausage shape and form into a loose knot.
For plaits: divide a piece of dough into three and roll each piece out into a sausage shape. Press three ends together then plait the pieces, pressing the other end together well.
Set the oven to 220°C/425°F/Gas Mark 7. After the rolls have proved, glaze with egg wash and then sprinkle over toppings, if you want. Bake for about 15-20 mins, or until the rolls sound hollow when their bases are tapped. Transfer to a wire rack to cool completely.