This how to roast pork guide has been triple tested in the Woman's Weekly kitchen, so you know it's going to be delicious.
This how to roast pork recipe guide is perfect for serving six people on a Sunday afternoon. This simple step-by-step recipe teaches you how to prepare and roast a whole joint of pork with mouthwatering results.
A delicious apple gravy is also made in this recipe which makes a perfect match alongside the meaty joint of pork – a tasty sweet and savoury combination.
Pork leg, shoulder or loin all make good joints for roasting. A piece of meat that's been boned and rolled is easiest to carve and a sharp knife would never go a miss. As when roasting poultry, pierce the flesh and, if the juices run clear, the pork is cooked; if it's still pink, it needs cooking for longer. Generally, outdoor-reared, free-range pork has a thicker layer of fat which keeps the meat more moist during cooking.
The secret of crispy crackling is to have the skin dry before cooking, so don't oil it or baste it during cooking.
Love a good roast? We've got loads more delicious roast dinner ideas here.
How to roast pork
Ingredients
2.3kg whole boneless pork leg joint, rolled
2 cloves garlic, peeled and thinly sliced
1-2tbsps sea-salt flakes
2 onions, peeled and sliced
Handful of sage leaves
1 cooking apple
500ml pork stock
1tbsp plain flour
Salt and freshly ground black pepper Click or tap to zoom into this image
Use a craft knife to cut all the way through the pork skin to make parallel lines, cutting some additional lines to those made by the butcher, but taking care not to cut through the string so the joint doesn't unroll. Click or tap to zoom into this image
Use a small knife to cut into the flesh and insert slices of garlic into the meat and under the skin. Click or tap to zoom into this image
Rub the salt into the skin. Leave the pork out for about an hour, or leave it in the fridge overnight, uncovered, for the skin to dry out. Click or tap to zoom into this image
Set the oven to its highest setting. Spread the sliced onion and sage leaves out in a roasting tin. Quarter, peel and core the apple, cut into slices and scatter over the onions.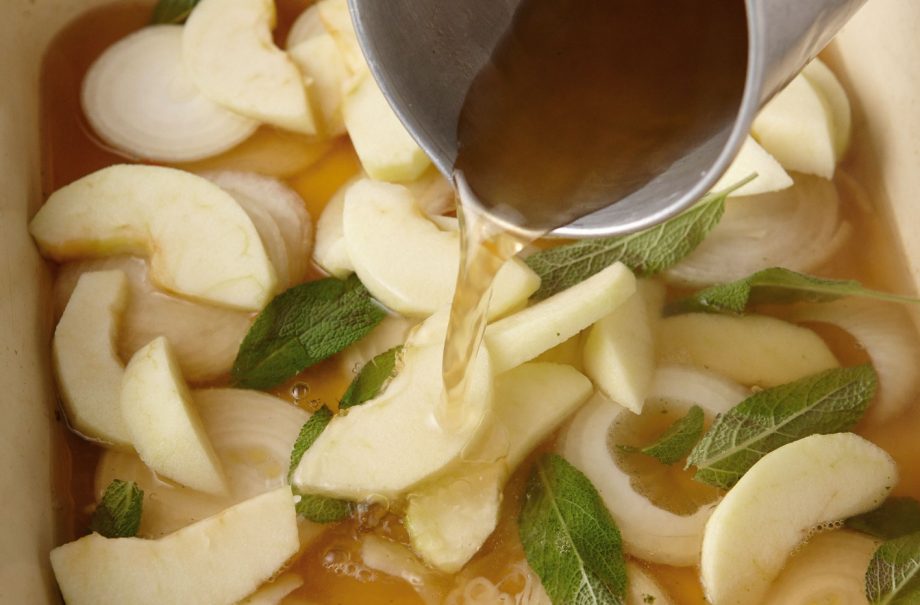 Click or tap to zoom into this image
Pour in the stock. Place the pork on top. Roast it in the centre of the oven for about 30 mins, until the skin starts to crisp up, then reduce the oven temperature to 180°C/350°F/Gas Mark 4, and cook for a further 2-2¼ hours. If the skin hasn't formed crackling, turn the oven temperature up until it's crisped — take care not to cook it for too long at the higher temperature or the meat may dry out. Remove the meat from the oven. Click or tap to zoom into this image
Transfer the pork to a warmed dish and leave it to rest for about 10-15 mins before slicing. Meanwhile, sprinkle the flour over the juices in the pan, then tip the juices into a jug, scraping as much from the bottom of the pan as possible, and use a stick blender to whizz until smooth (this may be done in a blender or food processor).
Return the mixture to a pan and bring it to the boil, stirring continually, and then simmer it for a few minutes to thicken slightly. If it's too thick, add some boiling water. Season to taste, and serve with the meat.