Halloween just wouldn't be complete without some little monsters, but you don't need to buy a costume in order to transform your little 'uns into some creepy characters. We show you step-by-step how to turn a pair of old gloves into a set of creepy claws – and they don't just have to be for Halloween!
We've used red gloves and yellow felt for our claw gloves but you can choose any colours you like, how about green and red or purple and black? The combinations are endless.
To keep things speedy we've used a glue gun but you can just as easily use a good PVA glue – they'll just need a little longer to dry before they're ready to wear.
We think this craft is the perfect accompaniment for our devil face paint, simply dress them all in red and they'll be ready to spook all their friends!
Below you'll find our step-by-step instructions for this craft but you can also watch us make one in the video above.
What you will need
Gloves (colour of your choice)
Felt (colour of your choice)
Glue gun and glue sticks or PVA
Scissors Click or tap to zoom into this image
Find a flat surface to work on and gather together all the craft materials you need to make your claw gloves. Click or tap to zoom into this image
Using scissors, cut 10 triangles out of the felt - making sure they're roughly the same size. Fold you felt four times and cut triangles from the folds to cut five at a time. Click or tap to zoom into this image
When all your triangles are ready, get your gloves and make a little pocket at the end of each fingertip by folding the finger in on itself at the top. This is where your triangles will sit.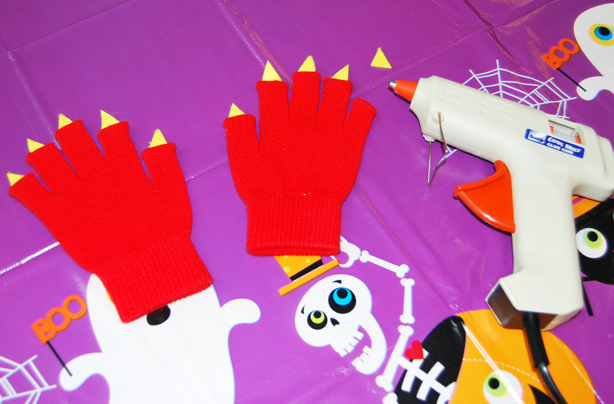 Click or tap to zoom into this image
Using a glue gun or PVA, add a small blob of glue into the pocket, insert your triange, and give it a little squeeze to secure. Repeat this process until all 10 triangles are attached. Click or tap to zoom into this image