In recent months it hasn't just been Adele's voice that's been grabbing people's attention. The star's new slimmer look hasn't gone unnoticed by her legions of fans worldwide.
Speaking to Vogue in 2016, Adele admitted that it's been a very deliberate shift in attitude. 'I was trying to get some stamina for my tour, so I lost a bit of weight,' she explained. 'Now I fit into normal, off-the-shelf clothes—which is a really big problem for me!'
But how has the mother-of-one actually achieved her transformation? We investigate…
Eating Sirtfoods
Adele showed off her svelte new figure at 2016 the Grammys[left]
A recent report from the Daily Mail has claimed that Adele's been following the Sirtfood Diet plan, which focuses on foods that are high in 'sirtuin activators' – a quality which is said to suppress appetite and help to regulate the way in which our bodies process fat and sugar.
In line with the diet, which was recommended by the personal trainer who devised her fitness plan, Pete Geracimo, she'll have been feasting on foods like kale, buckwheat, cocoa powder and turmeric, and drinking plenty of green tea. However, fortunately for both Adele and those trying to emulate her results, the Sirtfood Diet also includes cheese and red wine…
Gym sessions
You'll have just read the mention of a PT above, and while Adele has clearly been working hard, you'll be pleased to hear that, just like us, sometimes her attitude is less than enthusiastic.
Describing her gym sessions, the 27 year old previously told Rolling Stone magazine; 'I mainly moan. I'm not, like, skipping to the f****** gym. I don't enjoy it. I do like doing weights. I don't like looking in the mirror.'
She's even taken to her Instagram account to share a behind the scenes snap of her pumping iron with her 5.6 million followers.
https://www.instagram.com/p/BANgu3RAfIp/?taken-by=adele
Looking strained, and definitely not enjoying the experience, a make-up free Adele captioned the picture; 'Getting ready…'
The North London singer previously explained how heavy lifting can be damaging to her complexion; 'Blood vessels burst on my face really easily, so I'm so conscious when I'm lifting weights not to let them burst in my face. And if I don't tour, you'll catch me back down at the Chinese.'
A girl after our own hearts!
Cutting out tea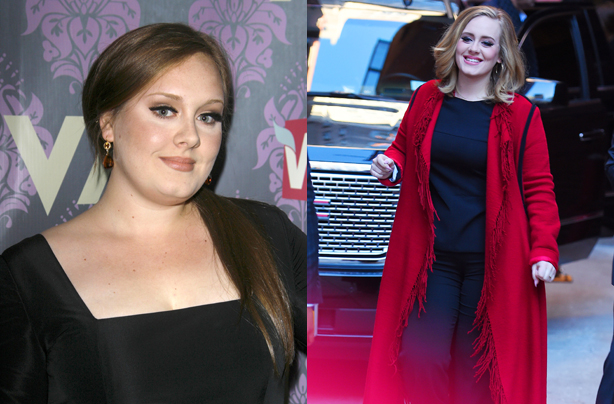 Adele in 2009 [left], just after her first album release, and the singer now
Not only has she been hitting the gym and eating well, Adele has also been spilling the beans on the other causes of her weight loss – cutting out some of her previously loved vices. She revealed to The Sun that she has given up tea, cigarettes and alcohol.
'I used to drink ten cups a day with two sugars in each so I was on 20 sugars a day. Now I don't drink it and I have more energy than ever' she said.
Focusing on health and happiness
https://www.instagram.com/p/BFjV-0-AfE7/?taken-by=adele&hl=en
Despite Adele's new health kick, we love that her life mantra has always been about happiness first and looks second.
She's renowned for speaking her mind and has previously been touted as a body positive role model, commenting: 'I think no matter what you look like, the key is to first of all be happy with yourself. And then you know if you want to try to improve things that you don't like about yourself, then do it after you appreciate yourself.'
We couldn't agree more!