We earn a commission for products purchased through some links in this article.
Which celebrities have had their teeth done? We've taken a look at the pictures and found before and after photos of the celebs who've had their teeth done - from Cheryl Cole's teeth to Judy Murray's teeth and more!
Celebrity teeth: before and after
Don't be fooled, not all famous people were born with a dazzling
celebrity smile. In fact, some celebrities have had more than a little
helping hand to get themselves those gleaming, white celebrity teeth
that they can't stop flashing.
After all, who wants to be caught
on camera with a crooked grin? Well, unfortunately for these famous
faces, we've seen them before as well as after their smile makeovers –
and you won't believe the difference a little dental work can make!
We've got celebrity teeth before and after pics so you can see which
celebs have had a smile makeover in order to get those pearly whites.
Did
you know celebrities like Cheryl Cole, George Clooney, Tom Cruise and
Kylie Minogue have all had a helping hand from their dentists and
undergone a smile makeover? Flick through our gallery to see their
celebrity teeth before and after pictures.
We just knew they
couldn't all have been born with it, and we've got the pics to prove it.
See what the stars have had done to their smiles to get a set of
gleaming celebrity teeth, from yellow teeth that have had a whitening,
to Tulisa's veneers, Nicola Roberts' brace, and many more celebrity
teeth before and after pictures that the stars hoped you'd never see.
See, those celebs really are just like us! Andy Murray's mum had a new set of pearly whites fitted just before appearing on the BBC's Strictly Come Dancing, and by gum, they're as bright as Andy's tennis whites!
She told Radio Times: 'Getting my teeth done was a big thing for me because I?m really terrified of the dentist and I desperately needed a lot of work. In the past couple of years, though, I?ve had more time and money and I?ve started to take better care of my appearance.'
What do you think to Judy's new gnashers?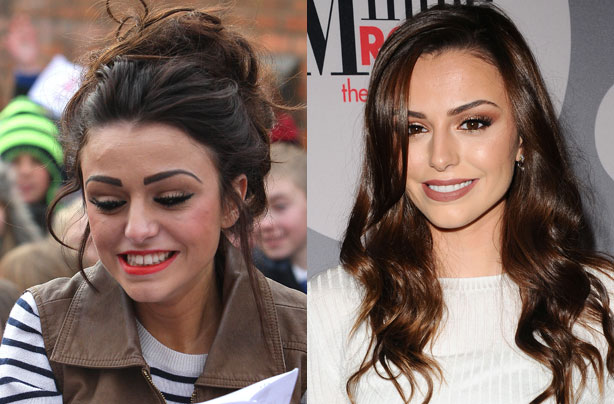 Well, Cher Lloyd is looking more, erm, polished.
The 20-year-old
star, who shot to fame after appearing on the 7th series of the UK X
Factor, has been busy making it big in America, and it seems she's had a
set of all-American pearly white veneers to complete her
transformation.
Cher has previously spoken about how much she
disliked her teeth, once telling Alan Carr, 'I hate them, I look like a
complete and utter rabbit.'
We have to admit we think we
preferred Cher's old teeth, they weren't perfect but they gave her
character. What do you think? Let us know in a comment below. What a transformation - a stint on the X Factor clearly spurred N-Dubz
singer, Tulisa, into action when she got a set of £12k veneers fitted
just before the show. Check out Nicola's Hollywood smile makeover! The Girls Aloud star's come
a long way from her days in the group and has had her teeth
straightened and whitened after wearing an invisible brace for a year. Looks like the One Direction star has had some dental work since he shot to fame on Simon Cowell's X Factor! The singer, who was only 16 when he appeared on the show, had braces fitted in 2010 and since having them removed 15 months later - he can't stop smiling!
The star, who has enjoyed massive success with his bandmates since the show, is proof of how important it is to look after your teeth. Braces might not be pleasant, but they're worth it when you're left with a dazzling grin like this! We've watched Cheryl's dazzling set of pearly whites on The X Factor,
but she hasn't always had a bright white smile. In fact, before she hit
the big time with Girls Aloud, her teeth looked rather different! He may be pretty good in the kitchen but Gordon Ramsay didn't always have bright white perfect teeth. See the difference from 2002 to now? Despite giving her gnashers a serious dose of bright-white, Victoria Beckham still never seems to smile. Such a shame! Wow! We couldn't believe it when we saw what Demi Moore's teeth used to look like. She now sports a gleaming set of white teeth that she's all too happy to show off. This is an image
10
of
32
Kerry's teeth aren't entirely different from how they used to be, but the star has definitely had some whitening work done. This is an image
11
of
32
Brit beauty Kate Beckinsale hasn't always had the perfect Hollywood smile. Not that you'd think it now, but back in her younger days the actress had a much more girl-next door set of teeth! This is an image
12
of
32
Same hair, same tan but one crucial difference, Simon's teeth have gone about 20 shades whiter since his meteoric rise to fame. This is an image
13
of
32
Yep that's right, even George 'gorgeous' Clooney wasn't born with perfect teeth. The Hollywood A-lister has had the whole lot done including veneers and a heavy dose of whitening. This is an image
14
of
32
Catherine Zeta-Jones's teeth
Welsh wonder Catherine Zeta's teeth were pretty average 20 years ago but since her first hit role in the late 80s, her teeth went from dull to dazzling in a matter of hours.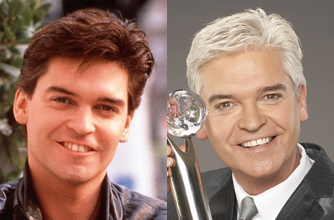 This is an image
15
of
32
Check out Phil's dodgy smile (and 'do) in this pic from 1989. He quickly had his teeth sorted and now sports a brighter-than-bright set which almost matches his hair. This is an image
16
of
32
Tom is another A-lister to have given his teeth a makeover. The Top Gun perfectionist now has a picture-perfect Hollywood smile. This is an image
17
of
32
One thing we noticed about this hilarious pic of Ronan Keating (apart from that helmet) was his pretty awful teeth. The Boyzone star promtly got them transformed into a dazzling white set before he rose to fame in the early 90s. This is an image
18
of
32
Everyone knows Kylie's got pretty amazing teeth but it wasn't always that way. The pint-sized pop princess has made sure her gnashers have stayed bright white since she started on Neighbours all that time ago. This is an image
19
of
32
To be fair, Fern's teeth weren't that bad when she started out in the television industry but she's known to be a fan of whitening procedures every now and again. This is an image
20
of
32
Geri Halliwell is another Spice Girl to transform her smile from goofy to gorgeous. Geri now sports brilliant white and perfectly formed teeth. This is an image
21
of
32
We could barely believe the pic on the left was High School Musical hunk Zac Efron. Zac's gappy smile has been quickly transformed into a gleaming, and perfectly straight set of teeth. This is an image
22
of
32
Ah, get a look at Robbie Williams back in the good old Take That days. Good for Robbie, but not so good for his teeth, clearly. Rob now has a gleaming set of teeth but he rarely shows them off. This is an image
23
of
32
Even supermodels need a bit of help in the beauty department it seems. Jodie Kidd's teeth got a makeover just in time for her modelling career to take off. This is an image
24
of
32
Woah! We're not a fan of Nic's old teeth, lucky for him (and us) he quickly got his stained gnashers upgraded Hollywood style. This is an image
25
of
32
Cher needed quite a bit of work to get her crocked smile sorted. She's had her teeth straightened and whitened. This is an image
26
of
32
While we think Colin looks cute in the pic from 1985 (left) we noticed his teeth have changed somewhat since then. It looks like the Brit actor has definitely given his smile a new lease of life, possibly with veneers. This is an image
27
of
32
Eamonn Holmes has made sure his teeth are TV friendly with what looks like whitening and straightening treatments. This is an image
28
of
32
David Bowie's teeth were actually brown before he decided to get them sorted. Lucky for him, he splashed out on a brand new stain-free set. This is an image
29
of
32
Even Hugh Grant is not averse to the odd bit of dental work. His teeth are defintely brighter and whiter than when he stared in the classic Four Weddings and a Funeral. This is an image
30
of
32
Disney princess Mliey Cyrus has had her teeth matched to her personality. Gone are her crooked baby teeth and in their place are bright, shiny, white ones. This is an image
31
of
32
Even rock stars have succumbed to designer dentisty including Oasis frontman Noel Gallagher. He traded in his stumpy set for some nice, new shiny ones. This is an image
32
of
32
Michael Douglas said goodbye to his rather unpleasant set of teeth a long time ago. He's had the perfect Hollywood smile since hitting the big time back in the 80s.