At first glance you'd be forgiven for thinking this was another one of Mr Beckham's (rather dreamy) underwear-clad advertising campaigns.
It's all there – the moody looks, the sexy black and white background, the, err, lack of anything other than a pair of tight white pants!?
But then, on further inspection, is that… ? Yes, it is in fact James Corden, also half naked, smouldering alongside David.
The friends were seen in their boxers in a fake advertising campaign for 'D&J underwear', a spoof they created for James' new American programme The
Late Late Show, and it is well worth a watch (we particularly enjoyed Mr Corden's aerobic attempts at the end… check out the video below to see what happens!)
So far so good: David in his usual sulty pose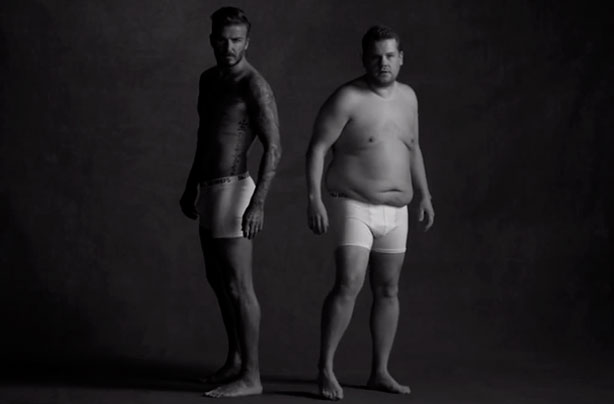 Hang on a second… who's this that's joining him half-naked? James bares all!
See the full video in all its bare-chested glory:
http://www.youtube.com/watch?v=xau8s_g-lQk